With the advent of digital and sharing economies, the online rental industry is taking off in all sorts of niches. Online car rental business is one of those niches providing the option of increased mobility without the concern of paying expenses associated with the possession or ownership of the car. Online car rental marketplaces are progressively outgrowing the numbers relative to the traditional ways of renting cars.
The statistical information clearly predicts that online car rental gross bookings will increase to US$ 2.8 billion by 2020 with 15% CAGR. Also, the number of users in the Car Rentals market worldwide is expected to increase to 291.5 million in 2023 as reported by Statista. The key driving forces leading to the growth of the online car rental marketplace business is the purchasing power of individuals and rise in the travel and tourism industry. Tourists majorly prefer the online methods to book car services.
Car rental platforms have emerged as an exciting startup option and are making their presence felt across the globe. If you are also planning to launch a successful peer-to-peer car rental platform, here are the key considerations that you must keep in mind:
Let's start with the business model, and learn how people earn money from it.
Business Model
Websites like Drivy, Getaround, and Turo offer a platform where you can easily rent your car when it is free. The virtual fleet of vehicles is made from participating owners who charge a fee to rent out their vehicles. The renters can easily access a vehicle and pay only for the time they are using the car. Such businesses provide a platform for car bookings and charge a fixed percentage of the fee as commission.
The following video by Car and Away demonstrates the functionality of a Peer to Peer car rental marketplace. 
Revenue Model of the Peer to Peer Car Rental Marketplace 
Following are sources of generating revenue from your peer-to-peer car rental portal:
Commission on Booking Fee:

Website owner can charge a nominal booking fee on every car booking from the renter.

Banner Ads and On-Site Car Promotion

: Banner Advertising or Featured Listing for car owners who are willing to pay some extra money.

Subscription Packages for Car Owners

: Monthly/yearly subscription to digital products that help them manage instant & secure car sharing (with features like GPS tracking, tamper detection, & engine lock) through smartphones.
Car owners earn money by listing their cars on the online rental marketplace. Car owners can also benefit by placing their featured listing or advertisement to attract more bookings. 
Similarly, car renters can make the most of the online car rental platforms by choosing cars according to their budget and interests.  Features like refer and earn, discount features help car renter save a lot of money.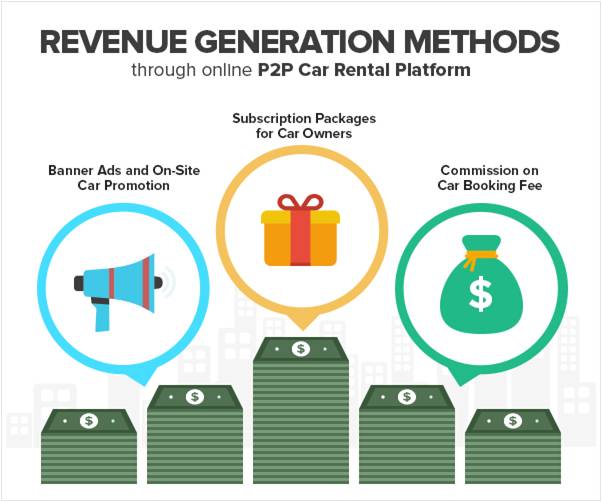 Successful Online Car Renting Marketplaces
Many peer-to-peer car rental companies have come up in the last decade. Here are some you must be aware of before starting car rental service:
Avis Car Rental 

Enterprise Rent- A- Car

Hertz Corporation 

Alamo Rent A Car

Car2Go
These brands share the maximum percentage of the total global market share of the online car rental. Companies like Hertz are way ahead in the industry by offering fleet management solutions to Uber and Lyft therefore adding additional revenue streams.
According to market research by Zion, Asia Pacific is one of the fastest-growing regional markets. Car rental service is steadily picking in countries like India, Australia, Cambodia, Japan, China, etc.
Features of Car Rental Marketplaces
The website features for the car rental marketplace can be split up based on the user type on the platform. The P2P Car Renting Portal will have the following set of users:
Car Renter
Users who are looking to hire a car on rent can search for cars as per their requirements and rent them after providing necessary details and making the payment.

Important details for Car Renter:
No hidden fees and provision of minimum rental.

Variety of car models available starting from city cars to minivans and even cabriolets.

Insured rentals.
Car Renter Features
1. Hiring a car
Sign up the process to 'hire a car' should take only a few seconds. Enable sign-up through social media account to get quick registrations. Describe everything in detail and sound reassuring to grab the deal. Catchy action buttons and features like field validation can make a world of difference. If you are building a car renting marketplace, make sure it has such features.
2. Search Filters
Finding a favorite rental car can be a tiring process for users in the absence of smart search filters. Tell your development team to integrate the following filters to generate relevant car results:
Type of car with options like City, Sedan, Family, etc.

Price with price range slider.

Category with options Eco, Comfort and Privilege.

Extras with options like GPS, snow tires, bike rack, etc.
Make provision of such search filters in your car rental platform too. In case you don't find a solution that offers these, go for the one that is open to customization or hire a team of designers and developers to create it from scratch.
Suggested Read: Launch A Multi-vendor Rental Ecommerce Marketplace with Yo!Rent
3. Car Pages
To make sure renters are able to find the best car, the top-most car rental websites have car pages which include:
Car description

Images

Specifications

Features

Rental rules

Availability

Reviews
Car pages also have easy booking functionality and renting options. Few websites have managed to include everything one needs to make a car rental decision on these pages.
4. User Profile Options
User Registration – The user can register via email, Facebook and phone number. 

Account Management – There should be a dedicated section to manage the user account where the user can manage profile details, change passwords and view trip history.

Past  Bookings – The car renter can view the details, give reviews to car owners and view Past Ratings and Reviews.

Upcoming Bookings – The feature should display all the upcoming booking details, status and option to cancel the booking.

Canceled Bookings – The user should be able to check canceled bookings and cancellation status.
5. Car Search Tool
 The car search tool should display the following information to the user like:
Location

Pickup Date & Time

Return Date & Time
6. Car Booking
The car booking tab should explicitly include all the details mentioned below:
Booking Details Confirmation

Personal Information

Driver Details

Payment Gateways

Credit Card

Debit Card

PayPal

Payment Confirmation & Booking Receipt
7. How it Works Section
The section should include a detailed explanation of how things work in the car rental marketplace. Either it can be visual description or textual format to comprehensively explain the very minute details on the rental website.
Getaround, a peer to peer car rental marketplace has a different dedicated section showing how the users can rent their car.

Car Owner
Users who list their cars on the website with features and cost. When renter books a car, the owner is notified. After verifying the booking request, the renter makes the payment and the car owner receives payment as per protocol defined by the website admin.
Important details for Car Owners
High-Level Flow Process for listing a Car

Car Owner Features
1. Renting a Car
Make car renting easy for car owners by making provision of "rent your car" button on the homepage itself, and enable account creation through email id and password. You can make car listing more impressive by connecting it with the Facebook account.
Gather required details from car owners that clearly describe their car to secure renters. Publish listings with pictures and make details to give renters a better view of the car. The car availability field is also essential to get a renter.
2. User Dashboard
Make user dashboard highly functional. Make provision of features to quickly update car listing, update new photographs or make changes in the calendar. Make a prominent section for receiving "car rentals" requests. Embed messaging or chat functionality for renters and car owners to discuss additional queries. Such features are critical to making a car rental portal succeed. 
3. User Profile Options
User Registration: Similar to the case of the car renter, the car owner can also register on the website via email id, phone number verification and social media accounts.
Account Management: The car owner can manage all profile details and change passwords. View all bookings (past, new as well as canceled bookings), give reviews to car renter and view received ratings and reviews.
View Car Listings: The car owner can view the listing details, average ratings, number of bookings and the search filter should be optimized in accordance with the date range and car name.
Create Car Listing: In order to create a car listing the owner needs to fill in the following information: 
Car Basic Details

Car Features and Specifications

Photographs (Interiors and Exteriors )

Car Renting Cost Details (Hourly, daily and weekly rate)

Availability Details

Mileage Cap

Car Usage and Maintenance Instructions

Pick-Up Location Information

Available Booking Options

Instant Booking(Immediate Approval)

Normal Booking (Approval/Cancellation in specified hours)

Insurance Options
Admin
From content management to users and listings management, website administrator has complete control of the website. Admin can also manage bookings and generate reports.
Admin Features
Manage Users (Car Owners and Renters)

Manage Listings (Create/Edit/Delete Listing, Approve Listing, Reject Listing)

Manage Country/State/City

Manage Cars/Brand Name/Model Feature List

Manage Bookings

Manage Payments and Transactions

Manage Reviews and Ratings

Manage Payment Gateways

Manage Blogs(Blogs and User Comments)

Manage Banner Advertisements

Manage Static Pages (How it Works, About Us, Privacy Policy etc.)

Manage Subscription Packages

Reports (User, Transaction, Listings Reports)
Important Pages on the online car rental marketplace
The concern of designers and developers is clear as they have kept the concepts of UX and conversion in mind while creating the website. Let's have a look at some of the important pages to understand how the perfect car rental eCommerce marketplace should be:
Homepage 
The homepage is the first impression visitors have of your website. An intuitive and well-designed homepage sets the tone of your business. Hence, it is necessary to create a homepage design that leaves a trail of the products and services featured to guide the visitors. 
On the homepage, visitors should get a clear idea of what the website is all about. Your tagline should communicate the 'car renting ' message instantly. The banner should have a search bar to make it easy to find a car that suits user requirements. Include an option to change the website language so that visitors can easily go through the site in a language they are comfortable with.
A common practice seen on top peer-to-peer car rental marketplaces is that of adding a map to the homepage to make it easy for customers to search for a car by city or model. Users can choose a city you wish to hire a car in or select between different car types according to their preferences.
Pro Tip – Get a multi-language website for a diverse target audience.
Testimonials
Customer reviews should be present on the homepage of your car rental portal. Clients' testimonials help in building business credibility and instill trust among customers. People check online reviews before taking up a service, and positive ones help reach a decision faster.
Referral Program
On some of the best car rental websites, users also have the option to invite people to sign up and earn fixed rental money. Referral feature is critical to make a new website gather car registrations. So, don't forget to add it to your car rental marketplace.
Align Your Business Goals by Customizing Car Rental Website
Log In
The login process is simple in most car rental portals and it just takes a few seconds to get started. After logging in, users can book instantly or contact the owners of different vehicles that match their criteria.
Help Center
A peer-to-peer car renting platform must also come with powerful help functionality so that users find answers to a vast range of queries regarding car rentals. Your help center must also have a search bar, which makes it easy to search the database using relevant keywords and queries. Live Chat functionality is also a great feature worth adding.
Mobile applications for car rental marketplace
During our analysis, we found that most of the successful car rental portals like Drivy and Handize do have a mobile application cater to smartphone users. It not only brings all the important website features for users but also packs some new ones. An app will help you make the task of renting cars convenient for users. So, if your rental marketplace software comes along with an app (or even responsive website), then, you have every reason to rejoice.
Now that we are done with the most important features, it's time for improvements and recommendations our team has come up with during our in-depth analysis.
Grow Customer Base with Car Rental Marketplace Mobile Application
Areas of Improvement and Recommendations
Most car renting websites come across as well-designed platforms in the first glance. However, few areas still lack perfection and can be improved to make a superior platform. Here are some ideas for the upgrade:
Language hassles –  Most existing car renting websites offer the change language option on the homepage, but it doesn't help in the case for blog and reviews. Make sure you handle this while creating your car rental marketplace.
Mobile app – With a large part of the populace accessing the internet through mobile phones, it would be a wise decision to display "download the mobile app" option more prominently on your homepage.
Succeed with car rental portal
The car rental features discussed above are critical in nature, and your online car rental marketplace needs them all to get the design and functionality right. Add to those recommendations from our team of UX designers & experienced coders, and you have the perfect peer-to-peer car rental portal.
Focus Areas to Become Successful
Verify Renters and their licenses carefully. People love their car even if they are giving it on rent.

Tying up with good insurance agency and roadside service provider will be a good thing for Renters and Car Owners.

Ensure Booking confirmation timings. Delay in booking won't be a good thing for Renter.

Make process convenient, both online and on-road. Both are part of your business.

Mobile App is a good way to penetrate and increase reach in the market. Availability as an app in mobile is much more than a PC/laptop.
Do you want a website that has all the listed eCommerce marketplace features or need something more sophisticated? Whatever your design and development needs are, only trust experienced professionals for the job. If you're interested in a white-label solution to launch your car rental website, then check out Yo!Rent – the flagship product of FATbit Technologies. With Yo!Rent you can launch your car rental website following these 4 simple steps.