The advantage of having a digital store is that it provides you with many opportunities to reach out and engage with your audience. Whether you run a dropshipping setup, boutique, a mom-and-pop shop, or a big business, you can always grow your store using the right e-commerce marketing tools.
With more than 7000+ digital tools available, the business owner needs to decide on tools that suit and ensure growth.  Consider which tools fall in line with the marketing strategy, and test them before you make a final decision.
This article will show you top 9 marketing tools with almost universal praise and are relevant to most eCommerce stores regardless of size and industry.
Ahrefs
Overview and Benefits
Ahrefs is an SEO software suite that contains tools for link building, keyword research, competitor analysis, rank tracking, and site audits. Most of the features of Ahrefs are designed for marketing professionals.
This is a great tool when it comes to assessing deep linking data. It is an excellent tool for getting information on a domain or analyzing your competitor's backlink profile. So the next time you are thinking of purchasing a dropped domain or a site, you might want to make use of Ahrefs to get a better indication of the inbound links.
When it comes to meeting your SEO needs,  Ahrefs is a well-known backlink and SEO analysis toolkit. It can replace several tools and is essential for anyone conducting SEO research and analysis. If you are a digital marketer, it a tool you must deploy to enhance your conversion rate. Href offers relevant tools to help you analyze your website, the market, and your competitors. 
Ahrefs is a unique resource for content marketers that can provide you with the list of content that has gained the most social shares. You can use content explorer to search for the relevant topic for your client brands.
Features
Pricing
Ahrefs' pricing depends on the plan that you choose. You can choose from four (4) different packages depending on whether you wish for monthly or annual billing.
The payment plans for Ahrefs include the complete set of core tools plus extras for one monthly fee, or when you pay annually, you can get 2 months off. The Lite plan includes essential features of all main tools at $99 per month for one user, although some of the more advanced options, such as mobile ranking and some indexing types, are available only with higher-tier plans. The Standard Plan for $179 a month substantially boosts the number of keywords, searches, and crawls per month, adding recent and historical links.
Ahrefs' most comprehensive top-tier plans are subscriptions only, with no free trial option. The Advanced Plan ($399 per month) covers 3 users, accessing substantially higher audit ranges, keyword tracking, and other features. The Agency's $999 monthly plan includes up to 5 users and full access to every on-site tool. All Ahrefs plans come with an additional fee option to add more users, and Ahrefs promises users can change or cancel a plan at any time.
Here's a breakdown of Ahrefs pricing;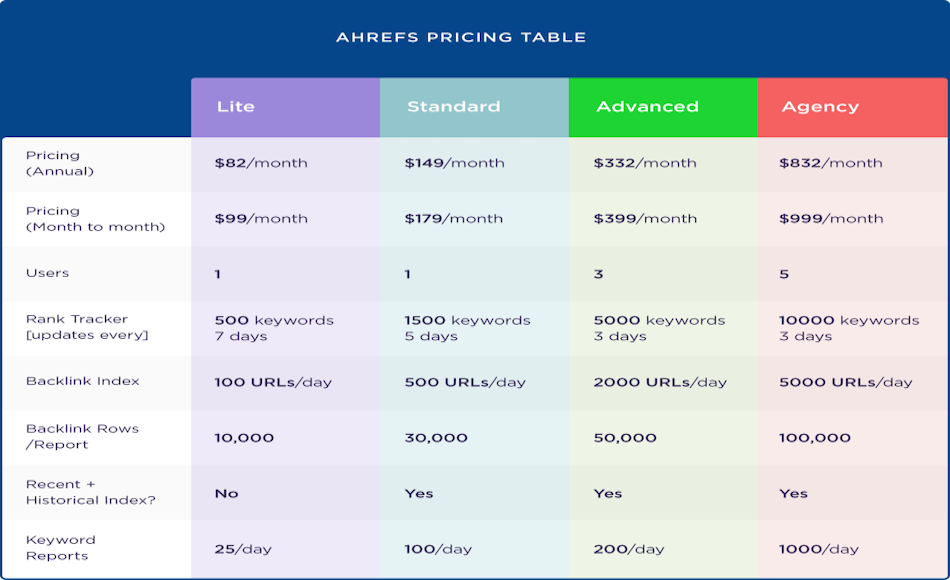 Pitchbox 
Overview and Benefits
In 2012, Pitchbox was established to provide worldwide users with efficiency, time, and precision since its first public presentation. The magic behind this tool is a useful promotional campaign tool use by digital marketing agencies, SEO specialists, outreach managers, and publishers. It allows its users to connect and collaborate with bloggers and influencers easily, identify link building opportunities using its website metrics, and evaluate outreach efforts.
Pitchbox is a useful tool for the promotion and marketing of content. It can help you in no time to find your influencers. Thanks to its intuitive keyword search and more than one prospecting profile, only the most influencing influencers are drawn.
Pitchbox helps you efficiently separate roles by taking the assembly line approach to outreach.
Features
Pitchbox's personalization fields allow users to adopt a friendlier approach to entering all sorts of prospect-related personal data. This will make you appear more interested in the people you reach out to.

Pitchbox comes with a link surveillance feature to help you determine the results of your link. The pitch box feature starts tracking it each time you insert a new link.

The SEO Email Client is a useful Email Management feature specifically for link builders to manage communications across multiple clients, email accounts, projects, and campaigns.

The Automated follow-ups feature extract the need to check which of your prospects responded in your very lengthy spreadsheet. This feature is automated to do the follow-up for you.

The Workflow helps segments your team's work to stay in the zone and move efficiently through essential tasks.

The Data visualization Pitchbox offers an efficient data visualization feature to help you digest complex information more efficiently by visualizing the team, client, and management reports effortlessly.

Reports and analytics come in handy as a feature to preview outreach emails and launch your campaigns in record time.

Intuitive keyword search
Pricing
The pricing is not available on the official website. However, Pitchbox comes in four different plans. The first is the basic package, a two-user monthly package of $195.
The second plan is for small scale business with extended platform users (5) for the monthly price of $295
The third package is for an SEO agency. This plan offers unlimited clients with 10 acceptable users.
The enterprise is the bumper custom plan that goes at the whopping sum of $1500/ month with extensive features.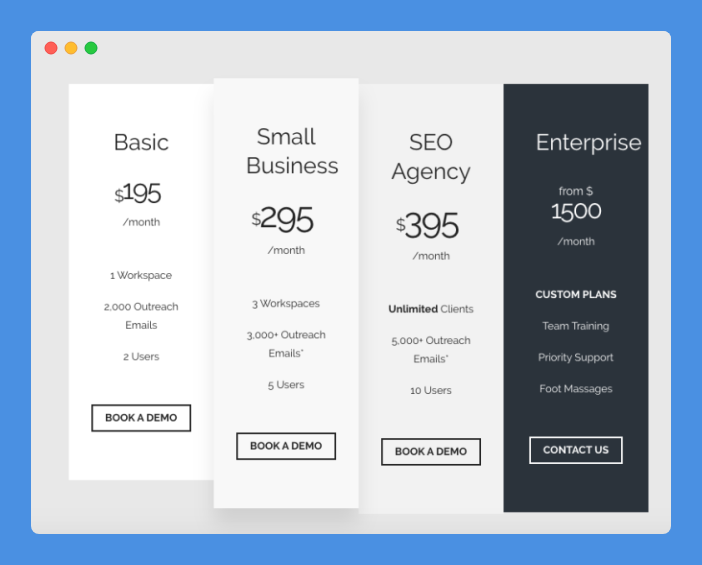 Google Analytics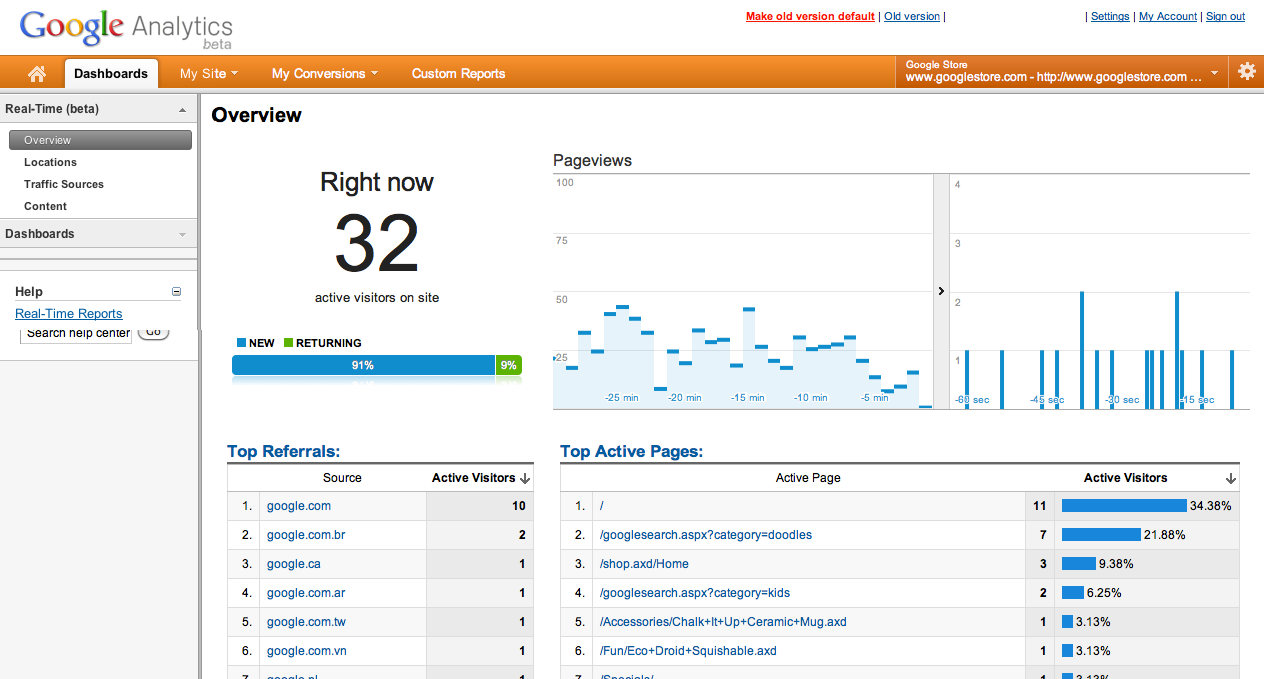 Overview and Benefits
Google Analytics launched in November 2005  is a web analytics service offered by Google to tracks and report traffic on websites. It is currently a platform within the Google Marketing Platform brand.
Google Analytics helps empower digital marketing professionals with fast, reliable web data analysis services. It enables digital marketing professionals to perform comprehensive web data analysis, visualize web insights, and more.
Features
Google Analytics filters help better control the data that appears in each of your reporting views.

The Calculated Metrics is a useful feature that gives users access to create and calculate their own set of metrics

email scheduling allows specific reports and segmented data to be sent via emails at specified times and frequency to several contacts. 

Google Analytics' customer-centric measurement feature uses multiple identity spaces, including marketer-provided User IDs and unique Google signals from users opted into ads personalization.

Data Collection and Management feature provides digital marketing professionals with a single view of web data

Data Analysis offers immediate access to a vast array of analysis and reporting tools. 

Data Activation feature empowers digital marketing professionals to make more informed decisions than ever before. 
Pricing
Google Analytics does have tons of features that you can use for free; however, there are a few extra advanced features that you will have to pay for if you want to gain access to them.
Google Analytics comes in two packages, which are Analytics and Analytics 360.
Analytics is a limited free version, while Analytics 360 is a premium package. You will need to talk to sales to get a quoted price.
Clever eCommerce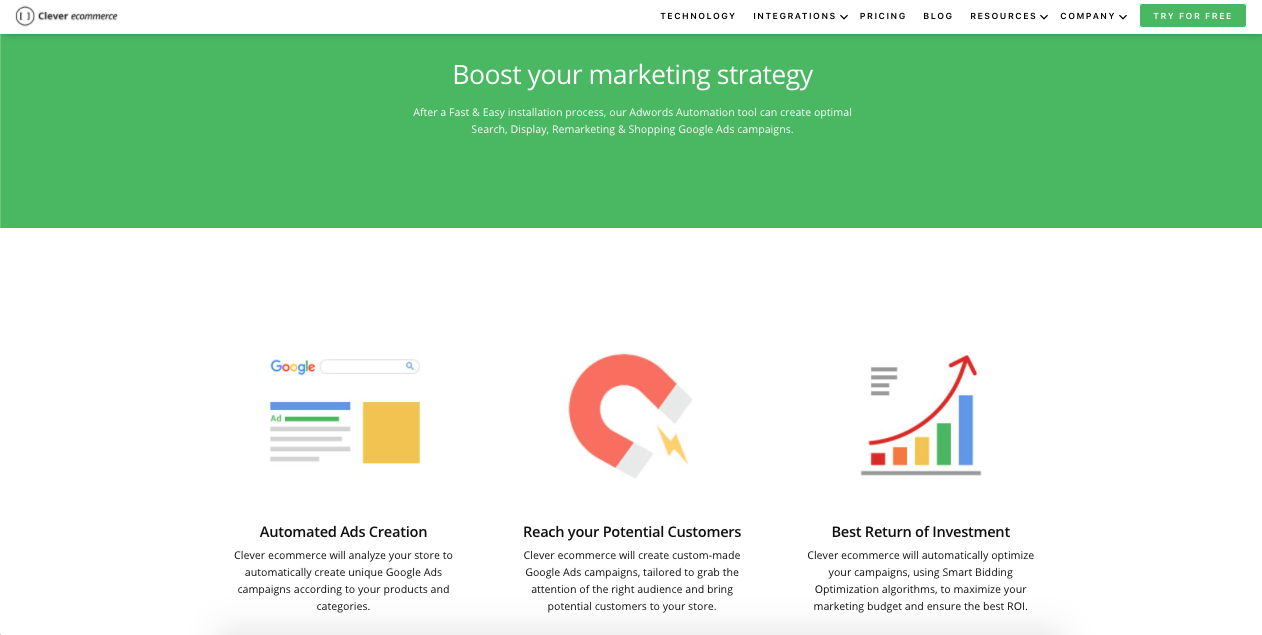 Overview and Benefits
Clever eCommerce was founded in 2012 with the vision to give growing eCommerce companies a chance to compete with larger businesses while advertising on a smaller marketing budget.
The Clever eCommerce team has developed the most innovative PPC automation software to create Google Ads campaigns for your eCommerce business. They will analyze your store to automatically create unique Google Ads campaigns based on machine learning according to your products and categories.
These Google Ads campaigns developed by Clever eCommerce software will be tailor-made, adapted to capture the attention of the right audience and attract potential customers to your store. In addition, your campaigns will be automatically optimized, using Smart Biding Optimization algorithms, to maximize your marketing budget and ensure the best ROI.
Features
Integrations

: They have a presence in different marketplaces like Shopify, PrestaShop, WooCommerce & BigCommerce

Keyword generation

: Automated generation of keywords based on your products and categories

Search Google Ads

: Appear in Google Search results to target people when they are searching for your relevant keywords

Display Google Ads

: Reach people while they're browsing their favorite websites through image-focused ads. You will get a set of banners at no cost.

Gmail Ads

: Connect with potential customers in a more personal format by appearing at the top of a Gmail inbox.

Google Remarketing Ads:

Reconnect with people that have previously visited your store by displaying your ads through different networks.

Google Shopping Ads: Upload your products on Google Merchant Center and get Smart Shopping campaigns. They can also create & optimize your Google Shopping feed.
Pricing 
Basic

$0/month: Get your ads created & uploaded on Google by a Premier Google Partner.

Premium

$49/month: Receive a personal account manager to contact for support & goal setting.

Custom

from $99/month: Have access to full customization & flexibility within your account.
Canva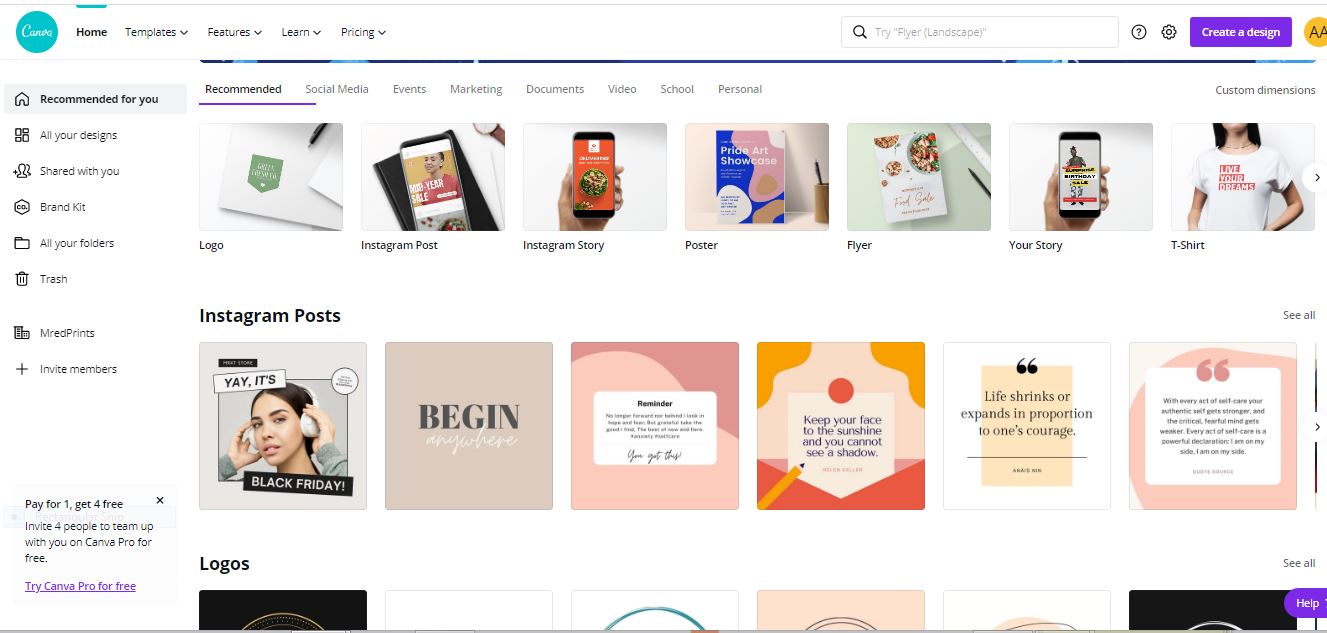 Overview and Benefits
Canva's is a drag-and-drop professional layouts web-based software to design consistently stunning graphics. Canva gives businesses, organizations, and even individual professionals a unique design interface that allows them to create attractive and professional visual effects of high quality.
With Canva, everyone has a user-friendly, reliable design tool that makes it easy to take an idea and turn it into a stylish design, whether in print or online.
Features
Image and photo frames

Cropping images

Creating thought and speech bubbles

Templates format for all kinds of marketing collaterals, from business cards to social media postings

Badges and stickers for websites
Pricing
Canva pricing comes in three (3) packages
Free plan
Pro Plan costs US$12.95/ month. However, you can choose to be billed yearly at the cost of US$119.40
Enterprise Plan US$30/ month. 
 MailMunch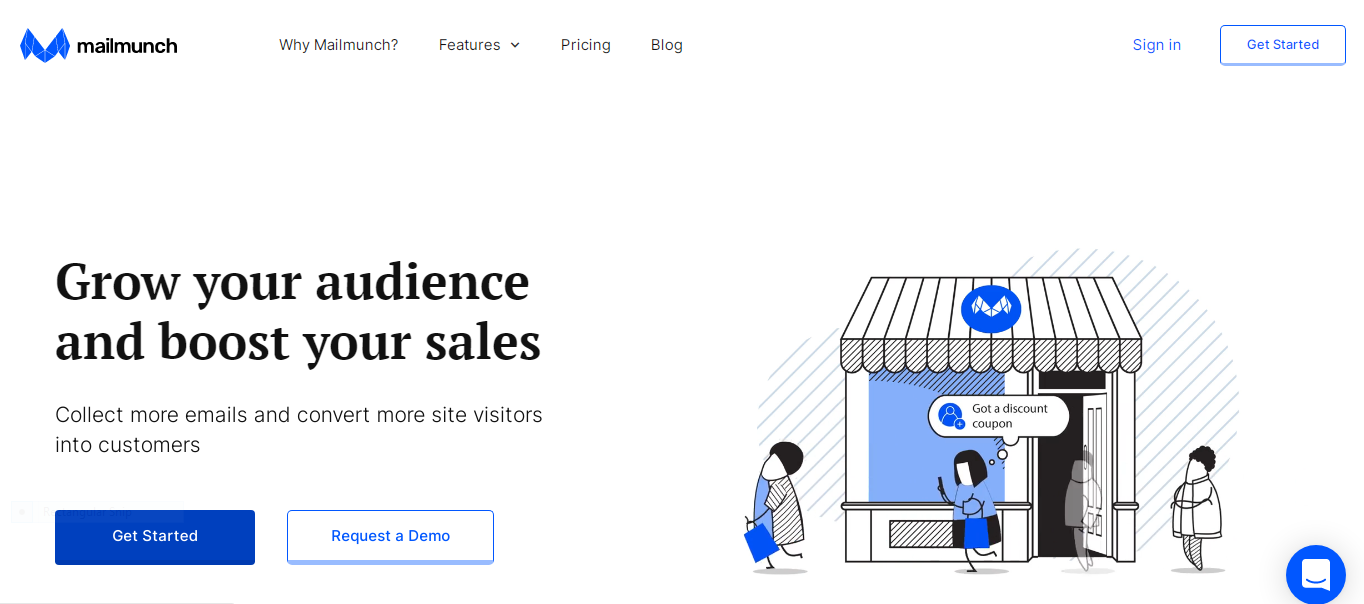 Overview and Benefits
MailMunch helps businesses grow their customer base and boost lead generation by providing relevant tools to build a completely customizable opt-in subscription form.
It offers a digital marketing toolkit to collect leads and provide your users with a more engaging experience with your brand. 
Mailmunch is the ideal one-stop solution for anyone owning a website to expand their email list and keep in touch with their audience. From blog owners to e-commerce stores of all sizes, Mailmunch offers a comprehensive set of essential marketing tools for anyone running a business on the Internet.
Features
Tons of opt-in forms

Beautiful themes

Multiple form types

Mobile friendly

Page-level targeting

Built-in analytics

Entry/Exit technology

A/B Split testing

Integrations

Easy integrations
Pricing
Starting From:$15 / mo.
Pricing Model: Freemium, Subscription
Free: $0, 1 site, unlimited forms, page-level targeting, integrations
Silver: $15/mo., everything that the Free plan offers plus 3 sites, analytics/reporting, no MailMunch logo
Gold: $25/mo., everything that the Silver plan offers plus 5 sites, advanced analytics, premium themes, custom CSS, and much more.
Agency: $75/mo., everything that the Gold plan offers plus unlimited sites, team management, white label notifications, free installation, priority support
They offer a 100% no-risk money-back guarantee. You can ask for a refund within 60 days of your first use.
Hubspot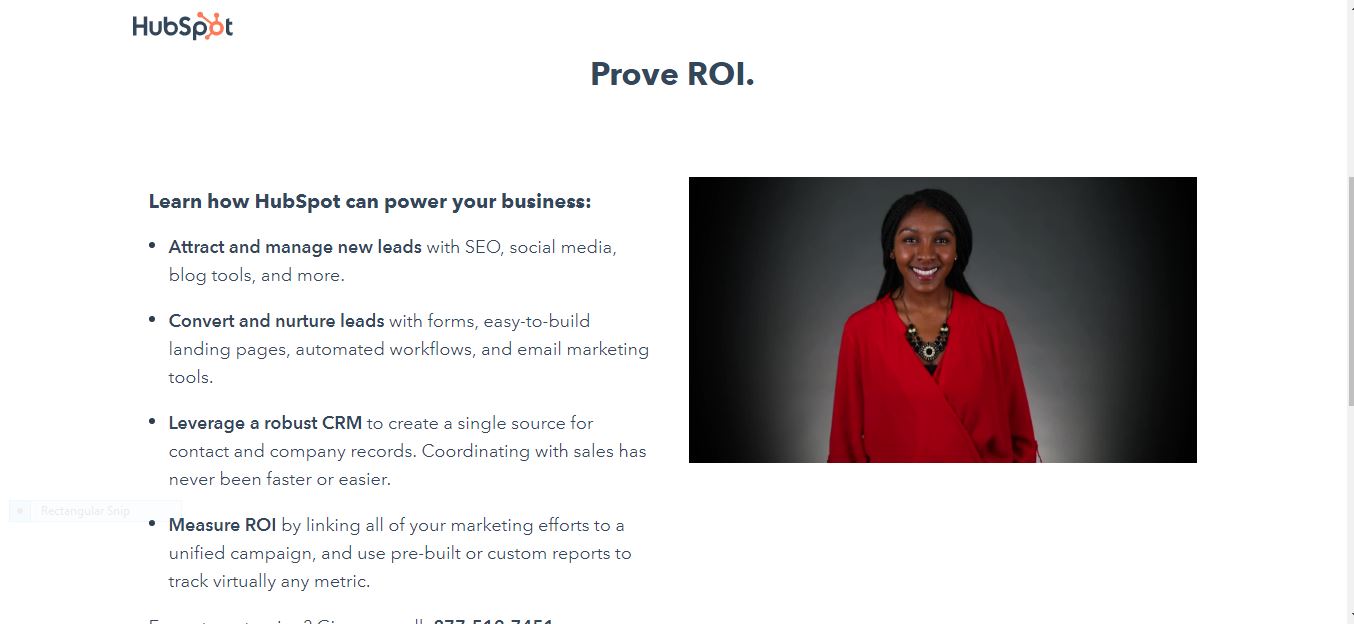 Overview and Benefits
The HubSpot CRM Platform is a full suite of software built to power the inbound approach and helps businesses grow better.
HubSpot's fully featured-in-one marketing, sales, and service platform provides you with the tools you will need to build a stellar customer experience that will help multiply and enhance your business management.
HubSpot CRM offers an easy-to-use HubSpot CRM. It removes the inconvenience of manually updating reports or wonder how your team is tracking toward the quota.
Features
Email tracking & notifications 

Prospect tracking

Social Media Tools 

Lead Management Software

Pipeline Management Tools

Meeting scheduling 

Live chat

Ads Software

Free Meeting Scheduler App
Pricing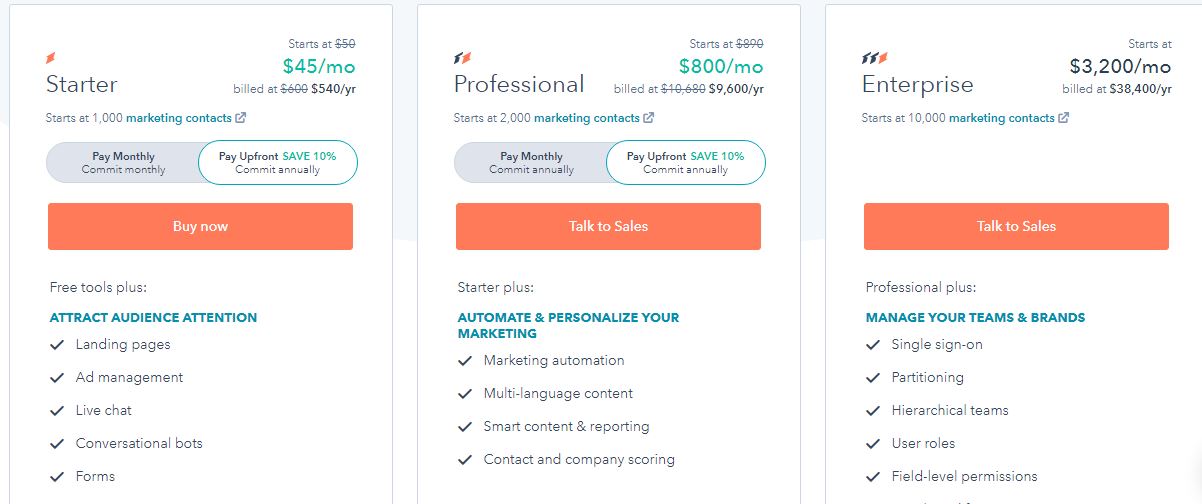 HotJar
Overview and Benefits
Hotjar is a behavior evaluation and user feedback service that helps you understand your website visitors' behavioral patterns and get feedback from them through tools such as thermal maps, session recordings, and surveys.
Hotjar complements the data and insights you get from conventional web analytics tools such as Google Analytics. It's an industry-leading, easy-to-use service that combines user behavior analysis and website feedback tools to help you understand what's actually occurring on your site, which one your users care about, and what they have to say.
Features
Session Recordings is a feature in the hotjar UX toolbox that allows you to watch how people interact with your site and spot issues or improvement opportunities.

The Rage clicks offer a unique insight into a user's behavior. A review as to how people quickly and repeatedly click on the same element(s) out of frustration

Referrer URL feature helps you watch recordings of people who come to your site from a specific traffic source

Heatmaps are a great visual tool to help you see, at a glance, how people interact with specific pages

Trigger Surveys
Pricing
Hotjar renders its products and services for agencies and consultants to provide services to their clients' sites.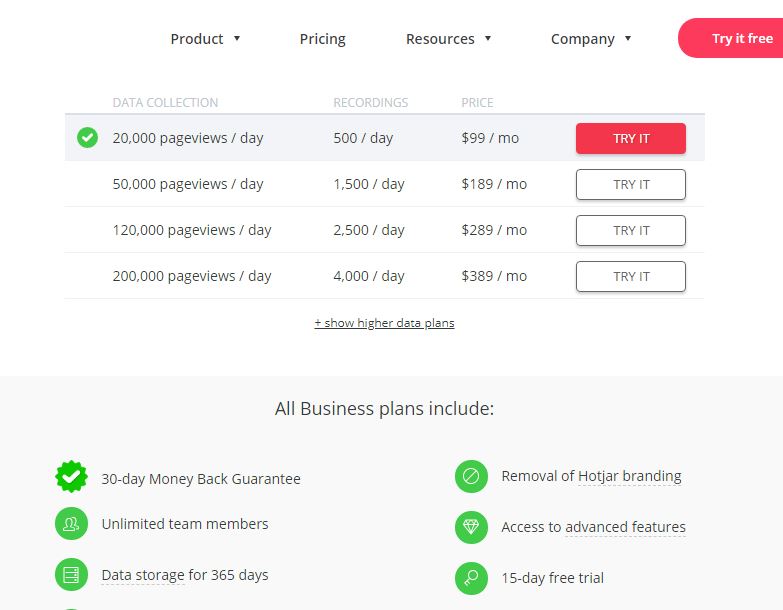 Facebook Ads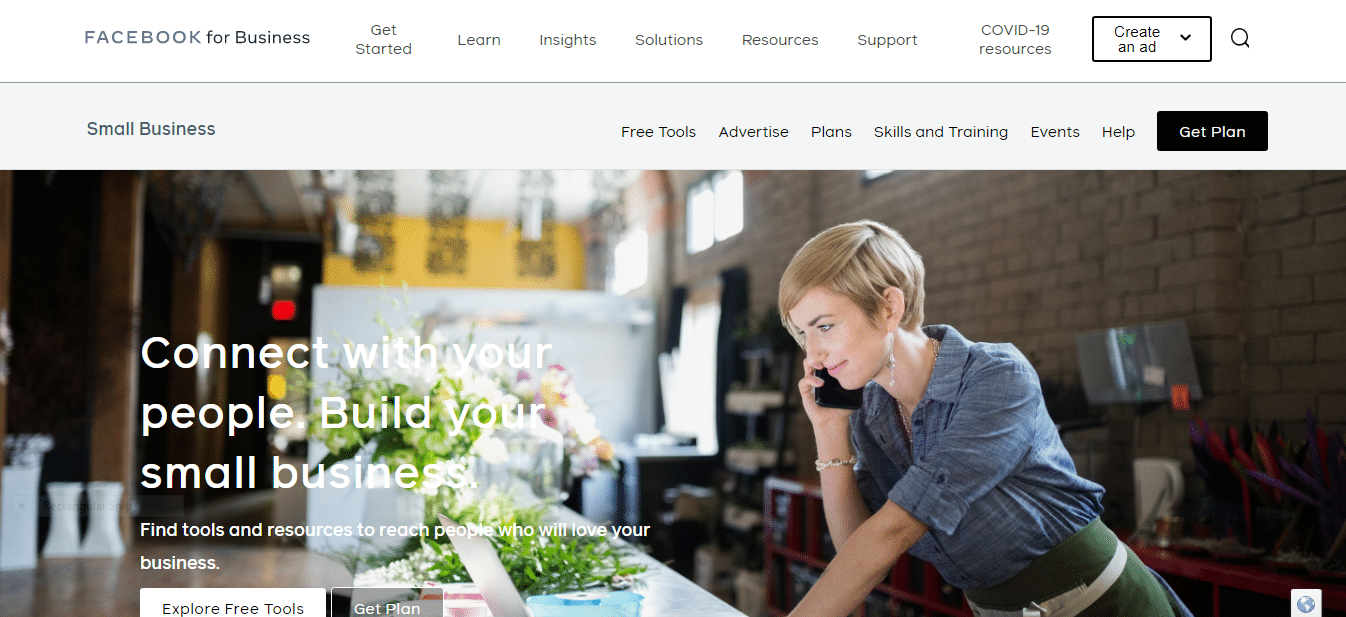 Overview and Benefits
Facebook link ads are single image advertisements that actually enhance your website, post-click landing page or article. They may have different locations (Feed, Stories, Instagram, etc.) so that you can use the same ads in a variety of locations to reach a wider audience. Besides, these ads can help to increase the number of likes and increase engagement.
Features
Carousel Ads feature comes in as a Visual content and storytelling tool to explain the features of a product you sell, showcase your brand's USP, or highlight a promotion you're running.

Facebook pixel feature calculate and measure conversions, optimize your ads target, provide insights about the Facebook users who visit your website.

Facebook also offers some unique demographic targeting options for advertisers.

Video ads feature allow create memorable and inspirational videos so that people remember you when they're in the market for your products or services.

Ads Manager tool helps you purchase ads by creating an ad and submitting them to Facebook ad auction.
Pricing
Facebook doesn't offer a specific amount to place an ad nor do they have packages. However, that doesn't mean free to post an ad on Facebook. Facebook works like you paying to run a TV Ads.
You'll tell Facebook how much you want to spend on advertising. Then they will try to get you as many results as we can for that amount. If you're going to pay $15 a week, you can. You can do that, too, if you want to spend $35,000 a week.