Technology has revolutionized the way consumers shop. Be it grocery, medicines or food, individuals are now looking for faster home delivery options than ever before. This change in consumer behavior has unlocked the potential of online hyperlocal delivery marketplaces in several niches where orders are delivered promptly within a limited geographical area.
As per research, the hyperlocal market is expected to reach $3,634.3 billion by 2027. So, if you are an entrepreneur who is looking to start your own hyperlocal delivery business, this is the right time. However, before venturing into the market, it is essential to identify the right niche that aligns with your business goals. Hence, in this post, we present the top 10 niches for entrepreneurs to launch their own hyperlocal marketplace business.
Table of Contents:
Popular Niches to Launch Your Online Hyperlocal Marketplace Business
As mentioned, hyperlocal delivery has taken the eCommerce industry by a storm. But with increasing competition, it becomes pivotal to figure out a niche. In this section, we discuss top 10 niches that you can consider to launch your online hyperlocal marketplace business.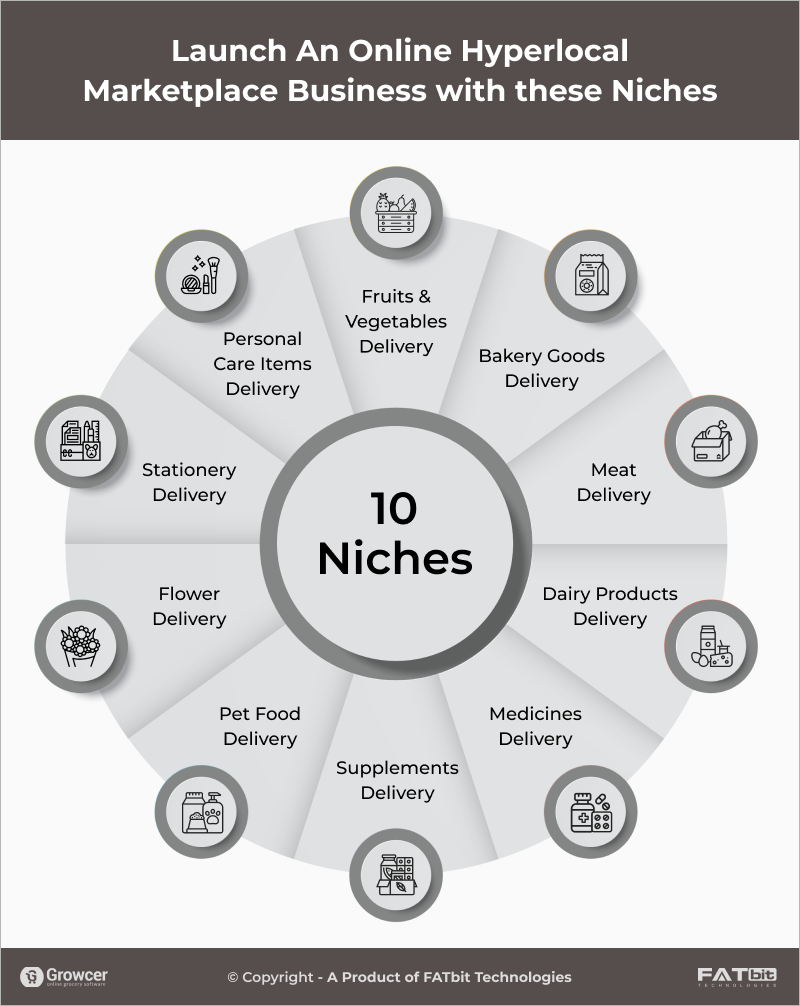 Fruits and Vegetables Delivery
Fruits and vegetables are an essential requirement for daily life. Hence, launching an online fruits and vegetables hyperlocal marketplace presents a remarkable opportunity to fulfill the essential needs while tapping into a rapidly growing market, which is projected to reach $81.5 Billion by 2032.
Major Players: Peapod, Amazon Fresh, HelloFresh
With quick-moving lifestyles, convenient foods like bakery products are becoming popular. According to market research, by 2026, the global bakery market is expected to reach $436.91 Billion and the online bakery market is expected to reach $32.6 Billion for the forecasted period.  That said, to make buying of bakery products painless, launching an online bakery marketplace is a good idea. It gives you an opportunity to get in touch with a wider audience, have 24×7 operation and grow the bottom line.  
Major Players: Frabelle MarketPlace, Shopbake
The changing consumer behavior towards the on-demand services has put online meat delivery marketplaces in the spotlight. Modern customers want diverse, high quality and hygienic meat products without any hassle. And, an online meat delivery marketplace eliminates the middleman and facilitates direct purchases, allowing customers to place orders with just a click. Thus, leveraging a competitive edge in today's market by launching an online meat delivery business is the way forward. 
Top Players: Debragga, Meats by Linz, Meat the Butcher
Dairy has an intrinsic presence in a lot of consumers' lives. Be it consumer end products (e.g. milk, curd, ice cream) or as a critical ingredient for items like cheese pizza. According to market reports, the global dairy products market is expected to grow at a CAGR of 2.5% until 2027. To meet the rising demand for dairy products, wholesalers are now looking for a D2C Go-to-market approach. Online marketplaces offer listing of products and direct sales to end consumers, which is why starting an online dairy marketplace can be a winning proposition. 
Top Players: Doorstep Dairy, Oberweis Dairy,  Pete's Milk Delivery
In a digital-first world, where convenience and accessibility are paramount, customers want medicines from the comfort of their homes. This is where an e-pharmacy marketplace comes into play. It provides medicines to customers' doorstep while maintaining patient safety, provides wider selection, allows comparison of drugs and offers increased privacy.
Further, the demand for home delivery (contactless delivery) of medicines became a game changer during the pandemic days, and the steak is said to continue. According to Market Data Forecast, the global ePharmacy Market is estimated to grow from USD 57.73 Billion in 2023 to USD 125.56 Billion by 2028 at an estimated CAGR of 16.81%. Hence, if you are an entrepreneur who is looking to start an online pharmacy marketplace, this is the right time.
 Top Players: PillPack, Capsule, CVS pharmacy
As people are increasingly becoming health-conscious, the demand for health supplements is on the rise. From vitamin A to Zinc, individuals pop a supplement to either combat a vitamin deficiency, lower the risk of a certain disease or just be proactive. That said, with the rise of eCommerce, online supplement stores have gained significant popularity as they offer a wide range of products at competitive prices. So, if you are looking to start a hyperlocal business, a supplements delivery marketplace is a lucrative option. 
Top Players: 1UP Nutrition, A1 Supplements, eVitamins
To take care of furry friends, pet owners are spending more money than ever. According to reports, the annual household spending per pet is estimated to grow to $1909 by 2030. While pets get to enjoy extra treats, for owners it is about nutrition or a way to bond and take care of their pets. So, pet owners are switching to premium pet food which includes healthy, fresh, plant-based, frozen, and more. 
Further, demand for dry and organic food is also on the rise because of its convenience for busy, aged or families with young children. Hence, there is a transition to online channels that provide quick pet food delivery. That being said, the pet food delivery market is growing by every metric and this represents a lucrative opportunity for entrepreneurs (looking to venture into this niche market) to capitalize. 
Top Players: Chewy, petco, PetSmart
Amidst the sea of change, online purchases have become central in the lives of individuals. As eCommerce continues to disrupt the retail industry, the floral sector has therefore not been left immune. The adoption of eCommerce is happening in this sector due to the convenience, 'round the clock services and simply the variety that online flower delivery marketplaces offer. Further, gifting flowers is an excellent way of communicating human emotions. From weddings to anniversaries, birthdays to formal events, gifting flowers is perfect. Hence, jumping into this bandwagon of starting an online hyperlocal flower delivery marketplace is a promising move. 
Top Players: proflowers, BloomNation, FTD
Technology has advanced significantly over the years, leading to digitization of almost everything. Be it to-do lists, maintaining a front desk calendar, planning schedules, and more, everything is now readily available at your fingertips. Despite technological advancements, the stationery industry is booming as everybody needs stationery supplies regardless of social or economic circumstances. 
Further, higher education and increase in employment have a major role to play in the growth of this niche market. Hence, stationery is a good niche to start a hyperlocal delivery marketplace as you will be able to cater to a wide range of customers by offering an array of products, all sealed and delivered to their doorstep.
Top Players: Mawasem, StationeryHut, The Stationery Box
Beauty and Personal Care Items Delivery
Personal care items and beauty products have always had a market. They assist in enhancing the physical appearance of an individual, maintaining hygiene, and boosting the overall confidence. Some commonly used beauty and personal care products include shampoos, soaps, moisturizers, perfumes and more. At present, the beauty and personal care industry is growing rapidly due to urbanization and increasing internet penetration, which offer a wide variety of brands at competitive prices and hassle free shopping experience. 
As a result, the spending on beauty and personal care items has moved online faster than any other CPG category. Hence, starting a hyperlocal marketplace for this niche can be a lucrative idea, given the growing demand for beauty and personal care products. 
Top Players: Grove Collaborative, Beauty Bridge
Build a Niche Marketplace with a Robust eCommerce Solution
How Can FATbit Technologies Help You in Launching Your Hyperlocal Marketplace?
Since its inception in 2004, FATbit Technologies has been a trailblazer in the field of software development. With years of experience and by embracing agile methodologies, our multidisciplinary team developed a hyperlocal marketplace software, Growcer that has been catering to the ever-evolving needs of clients across the globe, effectively and efficiently. Further, Growcer's cutting edge features allow entrepreneurs to build a competitive advantage and accelerate business growth.
Key Highlights of Growcer
Fully customizable 

Multi-lingual 

Multi-currency 

Highly Scalable 

Mobile Apps for Android and iOS 

Multiple Payment Gateways 

Powerful Dashboards 

Return and Refund Management 

12 Months Free Technical Support

Zero-cost Installment
Stay One Step Ahead With Growcer by Launching your own Hyperlocal Marketplace
Conclusion
In the ever-evolving landscape of eCommerce, Hyperlocal businesses are transforming the shopping experience. They not only offer immediate delivery of products, but also offer a fresh and personalized approach that resonates with the modern consumer. So, seize the opportunity by leveraging technology and create an online hyperlocal marketplace for a specific niche. To help you get started, we have mentioned some of the most trending marketplace niches in the post. For more information, you can get in touch with us.