Using a rental adventure gear marketplace is a good way to try before you buy the required equipment. For adventure sports aficionados, an adventure gear rental platform makes travel easier and cheaper, which is making it an increasingly popular choice for renting out various sports equipment. A peer-to-peer equipment rental marketplace lets you find the best equipment online using a single platform, whether from individuals or existing equipment rental shops.
Over time, online equipment renting portals have not only garnered interest from travelers but have also got support from nature lovers. After studying the peer-to-peer equipment rental business model, FATbit's team of analysts looked into the key website and app features that a stellar adventure sports equipment rental marketplace must have. Read on to discover what all you need to launch your own feature-rich equipment rental marketplace and app to rent out a wide assortment of outdoor & camping gear.
Table of Contents
        How an online adventure equipment rental platform works?
        Generating profits from a gear rental portal
        Leading players in the industry
        Must-have features of sports equipment rental business
·         Tips for creating a smart equipment rental marketplace
Business & Revenue Model
Equipment and adventure gear rentals are in huge demand and peer-to-peer business model connects travelers across the world, is eco-friendly, and contributes to the sharing economy.
An equipment rental marketplace charges a nominal commission on all bookings made through it. While the vendors make money by renting out their equipment, renters can find a variety of products at an affordable rent.
To help entrepreneurs launch a successful travel gear rental platform, business analysts at FATbit Technologies spent many hours studying user experience, functionality and revenue model for creating a stellar marketplace. Let's first learn how such platforms make money and then go through features which have the potential to make the website popular around the globe.
Recommended to read: Launch A Multi-vendor Rental Ecommerce Marketplace with Yo!Rent
How the Outdoor Recreation Equipment Rental Platform Works
Equipment listing with real photos
Set price that can be adjusted per rental
Renters can search for gear as per region
View the availability of the product in the selected area and make rent request
Renter must pay for the rental and pick up their equipment at the agreed time and place
Money is transferred securely through the platform to both accounts after commission deduction
Every listed item must be insured, making the experience completely safe for every user
How the Platform Works for Renters
Search for travel equipment in chosen area.
View the available equipment and make a request to rent the ride.
Using chat feature, both parties can communicate about price, components, verifications, reviews, etc. Once the owner decides they will rent the equipment to the person requesting, they "confirm" the request.
Renter pays for the rental and picks up their equipment at the negotiated time and place.
Now that we have gone through the business and revenue model, let's talk about the top players, in order to better understand the sustainability of a rental portal in the market.
Top Industry Players
While some are focusing on a specific sports segment, others are trying to capture a bigger user base. With the right website and mobile technology, there is hope for multiple service providers. Top Players in this niche marketplace are:
Outdoors Geek
Rent Outdoors
Arrive
Gear To Go Outfitters
Let's go through the essential features of an equipment rental marketplace to better understand the sustainability of the adventure gear rental sites in the market.
Outdoor Gear Rental Marketplace Overview and Features
Most peer-to-peer rental services flourish on the combo of powerful features and exceptional user experience. Your website in that aspect needs to be beautifully designed with all the required information and navigation links. Let's discuss the various functionalities and UX elements that are required to create an effective marketplace:
Homepage
Peer-to-peer ride renting service should focus on bridging the gap between renter & owner. This is why your homepage should give a clear message of what the website and its service is about.
Add an engaging banner with clear communication.
There should be a search bar placed prominently that would help renters run searches as per their requirements. We will give you an in-depth analysis of the search functionality later in this post.
As peer-to-peer renting model is relatively new, many users find it difficult to understand the overall process. This is why you can put a "How it works" button under the search bar on the homepage.
Sign-up Page
This is one of the critical areas as you want maximum number of people to sign up on your platform. If your service is great but the sign up process is cumbersome, then you are vulnerable to losing many prospective users. To ensure a smooth process, you can incorporate a popup for signup, rather than a dedicated page.
        The signup form should only ask for name, email, username and password. Mobile number is optional and can also be added at a later stage for verification.
        Users should be able to use their social networking profiles to sign up.
·         There should be a single sign up form for both renters and owners.
Multiple options of renting
Looking at the popularity of equipment rental services, you can provide the option of expanded rental listings over time. It will allow vendors to list multiple types of outdoor adventure sports equipment, including but not limited to:
Adventure road bikes
Surfboards
Snowboards
Backpacks
Helmets
Hiking tents
And other rental gear
Social Connect
Most of the peer-to-peer platforms give special status to the social aspect. As this service is all about renting and meeting new people, you should also focus on social engagement. Right on the homepage, you can show latest tweets by people who have used your service as a renter as well as product owner. In addition to it, you can also show prominent news websites that have covered your business model.
Whenever you build an online peer to peer equipment renting network using renting eCommerce software, don't forget to make provision for a social engagement section and features.
Dashboard
The dashboard is often touted to be the backbone of an eCommerce marketplace. This is because the logged in users spend most of the time on your website's dashboard. Therefore, emphasize on each and every aspect of delivering an impeccable user experience. Organize the information in such a way that users can handle the basic tasks with ease. The dashboard should display all the listing straightaway.
Help Section
The fact of the matter is that every new platform can have some features that can confuse the users, t, resulting in several queries in the minds of users. This is why you should offer a help button on every page of the website. This button could have links of all the knowledge base sections on:
Renting
Listing
Account
Profile
Other commonly asked queries
If the user is somehow unable to get their queries resolved via a knowledge base, then, you can even add the option to contact the support services and emailing the query to them. We at FATbit believe that this section is vital for a travel gear renting marketplace solution.
Search Functionality
As the overall business model of such a platform is based on finding travel gear across the globe for renting, you have to put a lot of effort on its search capabilities. The search functionality of the website must have autocomplete feature and created with concepts of UX in mind. As discussed earlier, a good rental equipment marketplace should definitely have a prominently placed search bar on the homepage.
Want to develop a travel gear renting website and app with better features
Consult our developers
How it Works
A travel gear renting website helps people connect with trusted outdoor gear owners around the world. As this service is new to the users, you should put up a dedicated section which explains the website to listers as well as renters.
The overall process for renting a ride can include:
Finding a ride
Contacting the lister
Booking the ride
In order to boost user confidence, you can has also added a testimonial section which shows latest tweets from renters.
The listing process also can be managed in the same manner:
Listing your product
Communicating with the renter and approving their request
Renting it out
There can also be a reviews section, which showcases reviews from equipment owners. This is highly beneficial in building trust among new users.
Post new listing
Keep the overall process of listing an item easy and simple. Make a button on the header that takes the users to "add a new listing" form. The form must ask for some basic details about the rental product, which is vital from the renter's prospective:
Category and subcategory
Listing type
Title and description
Price per day
Images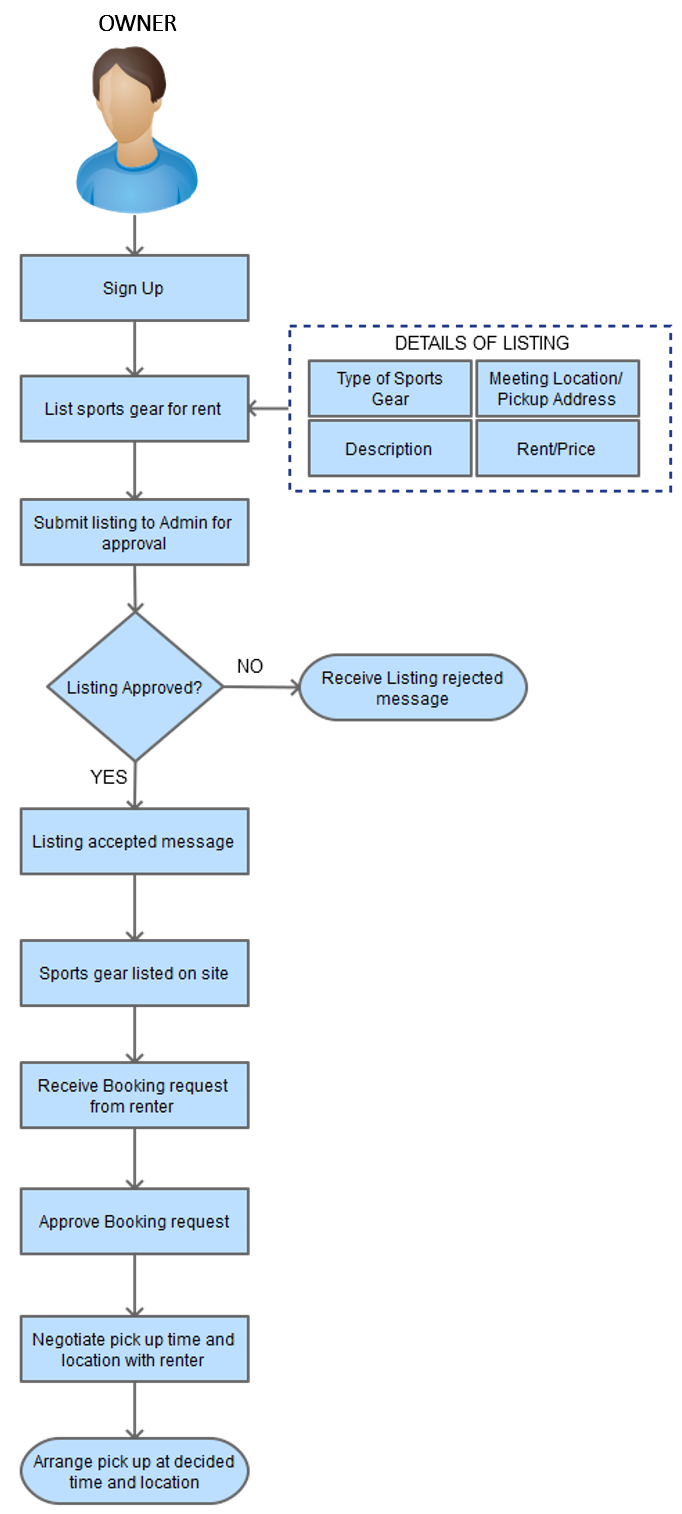 The overall process should not take much time. In addition, add insurance policies which could safeguard both renters and listers. This can increase user confidence in sharing a personal item with a stranger.
Listers can also be given choice of saving the form and editing it at a later time. In addition to it, you should also incorporate various best practices like informing the product owner about all the insurance policies and guarantees provided by you. This can increase user confidence in sharing a personal item with a stranger. Prospective peer-to-peer renting marketplace must keep their forms simple and precise. Also, go for a marketplace software which simplifies product listing and renting.
Search Results Page
As soon as a user clicks on the search button looking for a particular equipment or gear, they are directed to a page displaying the results. Some features that the results page must have include:
Integrated map: The dedicated section of the search results page can contain the area map along with listings.
Featured image for each listing: Listings with a featured image (as selected by the accommodation provider) are displayed along with per day rent and gear description.
Filter options: Users can also filter the results based on the type of equipment they require.
This platform is all about finding the right equipment. This is why you ought to provide advanced filters where users can screen the results further.
Listing Page
When you want to buy a particular product, it is vital that the product page offers you complete information about the product and has an appealing design. The listing page needs to be highly user-friendly with all the information at relevant places. Take special care in making the renting process fast and efficient. You can segment the page in this way:
The top banner must show the headline of the item
Left panel can showcase the images and below-fold containing all the vital information
The right panel can be dedicated to renting and contacting the item owner
Provide an option to for public comments on the item
Request the gear
Your site must have an efficient booking functionality in place. Once users select a product and the dates, make way for users that lead them to the booking form, showcasing the overall price. Rather than booking the item, they should firstly be allowed to make a request to the owner. Once the owner approves the request, only then, the booking process should be completed and the said amount can be deducted from the account of the renter. This is useful in cases when the item is unavailable at the time requested by the renter.
Moreover renters must be allowed to have a direct conversation with the lister before making the request in order to discuss all the requirements. If the lister agrees to the whole arrangement, then the renter can go ahead and make the corresponding booking request. This is an innovative booking procedure that focuses on creating a conversation channel between the renter and the lister.
Renters can also have a direct conversation with the lister to discuss all the requirements. If the lister agrees to the booking, then, the renter can go ahead with the payment. This is an innovative feature created to bookings hassle-free.
Cancellation
As the overall process of booking involves approvals from listers, the renters can have the option to make multiple bookings. In addition to it, if need be, renter can also cancel any reservation before the payment is made. The booking page should describe all the information related to booking and payment process.
Mobile App & Responsive Website
In order to reach out to smartphone users, you need to make your website responsive and extend your marketplace to a dedicated app for both Android and iOS.
Building a well-designed, interactive app, you can allow your marketplace users (vendors and renters) to carry out operations on the go. Vendors can list items at any time, while renters can have instant access to a gigantic collection of high-quality adventure gear to choose from and fulfill their cycling, backpacking, or camping requirements.
Travelers looking for any kind of outdoor recreation can simply log in to the app and browse for and rent out an item of their choice. Also, they can view high resolution images of the product, its specifications, and user reviews.
When looking for a new adventure, more than 50% of travelers don't have a destination in mind, and 60% of backpackers use their mobile to search for one. 
It is likely that such travelers would use their mobile further to rent out adventure sports & camping equipment, thereby helping you multiply your app ROI.
Suggestions to Create a Smarter equipment rental platform
If your website has presence in different countries, it should accept payments in different currencies. If it only uses and displays a single currency then it can create a hassle for users from other countries which is not a best practice for a global peer-to-peer sports-gear renting platform.
The blog is vital to connect with new users and share important news with followers. This is why you must ensure to have a dedicated blog on your website, where users can gather important information.
Real time chat functionality has become an industry standard in the current times. Gone are those days when users had to wait for hours or even days to get their queries resolved. This is why when it comes to help section you can also have a chat feature embedded rather than plain email.
These unique ideas will make your adventure equipment rental marketplace stand out from the crowd. If you are planning to launch a peer-to-peer equipment renting platform, you must incorporate in it the above-mentioned features. In addition, improvements suggested by FATbit can help you make it a huge success.
Just buying any marketplace system does not guarantee success; you need to make sure that it is a feature-rich, flexible and scalable one. Discuss your website and application requirements with our team of UX designers and developers to quickly launch your own rental marketplace.