In the post-Airbnb world, the choice of things you can borrow or lend online has stretched far beyond beautiful rooms to include cars, boats, pets, dresses, umbrellas, and even bikes. As the demand for bike rentals is increasing, it has led to a whole new business model around it. The peer-to-peer cycle-renting website is a marketplace that lets you find the best bikes to rent online, whether from individuals or existing bike rental shops.
The online bike renting portal has not only garnered interest from travellers but is also getting support from nature lovers. After studying the business model, FATbit's team of analysts looked into the key website and app features required to build a stellar bike rental marketplace. Read on to discover what you need to launch your own bike rental marketplace.
Business & Revenue Model
There is a huge demand for bike rentals across the globe and peer-to-peer business model connects cycling universe, helps environment, and encourage sharing economy.
While bike owners make money by renting their equipment, prospective renters find a variety of rides at their required locations for an affordable price. Although listing a ride is totally free, the platform takes a service charge from renters while booking the ride.
To help entrepreneurs launch a successful bike rental platform, business analysts at FATbit Technologies spent many hours studying user experience, functionality and revenue model for creating a stellar marketplace. Let's first learn how such platforms make money and then go through features which have the potential to make the website popular around the globe.
How the Platform Works for Bike Owners
Sign up and create an account.
List your bicycles with real photos.
Users searching for equipment request to rent for specified days and times. Bike Owners can easily turn down an offer if the agreement doesn't work for them.
Money is transferred securely prior to pick up, eliminating any uncomfortable conversations or non-payment.
Every bike listed is insured making the experience completely safe for every person listing their gear. Both renters and owners can review each other and become verified through social networking profiles and mobile number.
How the Platform Works for Renters
Search for bikes in chosen area.
View the available equipment and make a request to rent the ride.
Using chat feature, both parties can communicate about price, components, verifications, reviews, etc. Once the owner decides they will rent the equipment to the person requesting, they "confirm" the request.
Renter pays for the rental and picks up their equipment at the negotiated time and place.
Now that we have gone through the business and revenue model, let's talk about the competition, in order to better understand the sustainability of a rental portal in the market.
Main Competitors
Many startups want to be the Airbnb of bike renting by unlocking the value of underutilized bikes. With the right website and mobile technology, there is hope for multiple service providers. Main competitors in this niche marketplace are:
Spinlister
Spokefly
Rentabikenow
Bzike
Website Overview and Features
Most peer to peer renting services flourish on combo of powerful features and user experience. Your website in that aspect needs to be beautifully designed with all the required information and navigation links. Let's discuss various functionalities and UX elements for a better understanding:
Homepage
Peer-to-peer ride renting service should focus on bridging the gap between renter & owner. This is why your homepage should give a clear message of what the website and its service is about.
There should also be a search bar placed prominently that would help renters run searches as per their requirements. We will give you an in-depth analysis of the search functionality later in this post.
As peer-to-peer renting model is relatively new, many users find it difficult to understand the overall process. This is why you can put a "How it works" button under the search bar on the homepage.
The top bar should contain links to "List a bike" section that asks visitors to list their ride for renting. This is crucial part of the business model and hence on homepage.
Multiple options of renting
Looking at the popularity of ride renting service, you can also have the option of expanded rental listings over time. Other options can include:
Bikes
Surfboards
Snowboards
Sign-up Page
This is one of the critical areas as you want maximum number of people to signup on to your platform. If your service is great but signup process is cumbersome, then you tend to loose many prospective users. In order to ensure that the overall process is smooth, you can incorporate a popup for signup, rather than a dedicated page.
The signup form should only asks for name, email and password. Mobile number is optional and can also be added at a later stage for verification.
Users can also use their social networking profiles to sign up.
There should be one sign-up form for both renters and owners.
Social Connect
Most of the peer-to-peer platforms give special status to the social aspect. As this service is all about renting and meeting new people, you should also focus on social engagement. Right on the homepage, you can show latest tweets by people who have used your service as a renter as well as ride owner. In addition to it, you can also show prominent news websites that have covered your business model.
Whenever you build an online peer to peer ride renting network using ride renting eCommerce software, don't forget to make provision for a social engagement section and features.
Improve user engagement by adding best social media features
Get in touch
Help Section
When web users explore a new website and start to gain a basic understanding of how everything works, they also encounter many questions. That's where a Help section comes in. A help section should cover all the common queries web users are likely to ask and provide links to all the knowledge base sections on:
Renting
Listing
Account
Profile
Other commonly asked queries
If the user is somehow unable to get their queries resolved via a knowledge base, then, you can even add the option to contact the support services and emailing the query to them. We at FATbit believe that this section is vital for a ride renting marketplace solution.
Search Functionality
As the overall business model of such a platform is based on finding rides across the globe for renting, you have to put a lot of effort on its search capabilities. The search functionality of the website must have autocomplete feature and created with concepts of UX in mind. As discussed earlier, a good bike rental marketplace should definitely have a prominently placed search bar on the homepage.
Want to develop a similar bike renting website and app with better features
Consult our developers
How it Works
A bike renting website helps people connect with trusted bike owners around the world. As this service is new to the users, you should put up a dedicated section which explains the website to listers as well as renters.
The overall process for renting a ride can include:
Finding a ride
Contacting the lister
Booking the ride
In order to boost user confidence, you can has also added a testimonial section which shows latest tweets from renters.
The listing process also can be managed in the same manner:
Listing your ride
Communicating with the renter and approving their request
Renting it out
There can also be a reviews section, which showcases reviews from bike owners. This is highly beneficial in building trust among new users.
List a Ride
You need to keep the overall process of listing a bike easy and simple. The forms should just ask for some basic details about the ride, which are vital from the renter's prospective:
Ride type
Photos of ride
Ride description
Price based on per hour, per pay and per week
Meeting location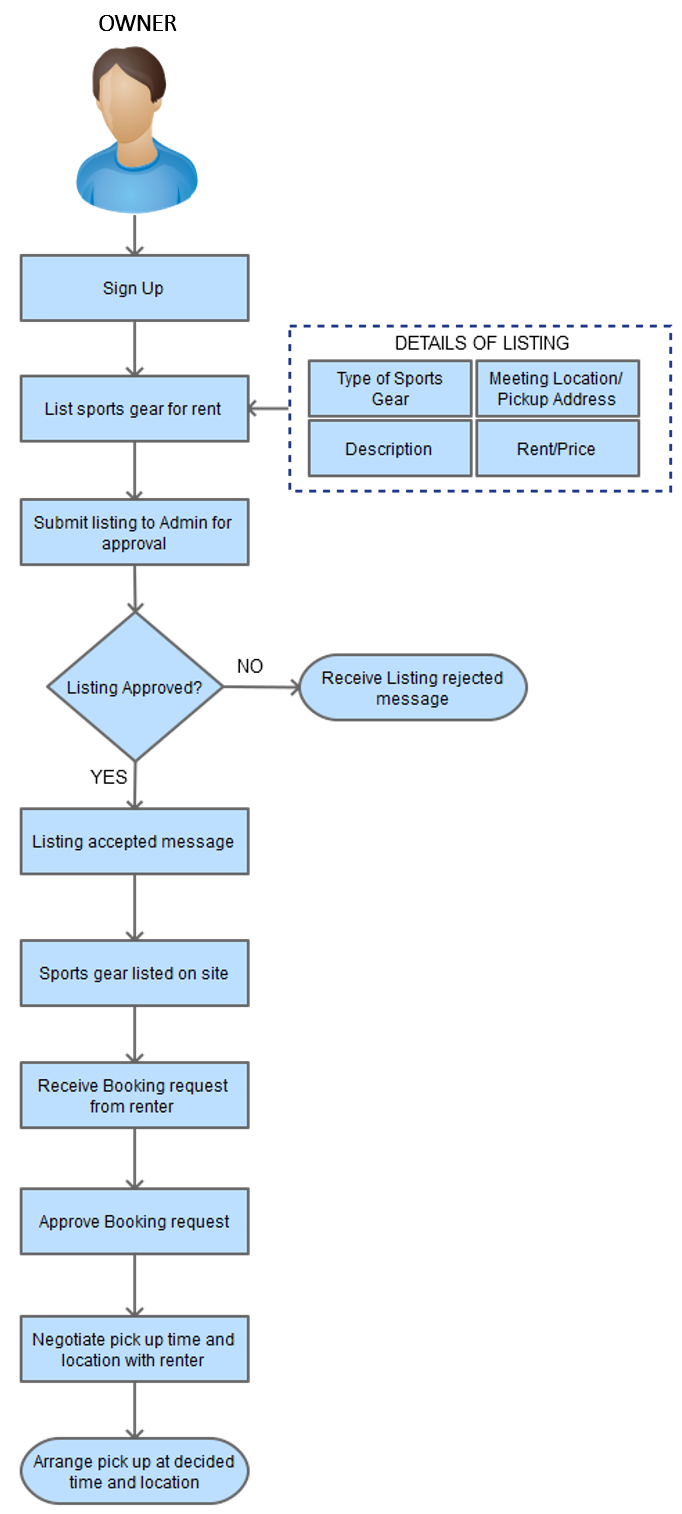 Listers can also be given choice of saving the form and editing it at a later time. In addition to it, you should also incorporate various best practices like informing the bike owner about all the insurance policies and guarantees provided by you. This increases user confidence in sharing their ride with a stranger. Prospective peer-to-peer bike renting marketplace must keep their forms simple and precise. Also, go for a marketplace software which simplifies ride listing and renting.
Search Results Page
Other than browsing through the list of all the rides, the only option in front of users is to use search. Nowadays, search has become one of the most important feature of an eCommerce platform housing thousands and millions of items. As soon as the users enters search for a particular location, they are taken to a page displaying the results. Some features suggested by us on the results page are:
Integrated map: The dedicated section of the search results page can contain the area map along with listings.
Featured image for each listing: Listings with a featured image (as selected by the accommodation provider) are displayed along with per day rent and ride description.
Filter options: Users can also filter the results based on the type of ride they require, i.e. bike, surfboard or snowboard.
This platform is all about finding the right ride. This is why you ought to provide advanced filter where users can screen results further.
Bike Listing Page
When you want to buy a particular product, it is vital that the product page offers you all the information about the product and the design of the page is highly immersive. Following suggestions by FATbit would help any website achieve an optimal bike listing page:
A banner image for each listing on top of the page that gives renters better idea about the ride.
In order to give flexibility in booking, you can offer various price points where renters can rent the ride on per hour, per day or per week basis.
Users can also put in pickup and drop off time while requesting the ride.
A review system where renters can give reviews about the ride. This is beneficial for users while making a choice.
About the Lister section that introduces the lister to the renter. It can also include options to contact the lister.
Request Ride
During our analysis of several platform, we found that often there are discrepancies between both type of users when it comes to peer-to-peer sharing. In order to remove the same from your platform, you can adopt a unique booking model. Under this model, the platform does not allow renter to book the ride straight away. The renter first has to request a ride and upon approval from the lister has the option to make payments for booking. This is important to make sure ride is available at requested time.
Renters can also have a direct conversation with the lister to discuss all the requirements. If the lister agrees to the booking, then, the renter can go ahead with the payment. This is an innovative feature created to bookings hassle-free.
Ride Cancellation
As the overall process of booking involves approvals from listers, the renters can have the option to make multiple bookings. In addition to it, if need be, renter can also cancel any reservation before the payment is made. The booking page should describe all the information related to booking and payment process.
Dashboard
The dashboard is often touted to be the backbone of every eCommerce website. This is due to the fact that a logged in users spend most of the time in this part of the website. Your website in that aspect should emphasize on each and every aspect of delivering impeccable user experience. All the information needs to be organized in such a way that users can handle the basic tasks with ease. The dashboard should display all the booking requests as well as rides listed.
Mobile App & Responsive Website
In order to reach mobile users, you need to make your website responsive. you can also create dedicated apps for Android and iOS.
Now that we are listed the features that your bike renting website or app cannot do without, let's have a look at some essential areas you need to take into account:
Suggestions to Create a Smarter ride-sharing platform
If your website has presence in different countries, it should accept payments in different currencies. If it only uses and displays a single currency then it can create a hassle for users from other countries which is not a best practice for a global peer-to-peer bike renting platform.
The blog is vital to connect with new users and share important news with followers. This is why you must ensure to have a dedicated blog on your website, where users can gather important information.
Real time chat functionality has become an industry standard in the current times. Gone are those days when users had to wait for hours or even days to get their queries resolved. This is why when it comes to help section you can also have a chat feature embedded rather than plain email.
We have incorporated some unique ideas in order to make your website stand out. If you are planning a peer-to-peer ride renting platform like Spinlister, Rentbikenow or Spokefly then, these features are a must for you. In addition to these features, improvements suggested by FATbit can help you create a successful bike renting marketplace website.
Just buying ample marketplace system will not guarantee success; you also need to make sure that it is feature-rich as well as flexible. Discuss your website and application requirements with a team of UX designers and developers to launch a website.
Find out how much bike renting marketplace will cost
Consult Experts