Amid the COVID-19 pandemic, the closure of grocery stores and breakdown in the supply chain left many farmers struggling to sell their farm produce in many countries. The lockdown restrictions imposed to curb the virus spread made it difficult for farmers to take their products to markets. At the same time, many consumers relied heavily on online platforms to get their groceries. So farmers who depend on the local market to sell their crops faced various challenges and their farm produce went unsold.
On the other hand, many farmers opted to go digital to overcome such obstacles and uplift their business amid the pandemic. If you're one of those who've decided to go online to improve your sales volume, then this post is written for you. From business model to must-have features, this blog sheds light on every aspect that entrepreneurs (who might or might not be farmers) must be aware of while launching their online farmers marketplace.
Table of Contents
The presence of a large number of intermediaries in the agriculture sector makes it difficult for farmers to get remunerative prices for their crops. Due to the absence of organized markets and procurement centers, farmers are bound to sell their farm produce to traders and middlemen at lower prices. The middlemen take undue advantage by purchasing agricultural products from farmers at minimum prices and selling the same to consumers at higher prices.
The ideal solution to overcome this challenge is to follow a Direct-to-Consumer marketing approach by creating an online marketplace. Direct marketing of agricultural produce will eliminate middlemen from the buying & selling process. Farmers will be able to interact directly with consumers and sell their crops at reasonable prices through an online platform.
Benefits of Selling Farm Products through an Online Marketplace
Below-listed are some prominent reasons why farmers having their brick-and-mortar stores must consider launching an online marketplace to sell their farm produce:
Reach More Customers
Farmers must set up an online marketplace to capture a large audience base. Irrespective of their geographical location, farmers can sell their farm produce to customers located in far-off localities. Having a wider market reach will help them earn greater profit and enhance their business revenue. They can also send push notifications to make their customers aware of festive deals and discounts available on their products.
Enhanced Marketing
Farmers can effectively market their shops and products via an online platform. It's easy to promote products that are available online as compared to items available on brick and mortar stores. Farmers can advertise their products via ad campaigns, SEO(Search Engine Optimization) practices, email marketing, and social media platforms. These marketing methods can help them quickly reach their target audience, get actionable leads, and build a solid brand presence.
Reduced Expenses
Opting for an online marketplace would reduce farmer's expenses. Farmers who own their brick and mortar stores and hire a team to run their daily-based operations. On the other hand, these expenses don't exist in the case of online platforms. Farmers can also keep track of their stocked goods and avoid paying money to maintain their inventory. The money saved could be invested in strategic marketing campaigns or research and development operations for overall business growth.
Limit In-Person Interaction Amid the COVID-19
Farmers can start an online marketplace to help their customers shop conveniently and safely amid the coronavirus. They can integrate their marketplace with features like curbside pickup, digital payments, contactless deliveries, geofencing, delivery scheduler, and COVID-19 notifications to reduce in-person interaction. Moreover, they can support local vendors and create job opportunities for daily wagers in these unprecedented times by launching an online marketplace.
Walk Through Your Virtual Farmer Marketplace
Food Items To Sell On Online Farmer Marketplace
Below listed are some commonly consumed food products that farmers must sell by creating an online marketplace: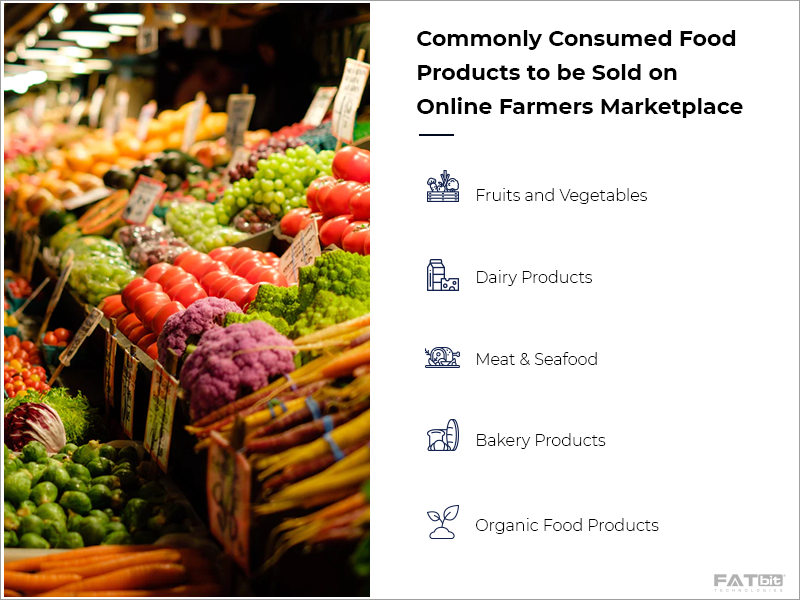 Fruits and Vegetables
Fresh fruits and vegetables are a must buy for every house and consumed on a daily basis. Buying and selecting fresh vegetables from the local market is always a time-consuming task. Farmers can sell locally grown fruits and vegetables to those who don't have enough time to visit local shops. Moreover, people who avoid going to crowded places due to the COVID-19 and wish to eat sustainable food can get their organic vegetables and fruits delivery through an online farmer marketplace.
Dairy Products
Like fruits and vegetables, dairy products, be it in milk, cheese, butter, or curd, are consumed by many people daily. A survey conducted by Mckinsey revealed that 70 percent of US consumers would prefer to purchase the same amount of dairy products that they did before the onset of the pandemic. Considering this consistency in demand, farmers must sell dairy products on their marketplace to earn huge profits.
Meat & Seafood
In the last year, many offline meat retailers shifted online to improve their sales. According to Supermarket news, online sales of meat increased 34.6% in the US in the last quarter of 2020. Taking into account the changing consumer habits amid the COVID-19, it is expected that people will continue using online meat delivery services in the future. So, selling meat products and seafood on an online farmer marketplace could be another profitable idea to serve meat lovers in this crisis.
Bakery Products
Consumer demand for whole wheat, additive-free and nutrient-rich bakery products has increased over the past few years. According to Globalnewswire, the global bakery products market is estimated to grow at a CAGR of 2.6% during the forecast period, 2021-2026. Europe accounts for the largest revenue share in the online bakery business. Farmers can sell bakery products in countries where the bakery market is expected to rise in the coming years.
Organic Food Products
Factors like health benefits of consuming organic food and rising per capita spending on organic food items are expected to drive the global organic food market in the near future. As per a report by TechSciResearch, the global organic food market that was valued USD 129 billion in 2019 is estimated to grow at a CAGR of 11% by 2026. Farmers could tap into this thriving market by selling organic products via their marketplace.
Business Model of an Online Farmers Marketplace
Business owners who may or may not be farmers can launch an online farmers marketplace to provide benefits to both vendors(farmers) and customers. 
They can tie up with farmers from varied regions who will set up their stores on the marketplace and sell their farm products. An online platform helps farmers manage inventories, sales reports, product deliveries, among other business operations. 
Buyers will register on the platform, add food items to their cart, and make payments to place their order. This process allows buyers to easily order healthy and locally grown food from the comfort of their homes. Delivery staff will deliver products at the customer's location. The shipping of products will be conducted by either the admin or third party delivery service. Here's a flowchart depicting how various users work in an online farmer marketplace.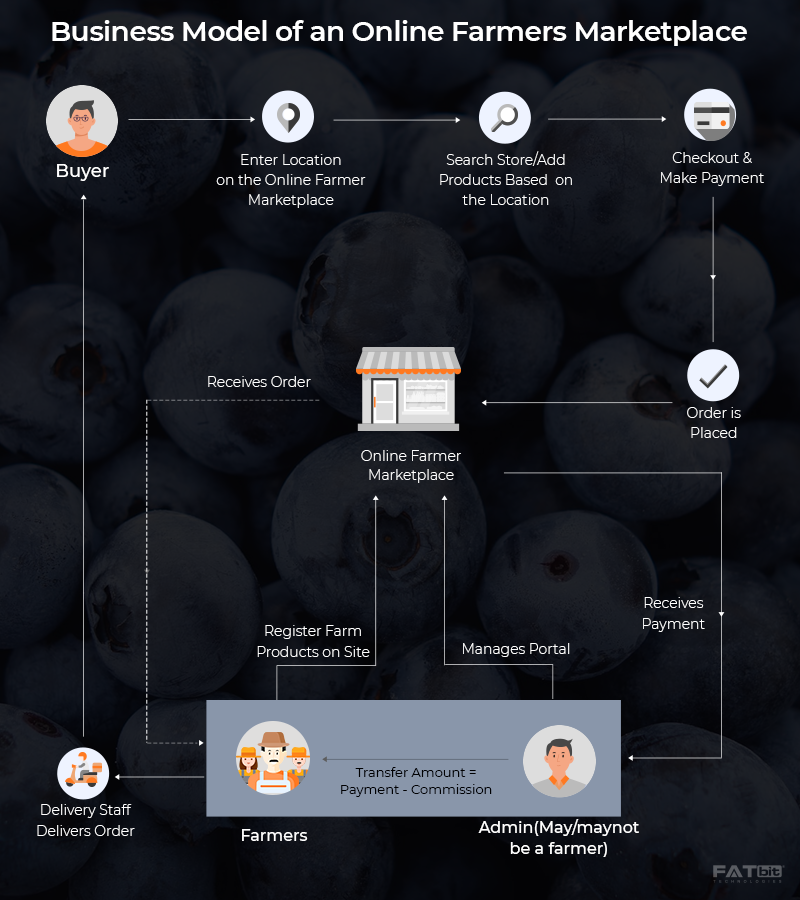 Revenue Model of an Online Farmers Marketplace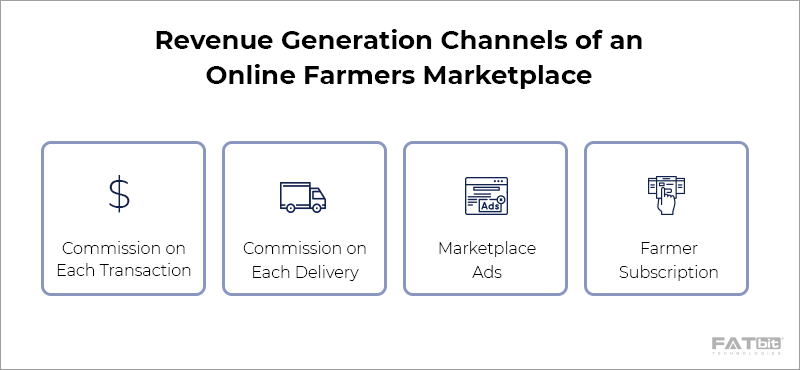 Commission on Each Transaction
Marketplace owners can generate revenue by charging commission fees to farmers on every order placed through the platform. When an order is approved, the marketplace owner receives his share of commission, and the rest is transferred to the farmer's account by the system.
Commission on Each Delivery
The marketplace owner charges the delivery commission to the buyer, and the delivery staff on every order delivered.
Marketplace Ads
Marketplace owners can earn money by helping farmers advertise their shops and products on the platform through banner ads. The advertisement fee will be charged based on the ad size, running time, and position of the ad on the marketplace.
Farmer Subscription
Farmers can list their shops and products on the online marketplace by purchasing a subscription plan of their choice. The marketplace owner will charge the subscription fee to farmers.
Must-Have Features of an Online Farmers Marketplace
Following are some key features that you must include in the admin (marketplace owner) panel, buyer panel, farmer panel, and delivery staff panel of your online farmers marketplace: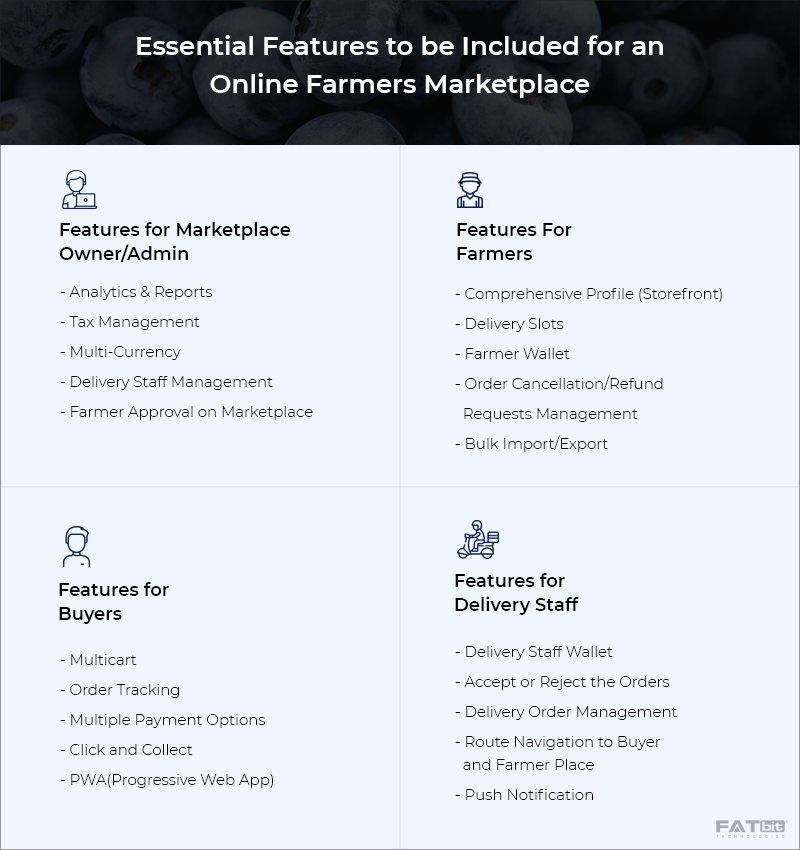 Features for Marketplace Owner/Admin
Analytics & Reports
The marketplace owner can check the overall performance of the platform, analyze sales reports, and measure growth rate on a regular basis to create effective marketing plans and future strategies.
Tax Management
This feature helps the marketplace owner define and manage various categories of taxes such as seller level taxes, product level taxes, and global level taxes effectively.
Multi-Currency
This feature enables the marketplace owner to add various types of currencies to the marketplace. It would be easy to capture buyers from varied locations as the feature would help them to shop and transact in their local currency.
Delivery Staff Management
This feature helps the marketplace owner accept or reject delivery staff requests, add or remove drivers, set global delivery commissions, and handle other operations pertaining to delivery staff.
Farmer Approval on Marketplace
Marketplace owners can accept or reject approval requests considering shop details and authenticity proofs shared by farmers. After accepting approval requests, the admin can help farmers set up their store and manage product listing as per the subscription plan.
Features For Farmers
Comprehensive Profile (Storefront)
Farmers can add or update the details of their store such as name, products, address, prices, shop timings, and more with this option.
Delivery Slots
This feature enables farmers to set up the date and time of delivery slots along with other details of the store like packaging time, operational hours and working days.
Farmer Wallet
Farmers can view transaction history, manage order payments and virtual credits, and send withdrawal requests for transferring money to their registered bank account.
Order Cancellation/Refund Requests Management
It would be easy for farmers to handle order cancellation/refund requests with this feature. They can easily initiate full or partial refunds depending on buyers' requests.
Bulk Import/Export
This feature facilitates farmers with easy inventory management by helping them track inventory status and monitor stocked goods. They can export or import data files in CSV format to save their time and resources.
Features for Buyers
Multicart
Buyers can select varied products from multiple stores and add them to a single cart to complete the payment in one go.
Order Tracking
This feature helps buyers track the real-time location of their orders. From dispatch to delivery, buyers will receive timely updates regarding their order status.
Multiple Payment Options
Buyers can make order payments through the payment method of their choice. Options like digital wallets, cash on delivery, credit or debit cards, and net banking will help them complete their order payment conveniently.
Click and Collect
Buyers can place an order and opt for self-pickups as per their comfort. They can schedule an in-store pickup and collect their order from the selected location. 
PWA(Progressive Web App)
This feature delivers an app-like experience to buyers across all platforms that are integrated with standard-compliant web browsers. Buyers can install a PWA from the browser on the home screen of their smartphone and access web content in offline mode.
Features for Delivery Staff
Delivery Staff Wallet
Delivery boys can view wallet balance, manage transactions, check payments history, send withdrawal requests, and keep track of their earnings with this feature.
Accept or Reject the Orders
This feature allows delivery boys to accept or reject order requests as per their availability. They can mark their availability status as active or inactive. The active personnel will receive new order requests.
Delivery Order Management
Delivery boys can manage current, upcoming, and overdue orders with this feature. They can check order requests, number of orders delivered, and delivery history.
Route Navigation to Buyer and Farmer Place
This feature will help delivery boys find shorter routes to farmer's and buyer's places. They can get a detailed view of the route, check route suggestions, and select a shorter route to deliver orders on time.
Push Notification
Delivery boys will receive timely notifications for orders assigned to them. The feature will keep them aware of new order requests, cancelled orders, platform updates, among other information.
Launch your Online Farmers Marketplace with Growcer
Top Farmer Marketplaces Across the World

Our Harvest
OurHarvest is an online farmer marketplace that sells locally grown fruits and vegetables, dairy products, bakery products, meat & seafood, and poultry items to the New York-based residents. The platform is designed to help farmers, fishermen, cheesemakers, and winemakers sell products directly to consumers and earn remunerative prices. The company works with a goal to deliver fresh and nutritious food to its customers at affordable prices. For every order confirmed, OurHarvest donates a meal to a local person in need.
FarmBox Direct
FarmBox Direct is a renowned online farmer marketplace founded in 2014 by Ashley Tyrner. From organic fruits to vegetables, the company delivers a wide variety of locally grown food items at its customers' doorstep. In 2020, FarmBox Direct partnered with "Capital Blue Cross & Vibra Health" and started a "Food as medicine" service". The sole purpose behind starting this service was to provide boxes of fresh produce to customers so that they can easily overcome chronic diseases and diet-related illness. 
FarmDrop
FarmDrop is a UK-based online grocer that provides farm-to-table food to their customers across Greater London and surrounding cities. The platform also offers pet food, deli products, household items, dairy products, and food items for kids & babies. FarmDrop delivers fresh groceries from a network of farmers, fishermen, and sustainable food producers. The company was founded by Ben Pugh in 2012 with a mission to become the most reliable and healthiest online grocery delivery service in the UK.
DoorStep Organics
Headquartered in Australia, DoorStep Organics is an online grocery delivery platform that sells fresh organic fruits and vegetables, eco-friendly cleaning products, artisan groceries, gourmet products, dairy products, meat & seafood, among other items to their customers across New South Wales. The marketplace was started to serve people with special dietary needs. DoorStep Organics also offers convenient delivery options to their customers so that they can schedule product deliveries as per their requirements.
How Growcer Helps in Building an Online Farmers Marketplace?
Launching an online farmers marketplace that drives growth demands investment in terms of both time and money. Entrepreneurs looking to start their online marketplace quickly should opt for a readymade marketplace solution to gain speed to market. 
Growcer, a grocery ecommerce platform, is equipped with all necessary features that help entrepreneurs launch their online farmers marketplace conveniently. It is a fully customizable solution that comes with ready-to-launch web portals and mobile apps.
Customization capabilities, seamless mobile apps, ready-made web portals, and COVID-19 features offered by Growcer make it an ideal solution to set up an online farmer marketplace.