In recent years, the grocery and food ordering industry has undergone seismic changes, paving the way for online, with small businesses such as bakeries launching websites to expand their customer reach. Further, the rising urbanization and modern lifestyle changes have led consumers to ready-to-eat convenient food items, steadily increasing the demand for bakery items. According to research, the global bakery market is expected to reach $436.91 Billion by 2026 and the global online bakery market is expected to reach $32.6 Billion for the projected period.
In this blog, we discuss all about creating an online bakery website, but first, we talk about the trends driving the popularity of bakery products in the age of eCommerce, reasons to go digital, working of an online bakery platform, revenue generation streams and so much more.
Trends Driving the Popularity of Baked Goods in the "Age of eCommerce"
From ancient civilizations to modern times, baking has played a significant role in the history of food, curbing the hunger of countless people. It can be traced back to 2600-1200 BC when the Egyptians baked the first bread. Today, with the emergence of eCommerce, there is a transition in the behavior of how consumers shop baked products. In this section, we discuss a few trends that are driving the popularity of baked goods in the age of eCommerce.  
Growing Demand For Convenience
Convenience drives the bakery market, i.e., in today's fast-paced lifestyle, convenience is the foremost thing that an individual craves. Long working hours make it difficult for people to spend time cooking. Hence, a hectic lifestyle boosts the consumption of convenient baked products like bread, cookies, frozen pizza, and more. So, a bakery marketplace proves to be a convenient place to order bakery products at the touch of a button.
Increasing Consumer Inclination Towards Healthy Baked Products
Since the outbreak of Covid-19, health has become a top priority worldwide. As a result, bakeries are reshaping their product strategies to meet new consumer demands, i.e. growing interest in vegan baked products. Certain bakeries are even incorporating superfoods such as chia seeds and matcha into their baked goods for added health benefits. Therefore, rising innovation in the baking industry and the launch of new products can be seen as an opportunity in the market to be capitalized. 
High Spending Capacity and Growing Urbanization
As a result of the fast-paced lifestyle, the rise of the global consumer class and growing urbanization are both mega drivers for the mounting popularity of bakery products. 
Interested in Launching an Online Bakery Website?
Reasons to "Go Digital" – Benefits of An Online Bakery Website
Given the changing scenarios, online shopping has become a norm these days as whatever consumers want or need can be obtained within a few clicks. Hence, going digital is the next logical step. Still, we discuss in detail a few reasons to invest in an online bakery platform.
Greater Reach
With an online bakery marketplace, you can cater to a much wider range of audience without having to make any additional investment in staff or infrastructure. You can even get new customers through promotions and deals and broader the overall reach.
Round-the-Clock Operation
You can operate your business round-the-clock with an online bakery website. There are no time issues which means that your baked goods are accessible to customers 24×7, thereby increasing potential sale opportunities.
Access to Real-Time Analytics
By using an online delivery software you can gain access to real-time analytics. Insights include – who are your regular customers, which is the best selling item, the time when the footfall is highest and more. The data is valuable since you get to send customers personalized promotions and offerings to entice them and have them back over and over again.
To Grow your Bottom Line
As per a survey, orders placed online are 20% larger on an average, this means more revenue. So, you can highlight specific items on the menu to influence the purchase as growing the bottom line is the end goal.
Working & Business Model of an Online Bakery Marketplace
The working of an online bakery marketplace is simple with the primary aim to bridge the gap between consumers and bakers by providing a door-step delivery of orders. The business model comprises of: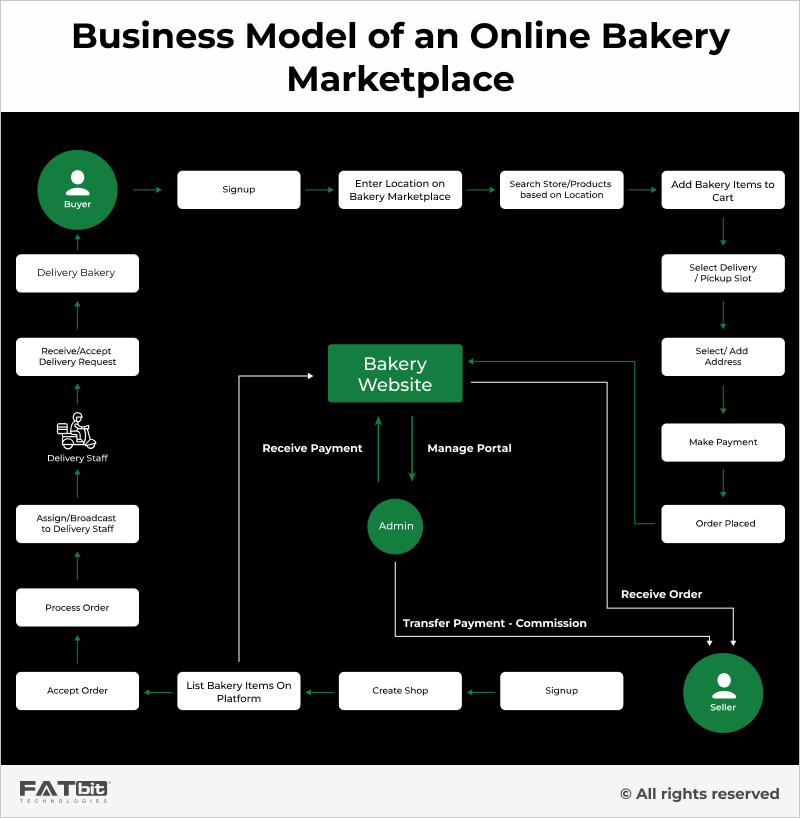 Bakers

Consumers 

Delivery Staff 

Admin 
Bakers create a profile on the

website

and the request is sent to the admin for approval.

The admin verifies and either approves or disapproves the profile. The approved profile gets listed on the

website

. 

The consumer signs-in and selects a bakery/baker or the baked item(s).

The order is placed and the consumer pays. 

Once the order is placed, the baker/bakery accepts the order and approves it. 

The delivery staff hand-delivers the order to the door-step of the consumer

The admin deducts the commission and transfers the amount to the baker/bakery.
Allow bakers to sell their delicious treats by launching an online bakery Website
Revenue Generation Streams for an Online Bakery Marketplace
As an entrepreneur, generating revenue is critical to not only stay afloat but to stay ahead of the curve. A few possible revenue generation streams for an online bakery marketplace include: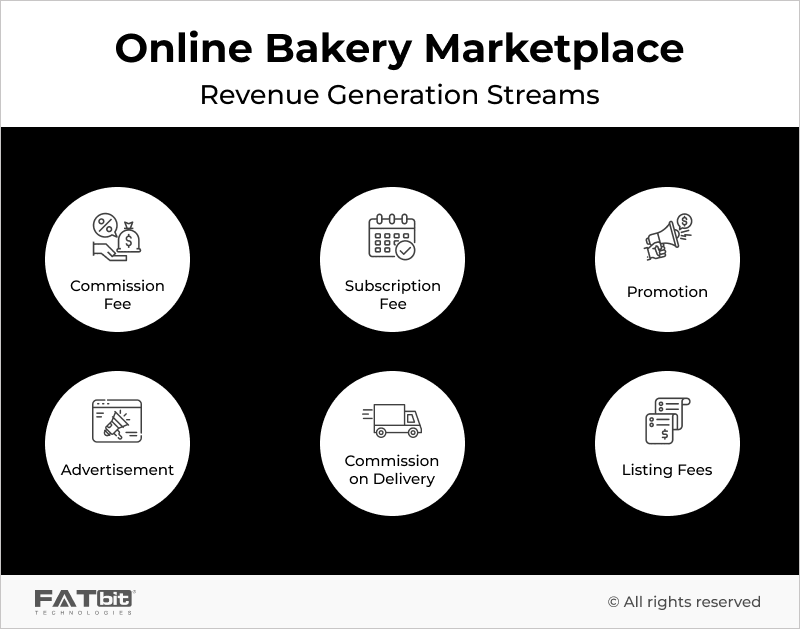 Commission
You can generate revenue by charging a commission on each sale made through the platform. 
Subscription
The marketplace can offer a subscription model where consumers can pay a subscription fee to access benefits such as free delivery, discounts and so on. 
Promotion/Premium Placement 
The bakery vendors who want to showcase their bakery goods more prominently on the marketplace can be charged a fee to have their listings appear on the top, also known as premium placement. 
Advertisements
This is a popular revenue generation method. Here, the online bakery marketplace can partner with other businesses to showcase their ads. 
Commission on Delivery 
For every delivery, a commission can be charged based on the distance or order value from the bakery store/baker.
Listing Fees 
For listing products on the online bakery marketplace, the bakers can be charged a listing fee. 
Creating an Online Bakery Website
The world is increasingly becoming digital and so are businesses. To capture the mind space of the target audience it is essential to create a business website. But before that you need to know the essential pages to have. Below mentioned are a few website pages to have in an online bakery marketplace. 
Homepage
Homepage is the first page that the visitors will see when they will arrive on the website. Hence, the homepage should be able to entice the visitors and give them an overview of the bakery stores and the products available. It should also include geographical radius, filters and so on. 
About Us
An about us page is a pivotal part of the website as it includes your story and gives you an opportunity to introduce yourself. You can also highlight any accomplishments or awards received. 
Stores Page
An online bakery marketplace should have a page consisting of all the bakery stores (listing) so that the consumers can choose according to their preferences or requirements.
Products Page/Menu
The menu page  of an online bakery store should list all the products along with their prices.
Contact Page
This page should include the contact information such as email address, physical address (if you have one). 
Policies Page 
This is another important page and should include information about refund policy, terms and conditions and other information potential customers should need to know.
Privacy Policy 
There should be a separate page that outlines how your site collects, stores and uses customer data. 
Blog 
By publishing engaging content through blog posts you can attract customers and drive traffic to your online bakery marketplace. It can also help to boost the site's ranking. 
Must Have User-Level Dashboards
In addition to the above mentioned pages, there are a few user-level dashboards that are a must-have in an online bakery marketplace platform. These are:
User Dashboard
Displays the wallet balance, total number of orders placed, messages (read/unread), record of latest orders and more. 
Bakery Vendor Dashboard 
Showcases the earnings of the vendor, inventory of baked goods, top selling items, and so on. 
Admin Dashboard
The admin dashboard showcases the collective information of sales stats, recent orders, customer activity, top selling products and much more. 
Essential Features to Have in An Online Bakery Website
When creating an online bakery platform, it is important to have a set of pivotal features so that the end-user experience is seamless. Key features to consider include:
Easy Registration
This feature allows users to create their profiles easily and simplifies future transactions.
Product Catalog
Using this feature, bakery vendors can display an extensive list of bakery goods with detailed descriptions, quality images and prices. 
Easy Checkout 
Enables consumers to add products to a cart, review selection, apply discounts and proceed to seamless checkout. 
Multiple Payment Gateways 
To accommodate various user preferences, this feature offers various payment options such as digital wallets, credit cards, and so on.
Ratings and Reviews
Allows customers to provide ratings and reviews for bakery vendors and their baked goods. This feature helps in trust building and aids consumers in making informed decisions. 
Delivery and Pickup Options
This feature allows consumers flexible delivery time slots. In addition, an in-store pickup option is also provided. 
PWAs
Progressive web apps provide an app-like seamless experience across various devices. 
Reports and Analytics 
This feature allows an online bakery marketplace to evaluate the growth and make informed future strategies. 
Order Cancellation 
Using this feature, the users will be able to cancel their order. 
Refund Management
In case, there is an issue with the bakery order, a refund can be issued using this feature. 
Launch a feature-rich online bakery marketplace
How Can Growcer Help in Creating an Online Bakery Platform?
Developed by FATbit Technologies, Growcer is a readymade hyperlocal marketplace software that is designed for entrepreneurs looking to launch their online bakery website. It is aesthetically designed with rich features that provide a seamless user experience. In addition, it encapsulates powerful dashboards for swift operations. Growcer also comes equipped with intuitive mobile apps for vendors and delivery staff (Android and iOS). 
Key Highlights of Growcer
Fully Customizable and Scalable

Real-time Inventory Management 

Offers Buyer and Delivery Staff Apps

PCI Compliant for Secure Transactions

Multiple Payment Gateways

Powerful Dashboards

Reports and Analytics 

Return and Refund Management 

Zero-cost installment 

12 Months Free Technical Support
Platforms Powered by Growcer 
ShopExpress
ShopExpress is a Zimbabwe based online grocery delivery platform that provides seamless delivery of baked goods that are purchased online. Powered by Growcer, several features present in the platform, amplify its scalability for present and future growth. For enhanced delivery, mobile apps were also provided.
Tap Retail
Built using Growcer, Tap Retail is an Ireland based hyperlocal delivery marketplace that provides consumers a platform to purchase baked goods from local stores. The enhanced features available allow delivery of baked goods on the same day within a given time slot.
Kickstart your Online Bakery Website with Growcer
Conclusion
The bakery industry is a significant player in the global food market. With a diverse range of products, customization options available, and a growing demand for healthier options, the online bakery industry will continue to grow. Hence, if you are an entrepreneur who is looking to start your own online bakery business. This is the right time. Give bakery vendors the opportunity to display their gorgeously baked goods online and whip the magic of delicious creations.