Digital peer-to-peer marketplaces have been foundational to the growth of the sharing economy, enabling individuals to transact directly with one another at an exceptionally large scale. Conceptually, a peer-to-peer marketplace can be thought of as a particular type of two-sided market, in which an intermediary facilitates transactions between two interdependent customer groups such as supply-side and demand-side participants or producers and consumers.
This robust idea of the peer-to-peer marketplace has been readily adopted by several businesses in the global market. The revenue of the P2P marketplace was $1078 Million in 2021 which is expected to reach $5.1 Billion in 2032, growing at a CAGR of 15.5% from 2022 to 2032.

Although investing in a peer-to-peer marketplace has become a trend today, some people still find it challenging to create a peer-to-peer marketplace website similar to eBay. This blog post will describe the main types of peer-to-peer marketplace websites, the reason for their growth, the benefits of building a peer-to-peer marketplace, challenges, famous players in the industry, must-have features, and finally how to build a peer-to-peer marketplace.
So, without further ado, let's get started!
Table of Contents:
Types of P2P Marketplaces
Based on the services they provide, all peer-to-peer marketplaces can be classified into three major kinds.
Rental Marketplaces
A rental marketplace is a type of peer-to-peer platform that provides users access to an extensive selection of properties for rent. Previously, people reached out to agents to rent properties, however with the introduction of platforms like Airbnb and HomeAway, there is no need for agents. Property seekers can visit a rental marketplace to find a property as per their requirements.
Marketplace owners do not need to own any of the properties that are listed and all the expenses of managing the lodgings are borne by the hosts. Marketplace owners only need to take care of the insurance and user verification.
Product Marketplaces
A product marketplace allows merchants to list any goods online in exchange for a charge. Individuals that want to sell their products online can create listings. They don't need to own brick-and-mortar stores, pay for rent, or pay salaries to employees to be able to offer things for sale.
However, when an item is sold, merchants are charged a percentage by the platform's owners.
Services Marketplaces
An online services marketplace allows individuals to easily locate people with the appropriate talents. The talents listed on the platform can be relied upon for the tasks assigned to them as the marketplace owners conduct interviews to assess their abilities before listing them on the platform.
Why are P2P Marketplaces Growing in Popularity
Unquestionably, the peer-to-peer platform is beneficial for all its users including sellers as well as consumers. Let's see why its popularity is growing among its users.
Sellers
Joining a peer-to-peer marketplace for selling products/services is an affordable solution, instead of building a platform of your own.
Sellers get a great number of potential buyers in a marketplace and do not need to spend time looking for buyers. Instead, the buyers on the marketplace are much more interested than the sellers can potentially attract to their online stores.
Sellers do not need to track inventory by themselves as the marketplaces automate the tracking processes for hassle-free operations.
Buyers
Buyers have the advantage of buying from a great number of sellers helping them find the best options in terms of quality and price.
The simple buying and checkout process on a marketplace encourages the buyers to make the purchase right away. To make the process even faster, buyers also have the convenience of paying on the platform itself.
Buyers do not need to worry about fraud in the marketplace as the owner ensures security by holding the sellers' payment in the escrow account until the product or service is successfully delivered to the buyer.
Benefits of Building P2P Marketplaces
Peer-to-peer marketplaces bring benefits not only to sellers and buyers but are also beneficial to entrepreneurs. Here are some of the distinguishing benefits of peer-to-peer marketplaces for business owners that make them stand out.
Financial Edge
One of the biggest benefits of a peer-to-peer marketplace is that there is no investment required in terms of production, supply, shipping, and marketing. Its business model becomes the most viable option to start a successful business as it only requires a website or an app to function.
The business does not need to own the products and services that are being offered. In addition to this, the maintenance costs are also relatively lower than any other business. Once the website is set up, you can focus on improving its functionalities while the revenue continues to grow.
Are You Planning to Gain That Financial Edge in Your Business?
Network Effect
The network effect on the online marketplace eliminates the efforts required to attract users (sellers & buyers) to the platform. Each new user on either side attracts new users; trusted and reliable sellers on the platform selling high-quality products make customers' heads turn towards your website, and sellers are attracted by seeing a growing number of buyers on the platform.
Users themselves market the platform and make it recognizable which is required for that first push of popularizing your platform.
Hassle-Free Development
Due to the growing demand for these platforms, it is not a difficult task to build and launch a platform like this. There are several readymade software available in the market that can be easily deployed to launch a full-fledged peer-to-peer marketplace. The readymade software from an experienced software provider can turn your idea into a customized peer-to-peer marketplace for a scalable business.
Geographical Freedom
As the marketplace will be running online, users will not be limited to any particular location. Global users can register on the platform increasing the potential number of users dozens of times.
Challenges of a Peer-to-Peer Marketplace
Building and running a peer-to-peer marketplace is not an easy-going process; it definitely has its own set of challenges that business owners might face.
Solving the Wrong Problem
Prior to investing huge time and money into the marketplace, it is important to find a problem and build a solution for it. Business owners need to validate their idea at the initial stage by launching the first version of their marketplace as soon as possible. The feedback from the early users can significantly help in determining the further enhancement required in the marketplace.
Finding the Market-Fit Product
Another challenge is to identify the right niche for your business. It makes sense to focus on a small niche at the beginning as lack of focus can hamper the growth of your business. Focus on finding the right product for the market and then scaling can actually make your business grow big.
Deciding on the Right Business Model
There are different options for business models to choose from for a peer-to-peer marketplace. Deciding on a sustainable business model that works for sellers, customers, and you is important for the success of the marketplace. Make sure the business model is capable enough to scale with the business in the near future.
Building Customer's Trust
As a new name in the market, your brand won't have a significant level of trust that people implicitly have in established brands. However, there are some strategies that can be used to build customers' trust. Also, it is something that takes time to build. Business owners can strive to provide extra safety which can become a competitive advantage for their business.
Key Players in the Peer-to-Peer Business
If you still don't have enough motivation to join the bandwagon and launch a groundbreaking peer-to-peer business, let's read about the key players in this industry and their growth.
Uber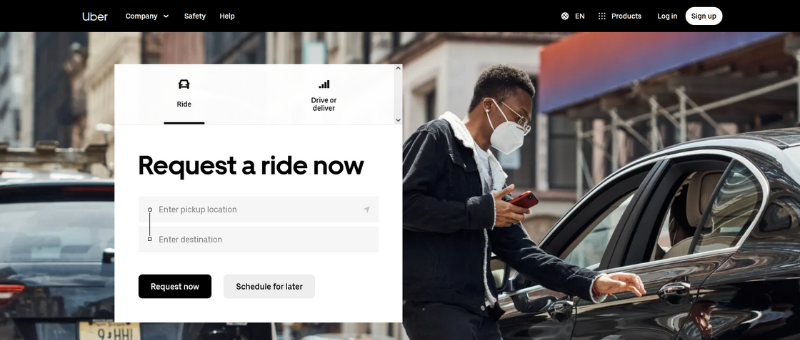 Founded in 2009, Uber is a service provider allowing users to book a taxi and driver to transport them. Without owning a single vehicle, the company operates in almost 72 countries and 10,500 cities. The fares of the ride, which are based on a dynamic pricing model depending upon the supply and demand are quoted to the customer in advance.
Uber generated $17.4 billion revenue in 2021, a 56% increase year-on-year. Uber drivers completed 6.3 billion trips in 2021 with over 188 million people. The company has received total funding of $20.9 billion from 2011 to 2019.
Etsy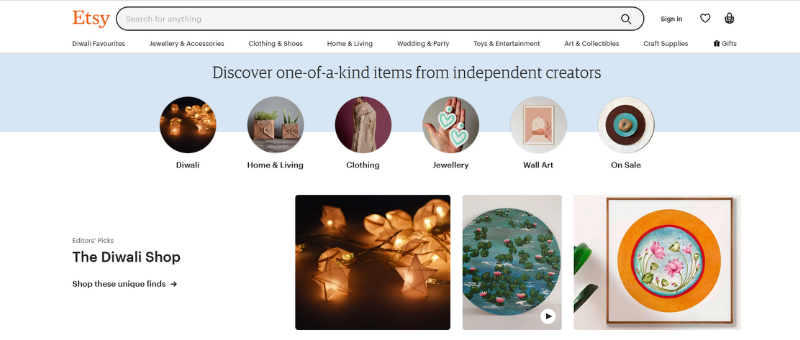 Founded in 2005, this platform is a network where one can buy and sell handmade, unique, and vintage craft items like jewelry, bags, clothing, home decor, furniture, and toys. The platform has helped thousands of craftsmen to make revenue by selling their products online. The platform generates revenue from vendors in the form of listing fees and commissions from each sale.
Etsy's annual revenue in 2021 was $2.32 billion which was a 34.97% increase from 2020. The platform has 7.5 million sellers and 96 million active buyers.
Airbnb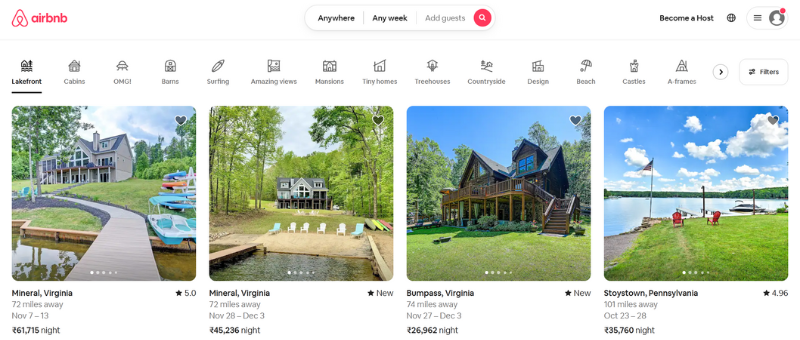 Based in the USA, this marketplace helps travelers find affordable accommodations all over the world. The business was established in 2008 where the platform works as an intermediator connecting homeowners with travelers who are looking for affordable accommodation while Airbnb makes a profit from the commission from each booking.
The platform was valued at $133 billion in 2021 and saw its revenue increase by 73% which is $5.9 billion in the same year. The platform has over 7 million listings run by over 4 million hosts.
Want to Build a Peer-to-Peer Marketplace like Airbnb?
TaskRabbit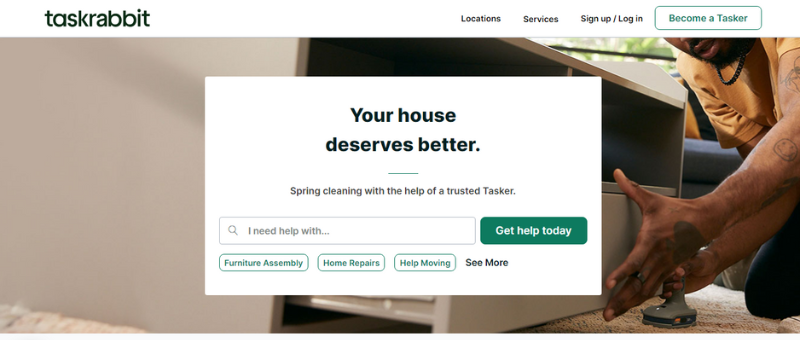 Launched in 2008, the company has been growing at a steady pace and has competitors like Hassle, Zaarly, and Thumbtack. This online marketplace matches freelance labor with local demand, allowing consumers to find help with everyday tasks, including furniture assembly, moving, delivery, and handyman work.
Headquartered in San Francisco, the platform serves in cities across the United States, Canada, the United Kingdom, France, Germany, Italy, Portugal, Spain, and Monaco. The platform's estimated annual revenue is $244.9 million and has raised total funding of $37.7 million.
Fiverr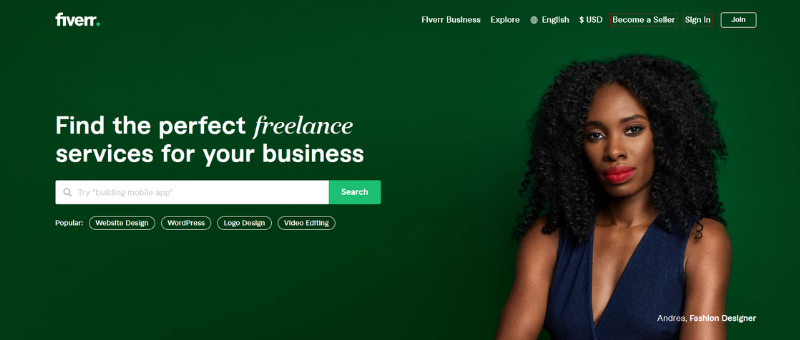 Fiverr is the world's largest online marketplace for freelance services connecting freelancers to people or businesses looking to hire. Launched in 2010, this platform has no match when it comes to getting small yet skill-oriented jobs done by people located at far-off locations. The platform consists of quite useful website features for service providers as well as service seekers.
The company was valued at $298 million in 2021 and has raised total funding of $111 million in 8 rounds.
Start Marketplace Like TaskRabbit or Fiverr
Essential Features of a Peer-to-Peer Marketplace
Now that you have seen the businesses growing immensely in the peer-to-peer industry and are planning to launch your own marketplace, it is important to know the features required to have in your platform. Although the peer-to-peer business model has proven viable, it is still imperative to have the right set of features in your platform.
Here are the features that peer-to-peer marketplaces should have:
Social Logins & Verification
Marketplace owners need to provide users with multiple ways (phone, email, social account) to register and sign in to the platform in order to boost audience satisfaction. It is faster for the users and the linkage of a social account increases the credibility of the sellers.
In addition, users should not be forced to create an account on the platform until they are not purchasing any product/service on the platform.
User Profiles
A user profile is among the main features in a peer-to-peer marketplace. The user profiles should contain personal information such as name, photo, contact details, location, user type, buying/selling preferences, ratings, etc. Creating profiles is an essential part of building trust between buyers and sellers. You can also add an option to verify phone numbers and identities, which can or can't be shared with others.
Reviews/Ratings
Reviews are an essential part of any eCommerce business to build transparency and trust among users on the platform. As customers these days are fully aware, probably the first thing they would do after finding a product is to check its reviews. Missing product or seller reviews might just encourage them to give up on the product and look for the product in a different source.
Notifications
This feature is essential to speed up the interactions and make communications between parties seamless. Integrating this feature allows sellers to send emails and notifications about order status, price decreases, special offers, product availability, and much more. Notifications make sure that the buyers and sellers can communicate with each other quickly without the messages being lost in history facilitating the closing of the deals more quickly.
Product Listings
It is equally important to implement product listings when building a peer-to-peer marketplace. You need to implement this feature correctly as it works differently for vendors and consumers. As far as vendors go, they should be able to add, remove, revise, publish, and unpublish listings. Customers should be able to filter, search, and view those listings with detailed descriptions.
Website Search & Navigation
In order to enhance the user experience on the platform, the website should have a smooth search & navigation. Well-structured and thought-out website navigation helps boost user retention and interest in the website. The option to search for products using keywords, filters and categories makes sure the buyers can find the products and services they are looking for.
Online Payments
Customers need to be able to pay for their purchases or bookings right on the marketplace. To offer this, integration with different payment gateways is essential. Make sure to allow different types of payments, including credit/debit cards, PayPal, digital wallets, net banking, cryptocurrency, and country-specific payment options.
Communication
For efficient communication between sellers, buyers, administrators, and support, the marketplace needs to have a messaging system integrated. Users should be able to write a message and send it to any other user to avoid disputes and communicate quickly for a seamless experience on the platform.
Want to Have a Walkthrough of the Essential Features Required in a Peer-to-Peer Marketplace?
Cross-Selling & Upselling
This is a common feature of online marketplaces to have. Implementing sections like "Recommended" or "Users also bought this" on the product page may entice users to purchase more increasing your revenue and profit as a platform owner.
Bookings
A peer-to-peer marketplace that offers services instead of products needs to have a booking system in place. To mark the availability/unavailability and to book the slots to eliminate any chances of errors, a calendar needs to be integrated into the marketplace.
How to Build a Peer to Peer Marketplace
We have reached the most crucial part of the article (How to Build a Peer to Peer Marketplace). A peer-to-peer marketplace can be built by multiple approaches. Two of them are:
Custom Development
Readymade Software
Custom development from scratch is a sound idea if you need extended functionality or a high level of customization. However, this needs to be kept in mind that this approach consumes most of the time and money. You need to hire a development team that can help you with the technical aspects and guide you on the way to product launch and even after that.
Using readymade software cuts the time and costs of marketplace development greatly. The software has all the essential features required to build and launch a peer-to-peer marketplace. The software is developed by a group of experienced professionals, hence, it addresses the problems that may get overlooked in the custom-developed platforms.
One does not need to waste any time in building and testing the software and instead can readily install the software after purchase. A huge amount of time and effort is invested in rigorous research, intuitive development procedures, prelaunch testing, and more in the readymade software as it specifies the need of large industry rather than a specific user or a business.
One such readymade software to build a peer-to-peer marketplace is Yo!Gigs. This is a fully customizable and all-in-one home services marketplace software purpose-built with all the essential features to streamline the operations of a peer-to-peer marketplace. The software comprises a unique and powerful suite of features to build a robust peer-to-peer marketplace.
Choosing between custom software and an off-the-shelf solution can have consequences that will be felt in the long run. It's inevitable that you take this decision keeping in mind the long-term requirements. Short-term pain often leads to long-term gain, however, the opposite can also be true.
Summing Up
Building a peer-to-peer business has never been easy than it is today. With unlimited potential for creativity and growth in this business model, the odds of becoming successful are definitely high. All you need to do is identify the strong and weak sides of the business and discover how to address the pain points to gain a competitive advantage.