The global consuming patterns of modern day consumers have changed. Today, consumers prefer convenience and are ready to spend for the same. This is where the handyman services industry leverages and captures the market share. Due to the modern occupied schedules and long working hours, what in the 20th century used to be a DIY-job, has been overtaken by the handyman businesses. This even includes small jobs such as assembling a table, fixing a tap, mowing lawns, decorating patios and even walking dogs.
The statistics show the proliferation of the handyman services industry across the world. To begin with, the global handyman industry is expected to grow almost 5 times in the upcoming 9 years. Its compound annual growth rate is an astonishing 17.2%1  in the projection period 2022-2032. The North American region is the biggest market accounting 36.5% of all market share, followed by Europe with 24.80% share.
Fortunately, there is immense scope in the handyman industry for new entrants at both global and regional levels. Interested entrepreneurs can have a look at our following insights to know more about the industry including growth factors, top players and prerequisites to build your own handyman services marketplace.
Growth Factors Behind The Handyman Services Industry
Several factors are accountable for the discernible growth rate of the handyman services industry.
Service Industry Expansion:

Not just handyman but the entire service industry is growing on its own. With large scale requirements for contractual services and partnerships, there has been a constant growth in the services industry.
Renovation and Repair Work Projects:

As per

statistics

2

, approximate 80% US homes are more than two decades old and 40% are at least 50 years old. Thus, it becomes evident that these homes are in need of essential repair and renovation services.
Changing Lifestyle:

As mentioned in the introduction, modern consumers prefer a simple and convenient lifestyle. In addition, as their disposable income grows, they are not reluctant to hire handymen for assembly, installation, repair, renovation, and decoration work.
Side Hustling:

Along with consumers, more service providers are available than ever because of extra income opportunities. Moreover, side hustling as a service provider also enables individuals to follow their innate talents and passions.
Home Improvement Trends:

Along with repair and renovation projects, customers also hire hanndymen to match modern day trends. For example, setting up homes and spaces for AirBnb or deploying smart homes technology.
Types of Handyman Services
After conducting a market analysis, we found that the majority of handyman service marketplaces offer the following services on their platform. You can also do your own research and create a list of most demand services to list on your online handyman business:
Electrician

Plumbing

Garage Mechanic

Carpentering

Interior Designing

Cleaning

Gardening

Roofing

Audio Video Setup

Painting

Movers
Top Players in the Handyman Services Industry
The handyman services industry is dominated by several players. These include both incumbent and new entrants. For reference, take a look at the following graphic:
| | | |
| --- | --- | --- |
| Marketplaces | Launch Year | Estimated Revenue |
| Angi | 1995 | $1.6 billion |
| Bark.com | 2014 | $455 million |
| Thumbtack | 2008 | $300 million |
| TaskRabbit | 2008 | $245 million |
| Handy | 2012 | $216 million |
| HomeAdvisor | 1998 | $483 million |
Launch an Online Handyman Business with your Own Platform
Operational Model of a Handyman Services Marketplace
The handyman industry vastly operates online with the help of Peer-to-Peer marketplace platforms. The platform is required to streamline and simplify the hiring experience for customers, who can easily book handyman services from the comfort of their four walls. In addition, as everything takes place digitally, there's no paperwork involved..
Note: The following operational models are only for reference purposes. The actual model can vary as per independent handyman business' requirements and on the business owner's sole discretion.
Two Way Operations on a Handyman Services Marketplace
Both the operational models include three user types, which are:
Admin or the marketplace owner

Service provider/tasker/handyman

Customer
Operational Model 1 – Direct Hiring
Step 1:

Service providers sign up on the marketplace and create detailed profiles

Step 2:

Customers browse those profiles and select their preferred service person

Step 3:

To book the service, customers submit the service fee along with the admin commission on the marketplace itself

Step 4:

The service provider interacts with the customer and delivers the task

Step 5:

Once the task is complete, the admin deducts its commission and transfers the remaining amount to the service provider
Operational Model 2 – Job Posting and Bidding
Step 1:

Customers sign up on the marketplace and upload different types of tasks.

Step 2:

Service providers sign up and browse those tasks. They also create detailed profiles and upload portfolios to improve their chances of selection.

Step 3:

Service providers send proposals and place their bids on the task.

Step 4:

Customers view proposals and select a bid. They also submit an advanced deposit for the bid.

Step 5:

The service provider interacts with the customer and delivers the task.

Step 6:

Once the task is complete, the admin deducts its commission from the deposit and transfers the rest to the service provider
There can also be a third model, which can be a combination of both these models, i.e, that allows customers to directly hire service providers and also supports the job posting & bidding system.
Revenue Generation Model
In terms of revenue, service commission remains the primary source of profit for a handyman business. However, there can also be some other methods. We have mentioned all common revenue generation streams below: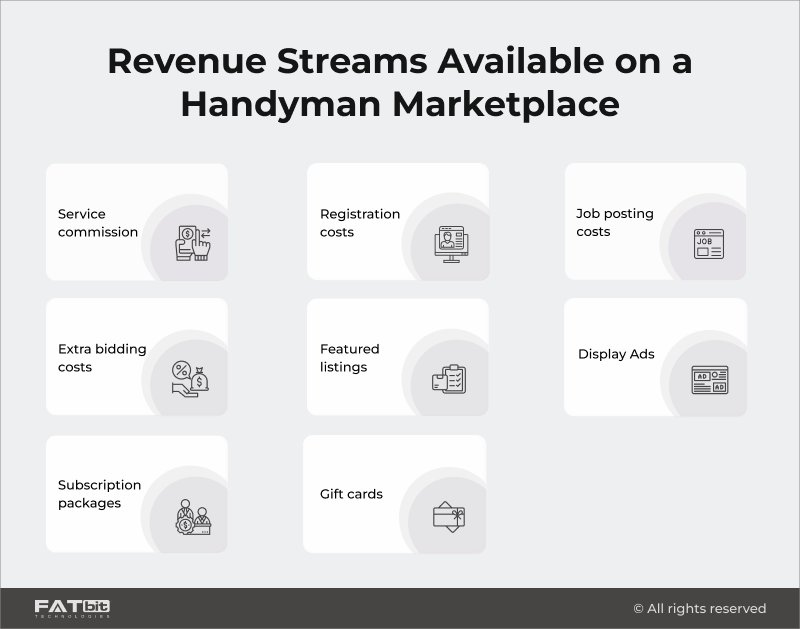 Get all these Revenue Streams in your Handyman Marketplace
Creating your Own Handyman Services Marketplaces
There are several methods to create your own handyman services marketplace. While the conventional ones emphasize on custom development, the modern day world does not require marketplaces to be built from scratch. Instead, entrepreneurs can rely on readymade software solutions that do the job without coding. The only exception to this scenario is when you require your marketplace to be developed on a very specific technology or programming language, and cannot find any readymade software powered by it. In this case, the traditional bespoke development approach remains your only option.
Transitioning to the practical aspects of establishing your handyman services marketplace, this part of the article breaks down the marketplace strategy into three parts; identifying the feature set, technology and brand building.
1. Required Feature Set on a Handyman Marketplace
Your handyman marketplace should have multi-vendor management features along with high scalability to simplify the overall experience for customers and service providers. These features can include:
User Profile Management:

To help you manage all service providers and customers that register on your marketplace. You can also view their order history, payments and mandate admin approval for service provider/handyman registration.
Task Management:

Important to keep track of all tasks uploaded and completed on your marketplace. You should be able to create task lists, task categories and even allow handymen to mark suspicious tasks as inappropriate tasks.
Payment Management:

These include the option to set up your payment gateway, options and currency. In addition, you can also automate different types of taxes on every transaction.
Background Verification:

Establishing trust is important on a handyman marketplace. It helps in ensuring the safety and security of every customer. For this reason, it is important to have a background verification system on your handyman marketplace. In case, if admin approval for registering service providers is disabled, you can display a verification badge on the profile of all verified service providers.
Task Posting:

The option to let customers upload and manage different types of tasks from the admin uploaded task categories.
Bidding Management:

To complement task posting, service providers should be provided with the option to send proposals and place bids. The business owner can set a minimum bidding amount to maintain fair competition and earnings.
Service Provider Portfolio:

Allow service providers to create detailed profiles and showcase their previous works. This portfolio will assist customers in making a data-driven decision for their requirements.
Direct Hiring:

Along with task posting, let customers browse service provider profiles and directly hire them without bidding.
In-Built Messenger:

Required to simplify interaction between customers and service providers. You can also integrate a messaging app on your marketplace to provide customer support.
Content Management:

For managing the web pages and blog sections on your marketplace, you need a content management system. It will help you create and manage all types of landing pages, navigation menu, homepage slider and even header and footer section.
Commission Management:

Set and charge your own commission rate on every service that is booked on your marketplace.
Notifications and Alerts:

The option to receive and send notifications and alerts for order placements, status updates, new sign ups, customer queries, etc. Also these settings should allow you to send templated welcome and status update emails to customers as well. 
Discount Management:

Required to create multiple types of discounts, such as coupon based discounts, flat rate discounts, percentage discounts, reward points discounts, etc. on your marketplace.
2. Selecting a Software Technology
As we said above, using a readymade software is a very efficient method to launch your handyman business. However, there are also several readymade software available in the market including both SaaS and perpetually licensed software, which makes it difficult to find the ideal software.
3. Introducing Yo!Gigs
If you are looking for a solution that is highly cost effective in the long run, then you can opt for Yo!Gigs handyman software. Yo!Gigs is a self-hosted software that gives handyman businesses the freedom to host it on their own in-house servers or select a third party hosting service like Amazon AWS. In addition, Yo!Gigs comes with all essential features required to launch and manage a robust handyman marketplace. Below are some other reasons to select Yo!Gigs for launching your handyman services marketplace.
Impressive Feature Set:

For smooth handyman operations, Yo!Gigs has a splendid feature set of all basic and advanced features like task management, order management, user management, background verification, job posting, bidding management, custom task groups, favorite tasker, eWallet, advanced deposits, etc.

Available at a One-time Cost:

Unlike the majority of handyman marketplace solutions that come with monthly recurring costs, Yo!Gigs is available at a one-time cost. This means that your investment in the software technology can be easily recovered from the profits generated by Yo!Gigs. On the other hand, with monthly recurring solutions, your investment will always keep increasing.

Fully Scalable:

Business growth is one of the primary objectives of every entrepreneur. With software that come with a limited number of listings, transactions and user profiles, it is not possible to accommodate the growing number of customers. However, as Yo!Gigs is a fully scalable software with unlimited listings, transactions and user profiles, it is easy to grow your business without feeling the need to migrate.

Fully Customizable:

We understand that entrepreneurs can have their own unique requirements. To fulfill such requirements and help entrepreneurs meet their vision, Yo!Gigs GoCustom version is fully customizable. You can ask our team for any design changes, feature customizations and integrations.

Free 1 Year Technical Support:

Although technical errors are  rarely reported in Yo!Gigs, to help you resolve any such unprecedented errors, Yo!Gigs comes with one-year of free technical support. This ensures that in case of any technical errors, you can still continue with your business operations with minimum down time.
Take a Free Tour of Yo!Gigs Marketplace Software
4. Establishing your Brand
In order to successfully penetrate any market, it is essential to craft a brand identity that resonates with your intended audience and aligns seamlessly with the services you offer. The chosen brand name should be concise and easy to remember. Along with selecting your brand name, you also need to invest in a domain name. It is better for digital marketing purposes if you can match your domain name and brand name. Lastly, you will need to register all your trademarks including logo and other intellectual property. After everything is set, you can harness the built-in capabilities of your software platform to efficiently promote and oversee the operations of your handyman business.
Conclusion
According to the statistics, there is significant potential in launching a handyman business. Those entrepreneurs who are able to capitalize on the potential in time leverage the first mover advantage. They would be able to establish a strong presence in their target audience. For properly targeting the market, your overall business strategy should focus on increasing customers and onboarding service providers as well. For onboarding purposes, you can check out this guide that sheds light on some methods that you can use to onboard your first few service providers.
Source links: