Last Updated: 19th Feb, 2021
Table of Contents
"Customers Purchase Outcomes, not Products"
Even though the technology is amalgamating with everyday lives, the COVID-19 pandemic prompted even more sudden changes in the behaviours of consumers, business owners, and budding entrepreneurs.
The gravity of the situation has driven pioneers to discover approaches to defeat colossal operational difficulties (inventory management and order fulfilment) without compromising customer experience.
On the other hand, Coronavirus-adaptive entrepreneurs are setting up on existing trends that have been intensified and paced due to the pandemic.
For example: Rapid Growth in Online Grocery Business
To set up an eCommerce grocery business, an entrepreneur would want to know:
Business model mapping (in relation to social entrepreneurship).

How can he provide differentiated customer experience?

Proactive Pivot (if needed) – Whether there will be a huge grocery market in a post-COVID world or not.
To get this information amid the hesitation in crisis, entrepreneurs expect technology solutions that empower their dreams, to be more accessible, admirable, and dependable. These all can be attained in the form of adaptive and dynamic customer experience.
Growcer: A hyper-local, multi-vendor grocery marketplace software solution developed by FATbit Technologies, promises to meet expectations regarding all aspects of customer experience. Offering convenience with total satisfaction and services enhancing emotional quotient, this comes as a value for money service solution.
The Growcer development team has fundamentally upgraded and improved operations and processes of the product to address challenges of the e-commerce grocery market in context with the "new normal" and how to offer better competitive advantages to clients.
As a piece of evidence to our problem-solving approaches and meeting clients right where they are in their expectations, here is one of the cases we would like to share.
One of our US-based clients in COVID times was looking to reduce cost and go completely contactless deliveries with mobile proof of deliveries. Their delivery process was completely paper-based with a lot of manual key entry.
They were looking for a mobile solution to allow their drivers to download order details and delivery address to a mobile device and capture all the delivery information – overages, shorts, and signatures – and then have this data automatically uploaded to their host system in real-time.
We provided them with this solution and they found that when they added up all the paper and processing costs – the physical paper, printers, cartridges, labour to key in the data at the end of the day, and the imaging systems costs to store the PODs – they found that they were able to save $.50/delivery, which can help them save more than 100K/year. We further reduced no. of delivery miles driven with improved route planning. Potential benefits of digital signature capture helped:- recognize revenue faster, reduced errors, reduced paper, information readily on hand for claims.
This project is under NDA* 
Contact our SME to introduce savings/improvements in your business processes
Apart from the above-discussed business case, Growcer is helping numerous entrepreneurs in:
Launching proficient & efficient online grocery businesses

Migrating platforms from existing grocery software to Growcer
While catering to the latter of these requests, we get a good number of leads/prospects/clients whose grocery businesses are running on another grocery delivery software like Yelo (a product of Jungleworks).
We had to understand why our prospects overwhelmingly complained about Yelo and support provided by its team.  So, we studied it and thought it best to share our research findings (which are complemented with many negative reviews found on the internet) through this write-up. Every statement of ours is supported by proof. Here you'll find links to independent resources, Yelo documentation and website, screencasts, and screenshots.
If you come across a mismatch in this review, please write to us at [email protected], FATbit Team will be glad to discuss it and make corrections.
When we checked various review listing websites; Entrepreneurs didn't seem happy with Jungleworks' Yelo for its product offerings as well for the technical support they provided at any time of the association.
According to Reviews of Jungleworks' Yelo on G2, Capterra and TrustPilot:
A business owner described his experience with Jungleworks with utmost disappointment:
"I'm so mentally and emotionally drained, disappointed with this whole experience, and appalled at this company's lack of accountability and their complete disregard for customer satisfaction." – Source: Capterra

Some of them are as we quote reviews exactly here:
#Jungleworks' Yelo Negative Review – 1
-> Product was Dreadful and Incomplete (Source: G2.com)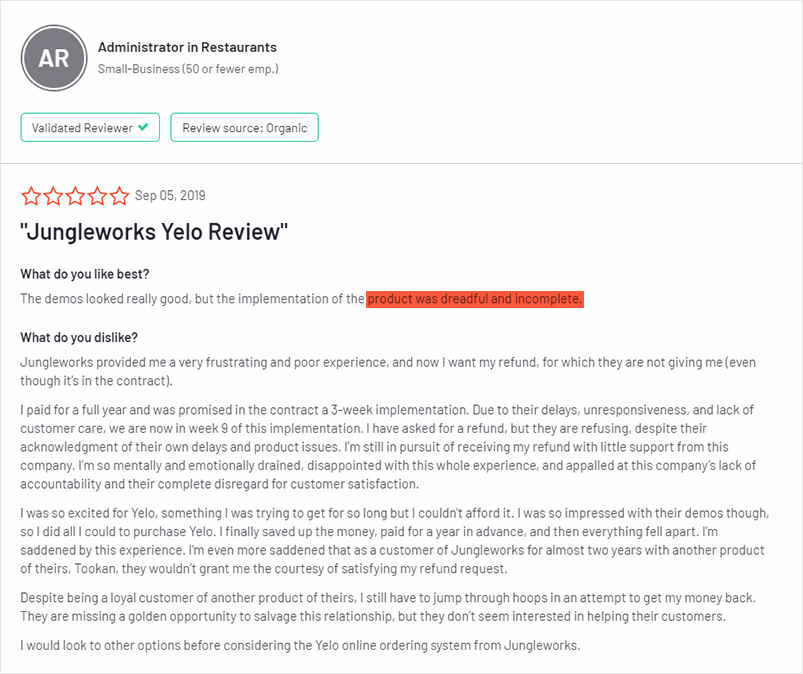 #Jungleworks' Yelo Negative Review – 2
-> Promises not Kept (Source: Capterra.com)

#Jungleworks' Yelo Negative Review – 3
-> Personal Data being Leaked to Outside Organization (Source: G2.com)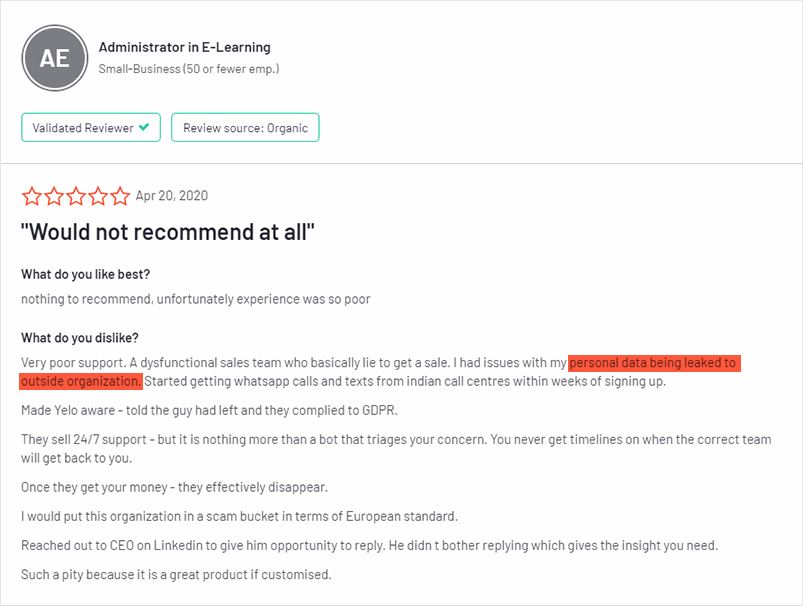 #Jungleworks' Yelo Negative Review – 4
-> International Crime (Source: G2.com)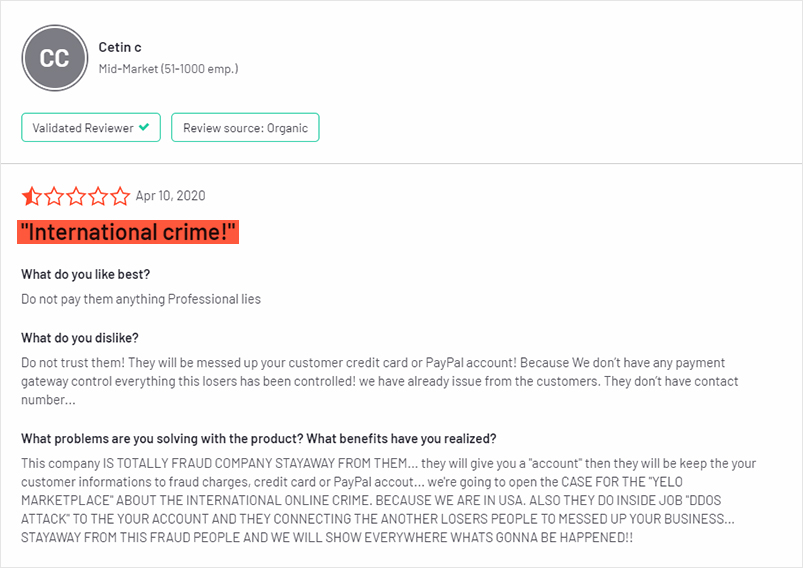 #Jungleworks' Yelo Negative Review – 5
-> Would not Recommend at All (Source: G2.com)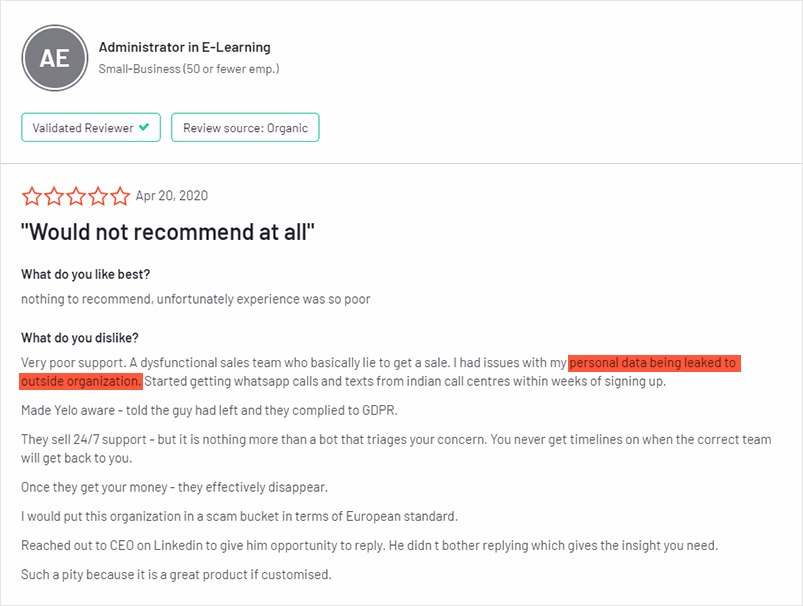 #Jungleworks' Yelo Negative Review – 6
-> Pathetic Support (Saasworthy.com)

#Jungleworks' Yelo Negative Review – 7
-> This company is a Scam (Source: TrustPilot)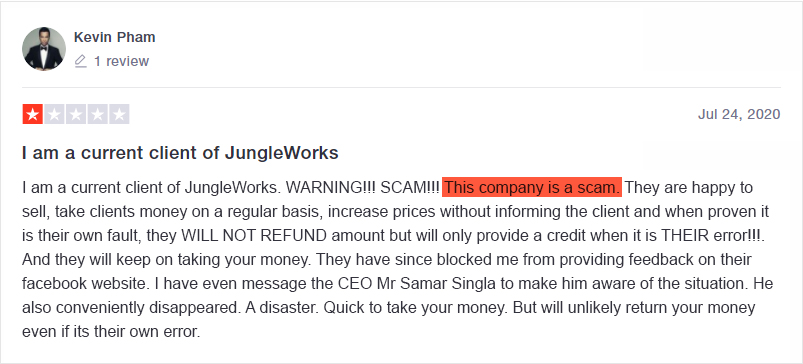 #Jungleworks' Yelo Negative Review – 8
-> Bad is not Enough (Source: TrustPilot)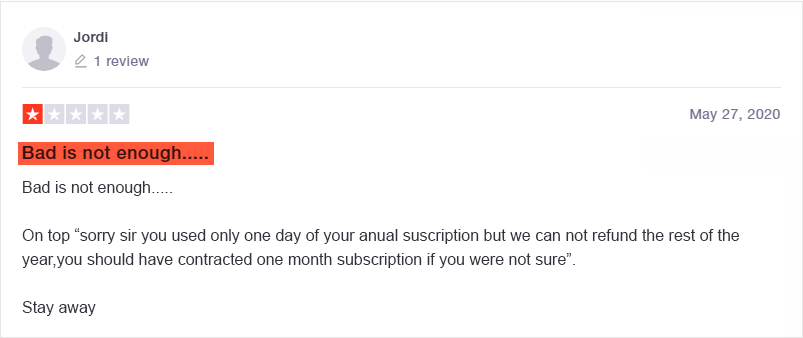 In order to take notes and understand as to what the prospects actually demanded, we compared Yelo comprehensively to Growcer (Yelo vs Growcer), a product which represents the market standard.
This analysis will help you or any prospective online grocery marketplace owner make an informed and wise choice with their solution partner, before building a grocery delivery marketplace platform.
Feature & Functionality Comparison – Growcer vs. Yelo
Module

Feature

Growcer (License-based) with Fully owned source code
YELO (SaaS)
Suitable For
Feature Description
Start Up's, SMBs and Large Enterprises
Small Shops, Small Businesses, Part-time Entrepreneurs
Costing

Start-Up Cost associated with the product?

High

Check their Website

Monthly Recurring Cost/Subscription Fee

Not Applicable

Applicable

Transaction Cost

Not Applicable

Applicable

What are the Plugin/Extension costs?

As per your business requirements

Information is not available on its website

Cost of Ready/Custom Themes?

As per your business requirements

Information is not available on its website

What are the recurring Server/Environment Costs?

Medium

Low

Customization & Performance

What is the possibility of customizing user experience and design?

High

NIL/Lowest (in SAAS-based software)

What is the possibility of customizing the functionality and logical workflows? (Scalability)

High

NIL/Lowest (in SAAS-based software)

What is the possibility of optimizing the application for performance?

High

Information is not available on its website

How often do we get software upgrades?

As per your business requirements

High

Can I Engage a 3rd party freelancer to make updates?

Yes

NIL/Lowest as per SAAS Model

Privacy & Security

Is my data secure?

Yes

Check their Reviews

Prone to hacks

No

No

Server ownership

Yes

No

Control over Server Management and Configuration

Yes

No

Do I own the code?

Yes

No

Is there any community support?

No

Check their Reviews

Reviews and Ratings

Sales process transparency (No hidden costs)

Yes

Check their Reviews

Pre Sales consulting (Problem vs Solution Match)

Yes

Check their Reviews

Product Delivery/Satisfaction

Yes

Check their Reviews

Customer Support

Yes

Check their Reviews
Module
Feature
Growcer 
Yelo
Hosting

Custom Domain – Allowing you to connect your own custom domain for your online grocery marketplace website

Yes

Yes

Fully owned solution hosted on your server with access to complete source code

Yes

No

Whitelabel solution with a lifetime license and non recurring cost

Yes

No

Access to Framework documentation that will allow you to customize any or all parts of your application

Yes

No

Admin & Sub Admins

Create sub admins: Roles & Permissions

Yes

Yes

Theme Management & Responsiveness

Easily Manage & Customize your grocery marketplace branding: theme colors, banners, promotional banners, button colors, etc.

Yes

Yes

Mobile Responsive

Yes

Yes

PWA (Progressive Web App)

Yes

No

Browsings & Listings

Featured Stores – Store owners can promote stores on the home page through paid advertisements

Yes

No

Search Products by keyword,
Search Nearby Stores,


Category Search

Yes

Yes

Vendor Ratings and Reviews:


Build a reputation for your shop through sold product ratings and reviews consolidation

Yes

Yes

Geo-Fencing – Show your marketplace offerings based on the location & radius set by the customers. Auto-detect customer location

Yes

No

Mark Favorite Shops, Mark Products as Favorites, Create & Manage Wishlists, and 

Share products

Yes

Yes

Ordering Features

Free-Shipping Orders – Get shipping discounts based on Seller free

shipping configurations

Yes

Yes

Customer accounts – Encourage repeat shopping by enabling customer account creation at checkout. Your customers can also check out as a guest without creating an account

Yes

Yes

Single Item Cancellation

Yes

No

Order Substitution

Yes

No
Select Delivery Options:
Click and Collect (O2O – Order Online & Pick Offline from physical store)


Delivery Option and Delivery Slots

Yes

Yes

Fulfillment & Delivery

Track Order status as to it has been delivered, canceled, delayed, etc, along with comments

Yes

Yes

Track Delivery Status: Separate delivery statuses: tracking from accepted to picked, out for delivery, and delivered

Yes

Yes

Google Optimized Routes – Easily navigate to Seller and Buyer Locations through maps and ensure on-time deliveries

Yes

Yes
Payment

15+ most popular payment gateways commonly used around the world – From Paypal to Razorpay to Amazon, Stripe, Authorize.net, and many more

Yes

Yes

Cash on delivery – Offer your customers the option to pay by cash while placing online orders from your grocery marketplace

Yes

Yes

App Wallet – Add money to your wallet and place orders directly

Yes

Yes
Checkout

Multicart Checkout: Order from different sellers with a single checkout

Yes

No

Dynamic Delivery charges – Set up shipping rates by fixed-price, tiered pricing, weight-based, and location-based rates

Yes

Yes

Refunds – Refund some or all of the order value to the payment method used; 

Your inventory is updated automatically

Yes

Yes

Cancel Orders – Complete cancellation of order and wallet credit of order amount

Yes

No

Rewards

First Purchase Rewards

Yes

Yes

Rewards on Every purchase

Yes

Yes

Birthday Rewards

Yes

No

Rewards for buying done in a year

Yes

No

Localization

Multilingual

Yes

Yes

Multi-Currency

Yes

No

RTL Support

Yes

Yes

CMS

Static Pages – Create fully customizable static pages with active visual content; 

Create awesome blogs for customer engagement; 

Push content to subscribers list & social media channels

Yes

Yes

Analytics

Google Analytics – Google Analytics works with your online marketplace, so you can track sales, visits, and referrals

Yes

Yes

Reports for sales, customers, coupon usage, inventory levels, bad categories, affiliates, advertisers, and many more

Yes

Yes

Export reports – Reports can be exported for further analysis in your favourite spreadsheet tool or can be sent to your bookkeeper or accountant

Yes

Yes
Marketing & SEO

Search Engine Optimization – Your Marketplace is built according to the best practices of SEO; Easily control your meta tags, visible sitemap, and robots.txt files

Yes

Yes

Discounts Coupons – Attract customer orders by setting discounts on specific products or order level discounts

Yes

Yes

Loyalty Points – Reward your loyal customers by offering loyalty points;




Loyalty points can be exchanged for discounts in your marketplace

Yes

Yes

Advertisers & Affiliates

Become an Advertiser

Yes

No

Manage Advertisement Budget

Yes

No

Manage PPC advertisements

Yes

No

View Spending, Impressions, Click Reports

Yes

No

Become an affiliate, promote products, and earn unlimited amount: Will attract users to promote products, earn, and eventually make your website go viral

Yes

No
Service & Support

Get expert advice – You can work with one of our Grocery Marketplace Experts to customize your store from the ground up

Yes

Information is not available on its website

Dedicated support team – The support team is available by email, live chat, and phone

Yes

Check their Reviews

1-Year free technical support for a bug-free system

Yes

Information is not available on its website

Subsidized updates & deployment to the platform

Yes

Information is not available on its website
Date of comparison – 18th Sep, 2020
Detailed Feature-wise analysis of Growcer vs Yelo:
a) Hosting & Code Rights 
Growcer is a Marketplace Software, hosted on the client-server with source code ownership rights.
FATbit's Growcer
The grocery ecommerce solution is installed on the server of your choice for which only the domain name and hosting server details are required from you. Also provided, as part of the solution, database scripts, and full source code (excluding the framework files), with worldwide non-exclusive Single/Multi-Domain transferable license to use, modify, enhance the solution as per your business needs. In case – you are planning to sell out your business down the line, you have no obligations towards FATbit other than respecting our copyrights and IP rights.
Growcer is a white label fully owned solution with a lifetime license. Once purchased, it completely belongs to you, including license ownership and the rights to customize and transfer it.
You can customize any or all parts of your grocery marketplace with access to the framework documentation.
Jungleworks' Yelo
Yelo however, is a SaaS-based solution. So, accessing the source code scripts is not available. You can never own the solution or get a lifetime license as it is only available on the cloud.
b) A Tailor-made Solution goes far
1. What is the possibility of customizing consumer experience and design?
FATbit's Growcer
It completely enables you to customize your grocery marketplace or make changes according to your needs and your consumers' expectations & behaviour. You can set or decide preferences for how information is shown or organized on your marketplace. This is done by configuring content, layout, and system features.
Jungleworks' Yelo
Creating custom codes for new features, extensions, or modifying existing functionality as per your business logic may get difficult with SAAS based solutions as this service adaptation process often involves source code changes and the business owner has no access to source code.  Jungle works has not publicly mentioned if they give source code to the business owner for this product. If you check their website you can only find this much info apart from package prices.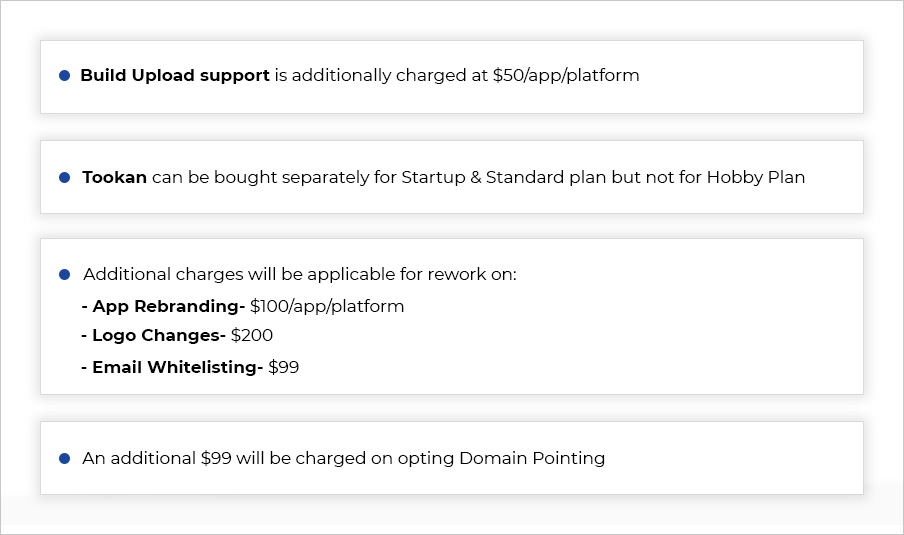 2. What is the possibility of customizing the functionality and logical workflows? (Scalability)
FATbit's Growcer
With Growcer, we follow 3-phase program i.e.
Discovery, Design and Development keeping your vision and the online grocery marketplace trends in sync

Grocery marketplace launch 

Scale-up your reach by tasking data-driven decisions using our advanced analytics
Initially, you can opt to Go To Market (GTM) or with an MVP (Minimal Viable Product) offering a necessary number of features for a specific geography, and after gaining strong traction, you can scale-up the business as per your expansion plans and product's analytics.
We help you to scale-up your grocery digital disruption by making it the marketplace of the future while keeping a perfect balance between the market needs and size & the cost of technological investment, required for it.
Growcer can be customized as per your business's "Order-To-Cash Process", our system provides the multiplicity of sales channels to engage with demanding customers expecting reliable information on product availability and delivery, the outsourcing of the fulfilment through different partners (inbound/outbound logistics).
To support these capabilities, Growcer's Order Management System is based on 3 critical building blocks: Order Capture, Order Promising and Order Orchestration. Unlike many old/generic turnkey solutions, where the Sales Administration process was based on a very linear progression from sales order entry to invoicing and cash collection.
With Growcer the concept of Order Management is based on the ability to create loops between the building blocks before the final delivery execution of the order to ensure customer demand-supply feasibility and commitment on the delivery date, manage fulfilment status eg: Defining fulfilment tasks, task services and guidelines for reserving inventory such as scheduled, reservation, shipment, and update the customer in real-time in case of changes in the fulfilment life-cycle and/or rescheduled.
On top of that integration capabilities, FATbit Experts can customize Growcer's Order capture process to support multiple Order Capture channels, Order Promising module can have the ability to receive inventory information coming from internal or external data sources, Order Orchestration module can be customized to exchange order data with multiple fulfilment systems (ERP, WMS, TMS).
The expected benefits from an optimized order to cash process are the followings:
A broader range of services offered to customers, eg 2 hours delivery, same-day delivery, intelligent scheduling at point of sale terminal.  

More efficient order fulfilment and agile execution to meet customer requirements (e.g. Direct delivery from suppliers).

Global inventory visibility (with Read/Write/Update privilege) shared to different departments  Supply Chain, Order-To-Cash, Logistics and partners.

Increased collaboration with partners and suppliers through Real-Time information exchanges with partners through different mediums.

More reliable and consistent information flow for revenue protection and monitoring across multiple in-house and external systems. Eventually offering customers tighter time windows, allowing them to track the order status online, providing stores with real-time fulfilment visibility etc.
Surpass business decisions with expert opinion
Jungleworks' Yelo
Generally, SAAS which is based on multi-tenancy architecture (MTA) posts numerous challenges to scalability as there is only a single code base that supports all the users. Like in Yelo, their application instance is shared by hundreds of organizations which have hundreds of users that possess a high number of concurrent accesses. Therefore, it is very difficult to say if SAAS can handle every dimension of scalability i.e functional, load, geographical, administrative, and generation. More over this information is not available on Yelo's or Jungleworks' website.
c) Can you engage a Third Contractor/Development team?
FATbit's Growcer
You can have your own team for customizations. If they are comfortable with MVC frameworks and PHP, they will be able to make the desired cosmetic changes, extending functionality, and more by studying the comprehensive framework documentation provided with the solution.
Growcer's implementation consultant along with solutions consultants can give you an overview of product architecture and what open endpoints the system is providing; this further helps you and your team to make process changes both at micro and major level.
Jungleworks' Yelo
As with every generic SAAS based solution, and Yelo being no different- you do not have any control over the framework and also, the customization scope is limited. You  need to use the latest version of the software application and cannot defer upgrades. Also, the Yelo team has not explicitly mentioned if any independent developer or team can work on their code or not.
d) Privacy & Security
FATbit's Growcer
The marketplace software is compliant with the California Online Privacy Protection Act, the Children Online Privacy Protection Act, and Online Privacy Policy Only.
Further, Growcer framework is a custom-written code; it minimizes security breaches. All information, including credentials and customer data, is stored on your server where you have direct control over it.
Jungleworks' Yelo
As it is a SaaS-based platform, every transaction involves storing the customer's information with Jungleworks and an analysis of its reviews indicates they might share your customer data with 3rd party companies.
Data Theft: While running your grocery marketplace on Yelo, you do not have any kind of control over data. SaaS-based solutions need to be very strong against the Cyber attacks, and if hacked you may lose personally identifiable information (PII), financial information, and other intellectual property (IP) from the cloud.
e) Free Technical Support
FATbit's Growcer
The product comes with one-year free technical support to ensure bugs/errors if any found are fixed at no extra cost.
With Growcer's continuous evolution, it has moved from a product-centric business process to a client-centric one, in lieu of current trends in the B2B digital inflection points.
Our technical support team perpetually enhances the client life cycle (from initial contact establishment to a long term relationship). It is categorized as follows:
Identify client's needs and give them a brief on essential value-adding features and non-essential value-adding features.

Inform them about the grocery market scenario- (current and future perspective, competitors, and transformation & adoption of technology).

Continuously support him through a digital architecture that connects the ecosystem of business, technology, and channels that are favoured by him.
Note: Growcer provides multiple-channel support (email, social media, online chat, text messaging, voice call, and video conferencing). We also have an in-house project management tool, Bizixx, which allows you to address all the project related queries and concerns (regular updates, file sharing, budget tracking, etc).
Jungleworks' Yelo
Reviews for Jungleworks' Yelo customer support team have already been discussed above in detail.
f) Monthly Recurring Cost/Subscription Fee
FATbit's Growcer
There is no monthly recurring cost/subscription fee. You just have to pay once and you get lifetime ownership of your marketplace solution. Further, an unlimited number of transactions can be conducted on your marketplace without any transaction fee payable to FATbit.
Jungleworks' Yelo
You have to give a monthly recurring cost/subscription fee to Jungleworks. The fee is based on "Tiered consumer Pricing" i.e. services or handful features at different rates.
No matter whether you just started your grocery marketplace with Yelo or have been with them for years; a fixed monthly subscription fee is to be paid, depending upon your package.
Also, only a limited number of transactions are available in a package. For example: In the "Growth package" only 3,000/month transactions are allowed.
g) Additional Transaction Fee
FATbit's Growcer
There is no transaction fee with the Growcer platform. Whether you are a startup running with 100 customers/month or a large enterprise with 100,000 customers/month; all the money you earn is yours.
Jungleworks' Yelo
In addition to a subscription fee that you are paying monthly for the use of the platform, "Yelo", you have to further sacrifice a good chunk of your earnings. Jungleworks' Yelo charges a percentage out of every transaction carried out on your marketplace based on the plan you choose.
h) Multi-cart Functionality
FATbit's Growcer
A consumer can buy multiple items from different stores into a single cart.
Jungleworks' Yelo
A consumer can't buy grocery items from different stores in a single transaction. For items from different stores, separate transactions need to be made.

i) Multiple Payment Gateways & Multi-Currency
FATbit's Growcer
The online retail payment has changed vitally with respect to the fact that it has become a prerequisite for seamless buyer journey. Growcer has tried to go beyond the traditional approaches to forging the "next normal" customer-centric shopping. With a number of pre-integrated payment gateways and the multi-currency feature, the whole process is streamlined for each player – customer and his payment service provider, vendor and his payment service provider, and admin & his payment service provider.
Payment Gateways-> Number of Pre-integrated payment gateways in Growcer – 10+
Multi-Currency-> USD and INR (by default). Further, admin can accept payment in any currency and can stay up to date with the latest currency conversion rates though API.
Jungleworks' Yelo
Payment Gateways-> Though they market multiple payment gateways, we have found only one in their demo i.e. Cash on Delivery.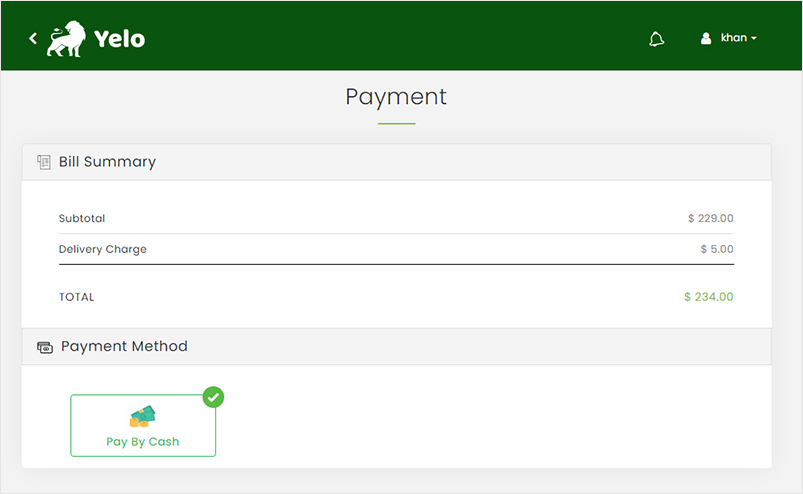 Multicurrency-> This functionality is not available in Yelo.
j) Progressive Web Apps (PWA)
FATbit's Growcer
Growcer now enables Progressive Web Apps (PWA) for your grocery marketplace. A winning proposition for your consumers makes your website fast, reliable, and engaging. This technology is a great demonstration of the convergence between native technologies and the progressive web.
With PWA, our focus is on performance, experience,  intelligence in an order to make your grocery marketplace perceivable and consumer-friendly.
Jungleworks' Yelo
In contradiction to claims by the Yelo development team, the PWA functionality is absent as demonstrated by the Lighthouse app test.
k) Marketing Modules
1. Become an Affiliate
FATbit's Growcer
Growcer offers an affiliate module that lets customers and merchants invite people to register on the marketplace, thus helping you in increasing the user base. The affiliate module not only helps you to increase sales but also improves the brand image.
Jungleworks' Yelo
Affiliate marketing module is not available in Yelo.
2. PPC (Pay per Click) Module
FATbit's Growcer
Vendors on your marketplace can promote their product or stores by having them displayed on the homepage as banners. In return, you can earn revenue on every click.
Jungleworks' Yelo
This PPC (Pay per Click) Module is not available in Yelo.
Start your Multivendor grocery ordering and delivery business
Conclusion
In the times of classic disruption, FATbit's Growcer is building future-oriented digitally mature grocery marketplaces that evolve around the holistic view of the following business dimensions:
Customer -> Helping you deliver a unified customer experience with a focus on customer trust, insights, and behaviour.

Strategy -> Continuous transformation to maintain a competitive edge, including market, customer, portfolio, and ideation. As a platform Growcer can be customized as per your order-to-cash process.

Operations ->  Improving grocery ordering and the delivery process by utilizing essential digital technologies like readymade mobile apps, delivery scheduler, digital signature for click-and-collect or contactless delivery and more.
On the other hand, Jungleworks' Yelo struggles to survive competition in key areas that define product maturity. Lacking to reach targets with unsatisfactory features, processes, customer journeys, security, and more, the product is far from being customer-centric in its approach.
With this piece of analysis and research, the choice for an online grocery marketplace software solution doesn't seem to confuse further. Growcer is all green signals!
Note: If you have any objections/corrections to share w.r.t the blog content, please contact us at 

[email protected]

 with substantiating details.