Taking another step to protect our brand name & identity in the global market, we filed U.S. federal trademark registration for FATBIT last year. We are glad to announce the process completed on February 4, 2014 and FATBIT is now a registered trademark in States.
We recently completed a decade in the web services industry and plan to multiply our growth pace in the next five years. Considering our global ambitions, registering our brand name in one of the fastest growing technology markets made perfect sense.
Our brand name is filed under the category of Advertising, Business & Retail Services, Computer & Software Services & Scientific Services.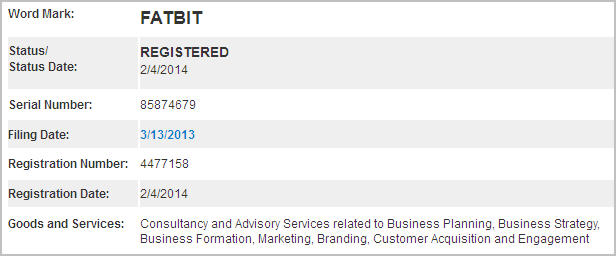 Check out registration related details
Description from USPTO
The business description provided to and approved by United States Patent and Trademark Office is;
"Consultancy and Advisory Services related to Business Planning, Business Strategy, Business Formation, Marketing, Branding, Customer Acquisition and Engagement."
As a one-stop web solutions provider, FATbit helps small businesses, established brands and people in getting maximum business mileage from web. In addition to paid web design, development and online marketing services, we also offer various FREE services for website improvement, traffic boost and sales push.
Registered for Class 35 and Class 42
FATBIT brand is registered under two classes, namely Class 35 and Class 42. While earlier covers services rendered to assist functioning of commercial organizations, latter covers scientific and technological services.
FATBIT qualifies for both the classes. Under Class 35, we developed software products and database driven platforms that help organizations in managing business affairs and communications effectively.
Under Class 42, we offer business research, website analysis, web design & development, website maintenance and much more.
Trusted Globally for Web Design & Development Outsourcing
FATbit Technologies has evolved as a global web services brand consulted for its website design, development and online marketing expertise. With more than 2000 successful projects and international business partnerships, FATbit has garnered respect for its technological expertise and professionalism.
Do you want to get your brand name registered as well? Framing product or service description can be exhausting while applying for trademarks with USPTO. Here are points to get your trademark application right.
Get your website design and development questions answered from FATbit's professionalsSchedule a FREE consultation session