Finding a dependable babysitter or nanny is a daunting task for new parents, especially when it comes to a last minute need. But with online babysitter search platforms like Sittercity, UrbanSitter, and Care.com, this apparently impossible chore becomes a matter of few clicks.
These websites connect parents with local in-home caregivers for their children to simplify this task which otherwise is a constant annoyance for parents. No wonders that all these babysitter search platforms have gained enormous success over the past few years.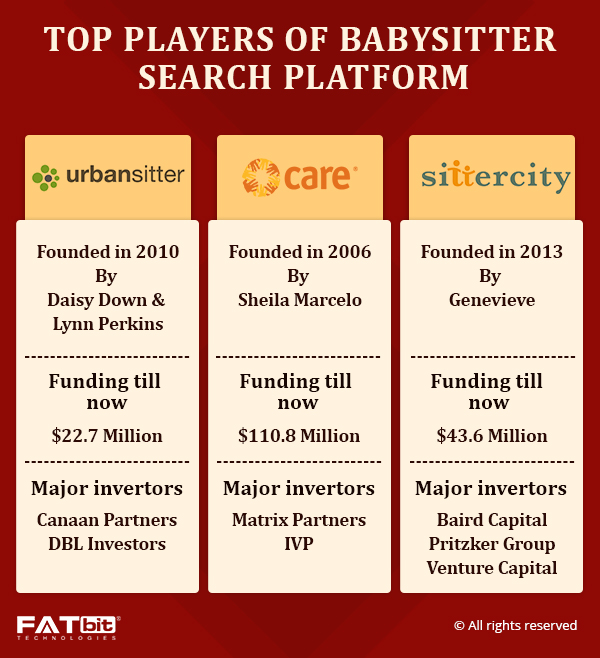 Their success enticed FATbit analysts to commence an in-depth analysis of this marketplace, so that best features of each can be brought together to build an advanced babysitter search clone website. Read on to unwind.
Business and Revenue Model
These platforms primarily act as search portals for parents searching for caregivers, and caregivers looking for babysitting jobs. The business model can further be expanded by including other types of care providers like elderly care, pet care, and caretakers for children with special needs.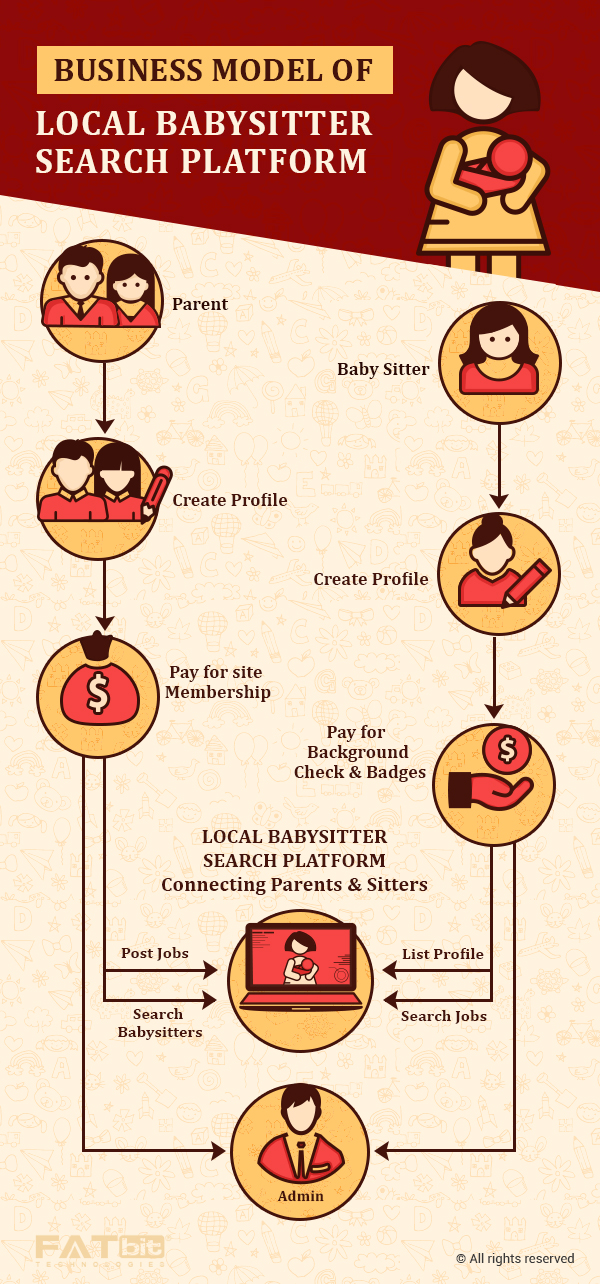 Here is how things work for parents on the site:
Parents check out the list of caregivers on the site along with their photographs, prior experience, education level, and details on background checks
The second step involves contacting suitable caregivers for the interview over the phone and later meeting them in person
If things go well, parents get a caretaker for their kids, and caregivers get a babysitting job
From the caregivers' end, things work in the similar fashion. They can browse through the babysitting job listed on the site, apply for them, and schedule an interview with the parents.
Now, there are two instances where your babysitter search platform can make money during this process.
First, in order to contact caregivers, parents should be required to buy a membership
Second, to improve their chances of getting a job, caregivers are required to have background check for which they have to pay a one-time fee
Now that we have overviewed how things work on such platforms and how they make money, let's study website features to help you build the right babysitter search website script.
Website Features and Services
Throughout the site, you should put effort to make things easily understandable for the users. Let's begin with the homepage and get to know how you can make babysitter and nanny search easy.
Homepage Highlights
Homepage should be informative and personalized for the target audience. It would be great to add images of kids playing in the banner section. Also, put a catchy and personalized message there. Point is try to make it welcoming for both types of your target audience. Additionally, the above-the-fold section can accommodate following features:
A common quick registration form for parents and caregivers in the banner
Safety assurance to parents
Additionally, a 'Trust and Safety Center' in the header which features various tips and guidelines for parents and sitters about using Sittercity's services, as well as separate sign up channels for parents and caregivers.
Below-the-fold section can feature quick guides for parents & babysitters on how to proceed with the site. You should also use this area to feature your other similar offerings, which may be:
Pet sitting
Elder care
Caretakers for special cases
Additionally, the site footer should have following features:
Links to several content-based pages including Blog, Affiliates, and Trust & Safety Center
Quick links for babysitter and nanny search in top cities and some other useful links that help users understand the site's offerings more clearly
How It Works
While homepage should give visitors a brief on how things work on the website, there should also be a dedicated 'How It Works' section that explains these things in details. For better engagement, you should make it playful and attractive with a mindful use of graphics. UrbanSitter's How It Works section to be quite appealing. You should check it out if you are serious about launching a babysitter search clone website soon.
Overall, the homepage should feature basic information regarding all services offered on the website. Important takeaways here are personalized design with sufficient information, and trust assurance to parents using the site for searching babysitters.
Now, let's move on to next section and see how parents can leverage the site to find caregivers.
Parent Profile Creation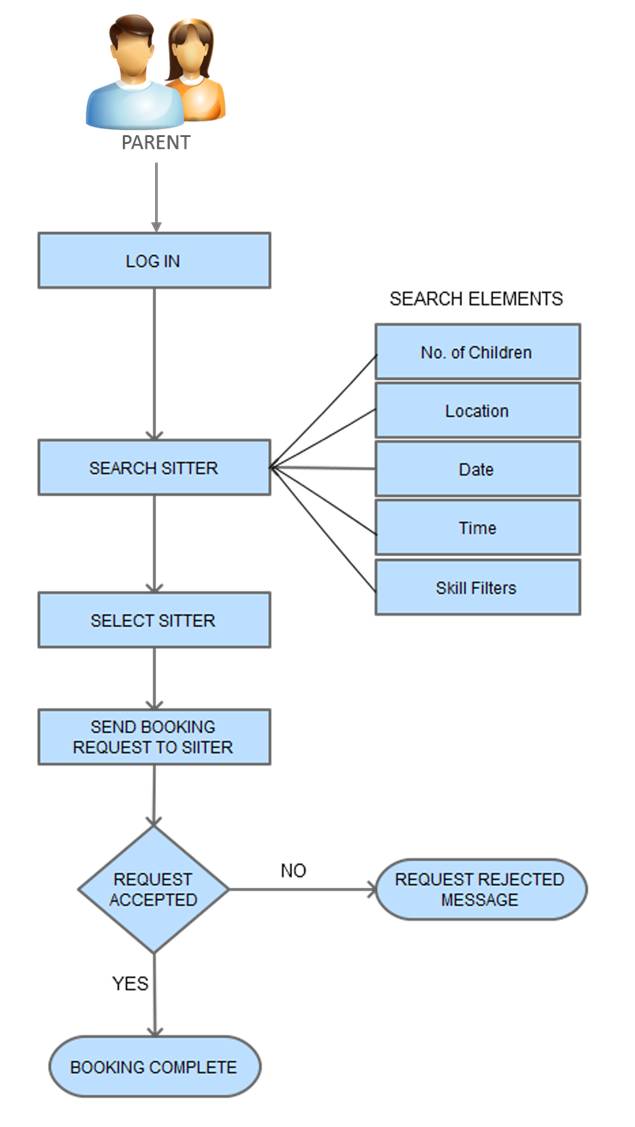 Parents should be able to run caregiver search only after registration. During the registration, parents should be asked various details about their requirements regarding babysitters. You can divide the registration process into following steps:
How often then need care – occasional, regularly scheduled, or one time
Number of children and their age
Required qualities in the babysitter – infant/toddler/preschool age experience, has a car, language spoken, etc.
Other responsibilities – driving kids to playschool, prepare food, light housework, help with homework, etc.
Location, per hour rate, and additional instructions
After this, parents should be asked to take the membership along with their payment details. Note that there should also be a free subscription plan to enable parents begin with the babysitter search right away.
Search for Caregivers
Once a parent profile is created, the site should automatically suggest results to parents, based on the information it retrieves from the user during the registration process. Users can simply go along with these results or do a custom search to find a good match.
The caregivers result page should be packed with an adequate number of relevant sorting and filtering options. Here are some suggestions for the caregiver search result pages:
Number of matches found at the top (suggested by website)
Filter options based on location, age, price, experience, education and other relevant criteria
Result listing should feature personal and professional information about the caregivers
Special caregiver skills
Distance of caregiver's location
Options for parents to see caregiver's full profile and to save them for later scheduling
Caregivers Profile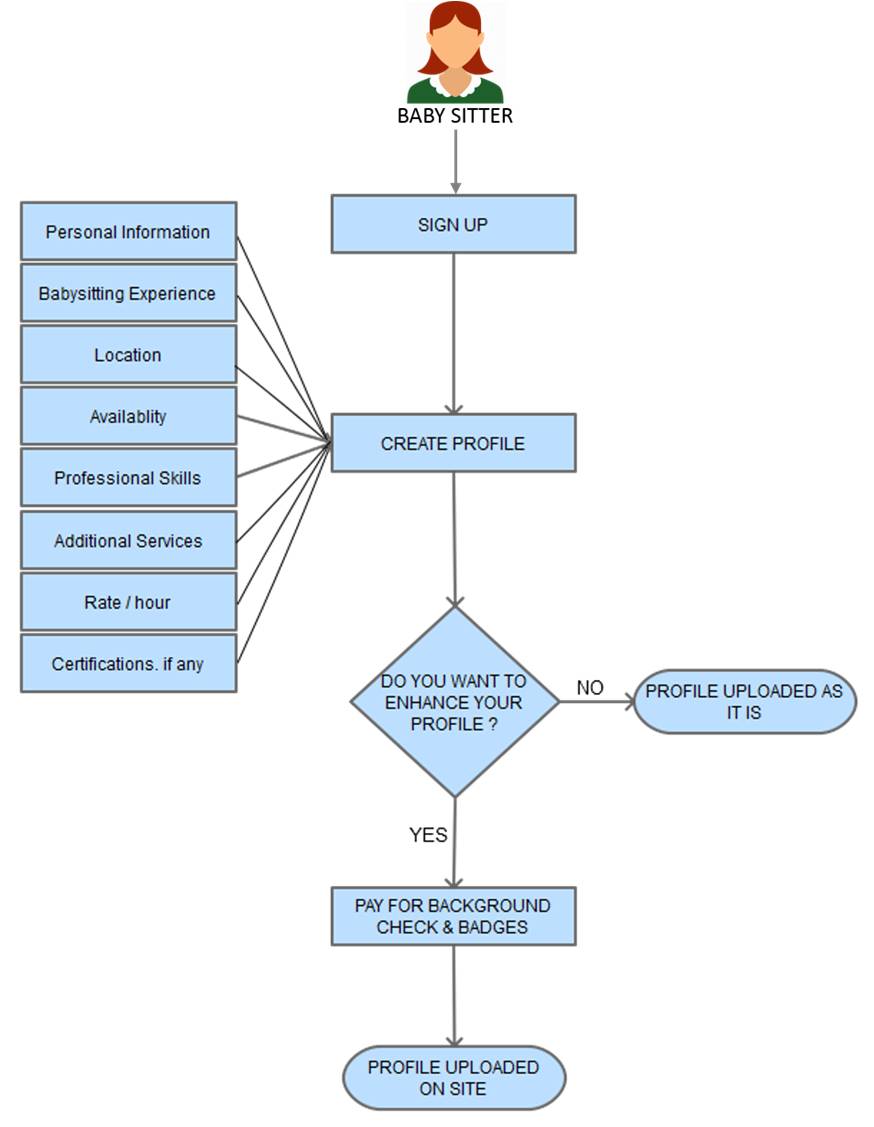 Caregivers profile should be packed with lots of information that parents might want to know to ensure child safety. Below are some handy script feature insights in this context:
An encased section at the top that briefly mentions basic info about the caregivers such as experience, hourly rate, etc. along with options for contacting caregiver and share profile with a friend on social media or through email
Caregiver's detailed bio and experience
Caregiver's availability in calendar view
At the bottom of the page, various skills and services provided by the caregivers should be listed
In addition to that, there should also be a references, through which subscribed parents can contact former employers of the caregiver for further assurance
From here on, parents can correspond with caregivers via email or on the phone after they have initially established the contact through the website.
Creating a Babysitting Job
In addition to caregiver search, parents can also create a babysitting job so that they can find a perfect match quickly. The option of posting job should be provided within parent's profile. The process will comprise of the same steps that we discussed in the parent profile creation.
Parent Profile Features
The parent profile must be loaded with of useful features and options. Here is a list:
Option to post a new babysitting job
Listing of posted jobs with their current status and option to edit them
Quick access to messages
Categorized caregiver recommendations based on location
A vertical panel with important quick link tabs, like saved caregivers, past caregivers, rating & reviews provided by the user, notifications, etc.
Special Offerings for Parents
Here are a couple of ideas for special programs through which you can make your website more valuable for parents:
For military families, offer a free membership program
Launch an instant babysitter scheduling program that helps people whenever these is an interruption in their regular care arrangements
Sittercity for Caregivers
There should be an extensive registration process for caregivers. Besides allowing caregivers list their services, it also should confirm the reliability of the caregivers for parents. Let's discuss the important steps involved in registration for caregivers.
In the first step, they should be asked their name, email address, address, and type of service they are willing to provide i.e. babysitting/nanny/pet care/elder care
In the next step, caregivers will be asked for personal information such as contact details, date of birth etc.
Additional details like do they smoke, are they comfortable with pets, have a car, number of children they can manage at once, how far they are ready to drive
Next they should be asked about their hourly rate and increase in it for each added child
Details of past employers for the reference check
After that caregivers should be required to provide thorough details regarding their experience
The last step of the registration should ask caregivers about their availability, preferably in calendar view
On submission of the profile, caregivers should be asked to verify their identity in order to assure parents of their reliability and get more job requests.
After the caregivers have confirmed their account, they can begin with finding the babysitting jobs on the site. But before we discuss that, let's quickly overview caregivers profile and dashboard.
Caregiver Profile Options
Caregiver profiles should have following options to ensure that caregivers can manage their business on your website easily:
My Applications section at the top, which features all the jobs a caregiver has applied for in past
A list of suggested babysitting jobs based on location and other provided details
Quick access to messages
Important quick links on a vertical panel
Option to edit schedule
Finding a Babysitting Job
There should be a search box in the caregiver profile to enable caregivers begin with the babysitting job search. The babysitting jobs search results page can be similar to caregivers search results page but should have following features:
Number of matches found based on location, plus a few handy sorting options
Initiate a new search for new location
Adequate number of filtering options
Results should be listed with job details like description, distance, price, number of children, and nature (frequency)
To apply for a babysitting job, caregivers can simply click the concerned job listing and apply from the job description page.
Trust & Safety Assurance
Hiring a babysitter for their babies is a very delicate task for parents. Therefore, your business should need to take some steps towards trust & safety assurance for the parents. Primarily, the Trust & Safety section should enlist the safety measures you take in listing the caregivers on your site. Except that, you can also post tips on hiring caregivers for parents in this section.
Social Media Integration by UrbanSitter
Allows users to leverage the power of Facebook & Twitter to find a trustworthy babysitter. Asks users to connect their Facebook account to the website account and suggest babysitters that their friends (or followers) or friends of friends know on these social networks. This social feature in site's business model really improves the trust factor.
Looking for innovative social media features for your website?
Consult Social Media Experts
Possible types of care business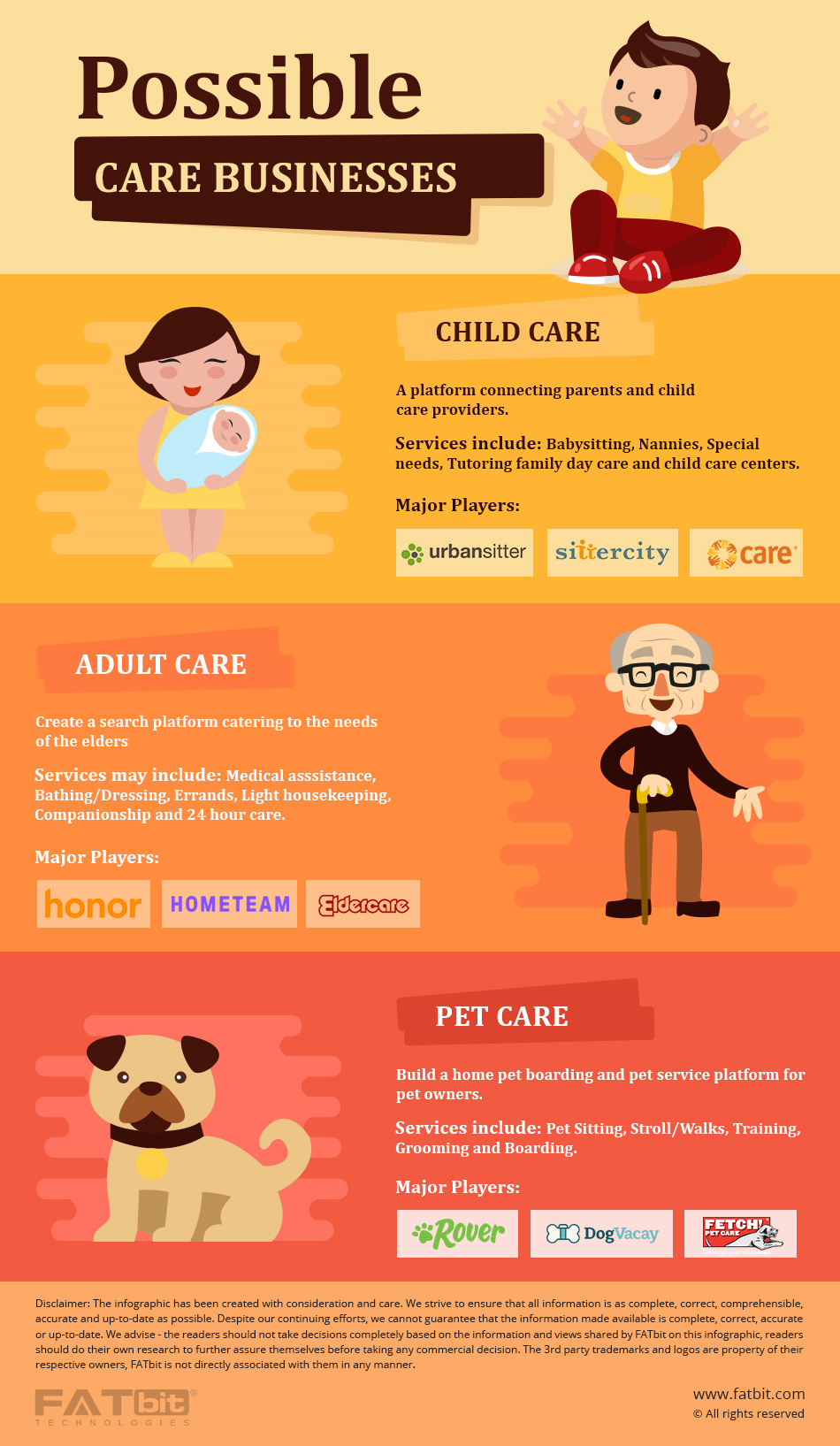 Blog
You also need to maintain a blog that primarily contains tips and advice on babysitting and caregiving works. Users should be able to search for a blog with the keyword search, or through tags. Additionally, put quick links for categories and most popular posts on the blog. Such features will make your babysitter search platform clone script richer.
Affiliates Program
Through a program for affiliates, you can ask firms and individuals into childcare services to promote your services in return of a commission, which you would pay whenever:
A parent/family subscribe for a membership
A sitter completes registration with background check
Start a babysitting search business – Reasons, advantages and facts
Highly profitable business which requires very low investment and has low set up cost. "Care" had an annual revenue of $ 59 Million in 2014.
With changes in family structure, babysitting business is a good solution to parenting problems.
Busy professional life of parents is contributing to the demand of babysitting business.
US Child care business growing at nearly 9%.
In US, 64% of mothers with kids under 6 years of age are working or looking for a job.
In US, 92.8% of all fathers with kids under age of 18 years are working.
In UK, 53% children receiving formal childcare.
In UK, almost a quarter (23%) children under age of 5 are in some form of organized child care arrangement.
In a survey 70% parents said its hard to find a babysitter
Sources: United States Department of Labor, www.gov.uk – Childcare and early year survey 2012-2013, Forbes
Conclusion
This emerging marketplace is popular in developed countries, but developing countries haven't yet begun to create such portals in large numbers. Consequently, there is good scope of online platforms for caregivers search in developing countries like India and China.
FATbit team, with its in-depth understanding of this marketplace, can be of great help if you are planning to build an advanced local caregiver search clone website.
Learn how much building a babysitter search clone will cost you?
Ask experts