The online grocery market in Nordic countries is currently in the midst of seismic change due to the COVID-19 pandemic. In the hunt for daily-use items, people across Nordics have turned to online shopping, skyrocketing the adoption rate of grocery delivery services. For instance:
One-third of Finland's consumers have bought groceries online in the month of May, according to Statista.

    

As per the recent reports by Deloitte, 65 % of the grocery companies in Denmark witnessed a 10% growth in online grocery sales during March. 

A report by Strategy& stated that almost 29% of Swedish consumers shopped online groceries for the first time after the arrival of Coronavirus.
Sustainability: The Most Popular Grocery Consumer Trend in Nordics
When it comes to shopping groceries online, Nordics' consumers prefer to make sustainability conscious consumption decisions. A survey conducted by PostNord reveals that three out of four online consumers give consideration to how and under what conditions the items they intend to purchase are made and transported. According to this Survey, Danes are the most sustainability-conscious consumers and highly interested in making conscientious choices while they shop online, closely followed by Swedes. Here is the pictorial view depicting the percentage of Nordics' consumers who take sustainability into consideration while shopping online.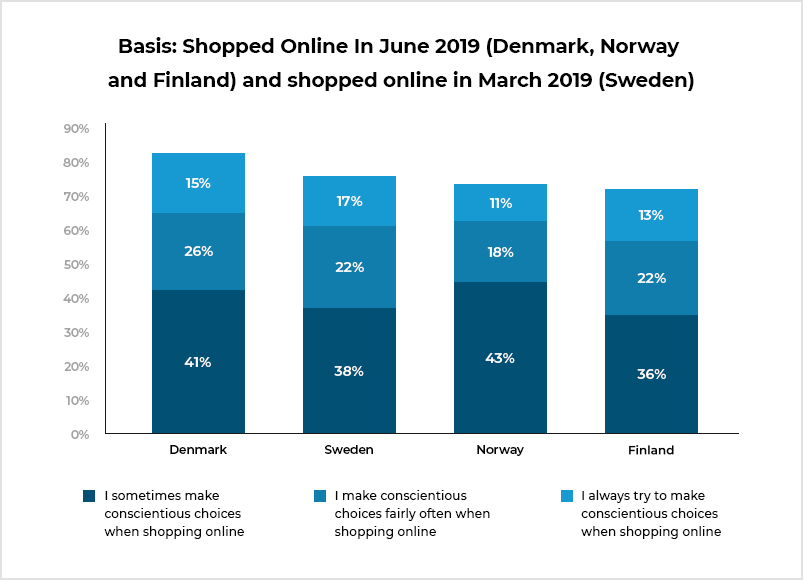 Decoding the Country-Wise Analysis of Grocery Retail
The Rise of Grocery E-Commerce in Denmark
The changing shopping habits of the Danish population have been pushing the development across all the retail channels for the last few years and grocery retail is one of them. A study conducted by Ken Research depicted that the revenue in the food & grocery segment reached US $477 million in 2018  and is expected to grow to US $742 million by 2022. The user penetration in the grocery retail sector was 13.3% in the same year and is estimated to hit 15.6% by 2022, which indicates that the e-groceries are going to be the primary driver of turnover growth for the Danish's grocery retailers in the future. 
Key Grocery Players in Denmark

1. Coop
Coop is one of the largest retailers of consumer goods in Denmark with a market share of 40% and operates well-known supermarket chains such as Irma, SuperBrugsen, and Kvickly.
2. Nemlig.com
Nemlig.com is an online-supermarket founded in 2010 and is famous for providing groceries & other daily-used items to the Danish population.
The Rise of Grocery E-Commerce in Norway
The online grocery market in Norway is expanding fast in the present scenario. A survey conducted by Statista found that the people aged between 35 to 44 were the most active online buyers of groceries in 2019 in the country. One of the key reasons behind the growth of e-groceries is the highest internet usage by the Norwegians. Almost 3.2 out of 4.95 million Norwegians love to shop online and this number is increasing day by day which predicts that the online grocery sector will continue to grow in the foreseeable future.  
Key Grocery Players in Norway

1. NorgesGruppen
It is a Norwegian grocery wholesaling group that runs various grocery outlets. The company has more than 1800 grocery stores in almost 89 percent of Norway's municipalities.
2. REMA 1000
Rema 1000 is a multinational no-frills soft discount grocery chain headquartered in Oslo, Norway. The company was founded by ODD Reitan in 1979 and is owned entirely by the Reitan Group. 
The Rise of Grocery E-Commerce in Sweden
With an internet penetration rate of 87.8%, the e-groceries in Sweden is growing rapidly.  Ecommerce news in a report stated that the online grocery industry in Sweden saw an increase of 23.8 percent in the grocery sales during December 2019. Also, the sales in the grocery trade rose by 3.1 % in 2019 compared to the previous year.
Key Grocery Players in Sweden

1. MatHem.se
MatHem is an online retailer of grocery products in Sweden that allow Swedish consumers to place orders either from its website or mobile apps. The company has been awarded as "The Grocery Website of the Year" in 2010, 2011, and 2013 by the Swedish online magazine "Internetworld." 
2. Matsmart
Matsmart is one of the renowned retailers of grocery products in Sweden. The company offers groceries and food products at discounted prices and its primary focus is to reduce food wastage in the country.
The Rise of Grocery E-Commerce in Finland
Whether it's for retail, groceries, or other products, e-commerce has become a viable option for Finns in this modern era. According to Statista, the share of individuals who purchased groceries online in Finland increased from 1 to 9 % from 2009 to 2019. The increasing interest of the Finnish population towards e-shopping has forced offline retailers to go online and develop online grocery shopping platforms to maintain customer satisfaction in the last couple of years.
Key Grocery Players in Finland

1. Alepa
Alepa is a grocery shop chain founded in 1918 in the Greater Helsinki region of Finland. Currently, the company is owned by HOK-Elanto, a part of the nationwide cooperative S Group. 
2. Lidl
Lidl is a Germany-based supermarket chain that operates over 10,000 stores across Europe and the United States. The company has been operating in Finland since 2002 and currently owns 188 stores in the country.
How the Online Grocery Market Will Evolve in the Wake of Coronavirus?
The novel Coronavirus has drastically impacted consumer behaviour and purchasing habits across the globe. As consumer priorities have become centered on the most basic needs, the online grocery industry has witnessed a massive boom in the sales of groceries. In order to fulfill the growing consumer demands, grocery retailers need to make bold moves. But doing so requires a deep understanding of how today's crisis will impact online grocery retail in the coming future. Grocers must proactively build strategies around the trends and behaviours that are predicted to outlive COVID-19 to succeed in the long run.
Strategies Grocers Must Adopt to Stay Ahead of the Game
1. Cater to Increasing Online Demand
Meeting online consumer demand is the utmost priority for grocery retailers amid the Coronavirus crisis. Hence, they must focus on building grocery delivery platform to enhance the online ordering slots. Having a compelling online presence can help them cope up with the growing customer needs.
2. Fine-Tune Your Inventory Management
Grocers must regulate their inventory levels to improve the efficiency of their supply chain. They should remap their supplier network, adding sufficient backups and redundancy to secure smooth product flows. They can use AI and other data management systems to analyze the external & internal demand drivers that could influence changes in consumer trends.
3. Introduce Safety Features to Ensure Customer's Safety
In order to ensure their customers' and workers' safety, grocers must implement hygienic practices in their grocery stores. They must include necessary features in their grocery delivery app that reflect changing consumer behaviours, especially around safety. Moreover, they must notify their customers about the precautionary measures being taken by their delivery staff to deal with the outbreak.
4. Prevent Panic Buying with Time Slot Availability Banner
Grocers must introduce a time slot availability banner in their grocery stores to reduce panic buying in this crucial time. They must encourage their users to plan their shopping based on slot availability. This feature can help them ensure smoother order processing whilst delivering a pleasant experience to their customers.
5. Shift from Mass Promotions to Targeted Ones
Grocery retailers should understand consumer behaviour and act accordingly to survive in the future. They must reset promotional programs and focus on targeted promotions. They must reduce their promotional intensity and shift their attention to advertise in-demand products.
Conclusion
Consumers across the globe are looking at the brands and products through a new lens in the present situation. If past disruptions are a guide, certain shifts in consumer behaviour become permanent after a crisis has passed. For instance, in the wake of the 2003 SARS contagion, the speed and scale at which new users signed up for online shopping in China increased sharply, ultimately resulting in the world's largest e-commerce- ecosystem.
Taking SARS as an example, it won't be wrong saying that the new consumer habits forged during this period will outlast the pandemic. Therefore, the grocery retailers with a vision to capitalize on changing consumer habits have an opportunity to go online and make a mark in the grocery industry.
Launch an Online Grocery Store with Growcer