Let your mind drift and wander in the past around ten years ago and how we were accustomed to shop for everything.
We would schedule a visit to the supermarket or the local vendor once weekly to shop groceries, or the shopping complex to purchase clothes, and much more. Coming back to the present scenario, groceries can be ordered via voice command, packed in a box, and hand-delivered to your doorsteps.
Over the years, with inventive eCommerce business plans and strategies, the traditional means of shopping for groceries have transitioned gradually. With the consistent evolution of the eCommerce grocery landscape, it has become essential to develop a critical understanding of the distinct business models and the emerging opportunities in the grocery industry.
As digitization prevails and continues to impact shopping patterns, entrepreneurs should focus on investing in business models that keep customers engaged across both digital and physical stores. Let's take a look at the three main factors that drive investment in the online grocery business:
Altered consumers preferences and shopping behaviors highlights an increase in online grocery shopping by digital immigrants.
Innovation in procurement (supply chain) and delivery processes have had a favorable impact on the ergonomics involved in online grocery business models.
Rapid technological innovation and adaptability have facilitated the creation of a better online grocery shopping experience for the users.
In this blog post, we've enlisted the major grocery business models for launching an online grocery business. Continue reading to know more.
Business Models Suitable For An Online Grocery Business
Different eCommerce business models are fulfilling consumer demands across a variety of categories fueling digital expansion in the grocery industry. The online grocery industry is witnessing a heated competition between the owners of traditional grocery stores and the new entrants.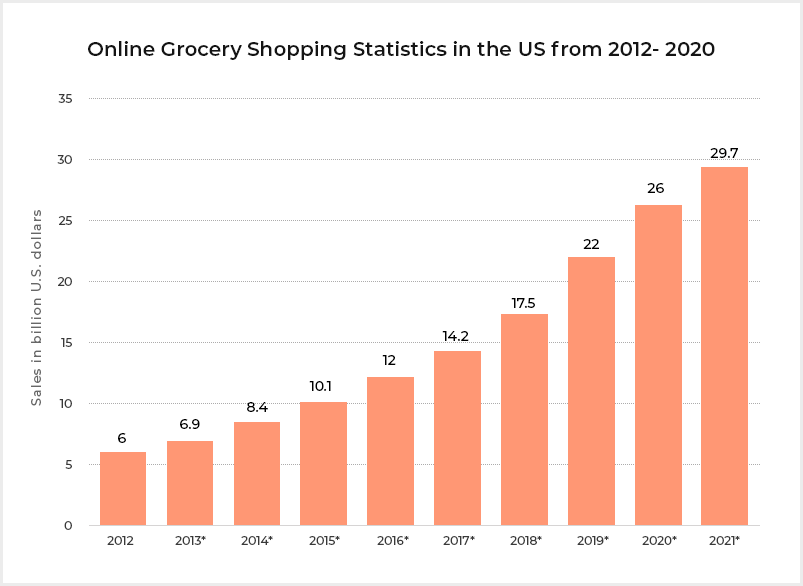 Early market interceptors such as Peapod continue to innovate and device strategies for business expansion. Industry players such as Amazon Fresh and Instacart are constantly working on improvising the existing business models to tap into new markets. With the continuous expansion in this sector, the need to understand the efficacy of each business model along with its potential challenges is a must.
Inventory Based Business Model
The inventory-based online store works on the concept where the inventory is bought and stored by the eCommerce grocery store. The eCommerce player purchases products from different companies and self maintains a warehouse.
The grocery ecommerce platform is responsible for managing the inventory, interacting with consumers, and ensuring the timely delivery of products.
Whenever there is a shortage of produce, the company places orders with the seller or manufacturer, instead of letting the customer interact with them. The invoice also is issued in the company's name rather than the manufacturer's. There is only one entity involved in the whole cycle i.e. the online grocery website.
Pros:
Gives good control over maintaining the quality of products as well as delivery.
Speedier delivery as only a single player is involved.
Helps build customer trust with consistency in quality & services.
Challenges:
Maintaining the warehouse creates logistical issues.
Can prove to be an expensive business model.
Limited cash flows.
Example: 
Grofers
Multi-vendor Marketplace Business Model
Multi-vendor Marketplace business model provides a common platform for multiple buyers and sellers to come together to engage in commerce through a dedicated website. It is also commonly known as the 'Zero inventory model', as the owner of the online entity does not maintain an inventory of its own.
They also facilitate shipping and payments through their platform. In this form, either the seller is responsible for packaging & dispatching, or after the packaging by the seller, the owner of the multi-vendor marketplace handles dispatching. The eCommerce player charges a percentage of the overall sales as commission. Peapod is an example that operates on the multiple vendor marketplace business model.
Pros:
Capture larger markets with this business model.
Provides more scalability.
Minimum or no inventory cost.
Challenges:
Difficulty in maintaining quality control & consistency over supply.
Existence of cut-throat competition.
A spike in shipping costs.
Hyperlocal Grocery Business Model
A hyperlocal grocery business model caters to the needs of consumers within a definite geographical circumference. The hyperlocal type of e-grocery business model helps in balancing out the demand for groceries with multiple supply options in the most optimized way. It has given the local offline retailers a chance to amalgamate technology, and take their business to different levels.
The most critical driving factor for the hyperlocal business model is the capacity to make deliveries to the end-users at rocketing speeds. When following the hyperlocal business model, the eCommerce grocery store can collaborate with local vendors for fulfilling orders.
Given the present scenario, the sales for eCommerce businesses in this space have tripled. This showcases the emergence of new opportunities for eCommerce mavericks.
Pros:
Helps provide prompt delivery or service.
Increases upselling revenue margins.
Shipments can be scheduled.
Challenges:
Consumers prefer to purchase perishable articles from brick and mortar stores.
Logistical expenses could overshoot.
Difficulty in maintaining inventory and practicing quality control.
Example:
Instacart
Click and Collect OR Buy Online Pick-up In Store (BOPIS) Business Model
Click & Collect digital model merges the brick & mortar and eCommerce form of shopping. This concept enables shoppers to purchase products online and later collect them from the physical store themselves, as per their convenience. It is a major form of contactless delivery that is trending during this pandemic time.
This is an omnichannel type of retail strategy where buyers place orders for grocery essentials online and later collect it from the store physically.
This business model is also popular as Buy Online Pick-up In Store (BOPIS). Research conducted by Post and Parcel suggests that by the year 2025, approximately 10% of sales will be drawn by adopting the click and collect retail strategy. Also, in-store purchases will fall by almost 60%. Safeway, Walmart, and Instacart have also initiated the development of plans to invest in the click and collect business model.
Pros:
No expenditure on expensive retail spaces and displaying the products.
Lesser chances of cart abandonment due to reduced delivery costs.
eCommerce platforms can collaborate and use common warehouse space as collection points.
Challenges:
Not having a proper space for in store pick up, leading to long queues.
Some people still prefer the experience of physical stores.
Might have to incur additional costs on IT & inventory storage.
Example:
Kroger
Conclusion
Launching an online grocery business requires an in-depth study of every aspect surfacing the grocery industry. As an entrepreneur, ensure that you analyze the aptness of every business model enlisted above and weigh its suitability with the requirements of your business.
If you are an entrepreneur, you can launch your own online grocery business with Growcer: A multi vendor solution to launch a grocery marketplace.
Also if you are an offline grocery shop owner who wants to take his business online then Growcer Lite: A single vendor solution to launch an online grocery store can be the ideal solution.
Launch an online grocery business with Growcer