Last Updated: 3rd April, 2023
Online grocery shopping is one of the fastest-growing niche markets in the eCommerce segment. According to a study by Neilson, 70% of consumers will be shopping online for groceries by 2024. Digital grocery will be a $243 billion market in the US by 2025.  The success indicates that establishing online grocery operations is not only possible but is essential to meet the rising demand of customers. Covered in this blog are various business models that can be used to launch an online grocery business. 
Table of Contents
Types Of Grocery Delivery Business Models – Landscape Overview
With the continuous expansion in the grocery eCommerce sector, the need to understand the efficacy of each business model along with its potential challenges is a must. Discussed below are the types of grocery delivery business models along with their advantages, challenges, and their example. 
Inventory Based Business Model
The inventory-based online store works on the concept where the inventory is bought and stored by the eCommerce grocery store. The eCommerce player purchases products from different companies and self maintains a warehouse.
The grocery eCommerce platform is responsible for managing the inventory, interacting with consumers, and ensuring the timely delivery of products.
Whenever there is a shortage of produce, the company places orders with the seller or manufacturer, instead of letting the customer interact with them. There is only one entity involved in the whole cycle i.e. the online grocery website. The invoice too is issued in the company's name rather than the manufacturer's. 
Advantages of Inventory Model 
Businesses that adopt the inventory model are able to manage the supply chain entirely. They do not have to rely on a third party for order fulfillment as they do it directly from their warehouse. This leads to speedier delivery as only a single player is involved. Even the grocery items delivered are fresh so the customer's trust and satisfaction are built. 
Challenges of An Inventory Model
An inventory-based business model is expensive as it calls for a warehouse to be set up, requires quality controls, warehouse transportation, and administration. There can also be logistical issues.  
Example 
FreshDirect is a successful example of an inventory-based business model. It sources local and fresh food, stores the inventory in its warehouse, and delivers it to the customers when an order is placed. 
Multi-vendor Marketplace Business Model
Multi-vendor Marketplace business model provides a common platform for multiple buyers and sellers to come together to engage in commerce through a dedicated website. It is also commonly known as the 'Zero inventory model', as the owner of the online entity does not maintain an inventory of its own.
The shipping and payments are also facilitated through the platform. And, In this form, either the seller is responsible for packaging and dispatching, or after the packaging by the seller, the owner of the multi-vendor marketplace handles dispatching. Further, the eCommerce player charges a percentage of the overall sales as commission. 
Advantages of a Multi-Vendor Marketplace Business Model
The multi-vendor marketplace is technologically rich. Moreover, it provides customers with varied grocery products on a single platform. This helps in boosting the traffic as the availability of several vendors lures the customers. In addition, one doesn't need to bother about maintaining inventory which further reduces the operational cost of a multi-vendor marketplace. 
Challenges of a Multi-Vendor Marketplace Business Model
A multi-vendor marketplace comes with its own set of challenges as there are a large number of sellers that provide a variety of options to buyers. This includes price competition, quality maintenance, customer and delivery management, and so on.  
Example
Peapod is an example of a multi-vendor marketplace business model. 
Hyperlocal Grocery Business Model
A hyperlocal grocery business model caters to the needs of consumers within a definite geographical circumference. It helps in balancing out the demand for groceries with multiple supply options in the most optimized way. This business model also gives the local offline retailers a chance to amalgamate technology, and to take their business on an upward trajectory.
The most critical driving factor for the hyperlocal business model is the capacity to make deliveries to the end-users at lightning speeds. When following the hyperlocal business model, the eCommerce grocery store can collaborate with local vendors to fulfill orders.
Advantages of A Hyperlocal Grocery Business Model
The rise of online grocery shopping has paved a threat to traditional stores. But the hyperlocal business model supports the traditional stores as it provides them with an opportunity to optimize sales. Local retailers just need to enlist their businesses on the platform. Everything else from pickup to delivery is managed by the aggregator. Furthermore, the hyperlocal business model is environment friendly, i.e. due to short transportation carbon footprints are reduced. 
Challenges of A Hyperlocal Grocery Business Model
Hyperlocal business model is for fast delivery. Hence, timely delivery of arbitrary orders can become a challenge if there is a scarcity of delivery fleet and staff. Moreover, it can be a daunting task to carry out operations efficiently, due to unorganized and unstructured execution.
Also, entrepreneurs must ensure that they cooperate with maximum local suppliers for the availability of inventory. It should also be kept in mind that for small and medium sellers, being featured on a brands' tech-driven platform can be an additional cost that they may try to avoid. 
Example
Instacart is a leading grocery delivery platform that is based on a hyperlocal grocery business model. It provides services by connecting customers with personal shoppers. 
Click and Collect OR Buy Online Pick-up In-Store (BOPIS) Business Model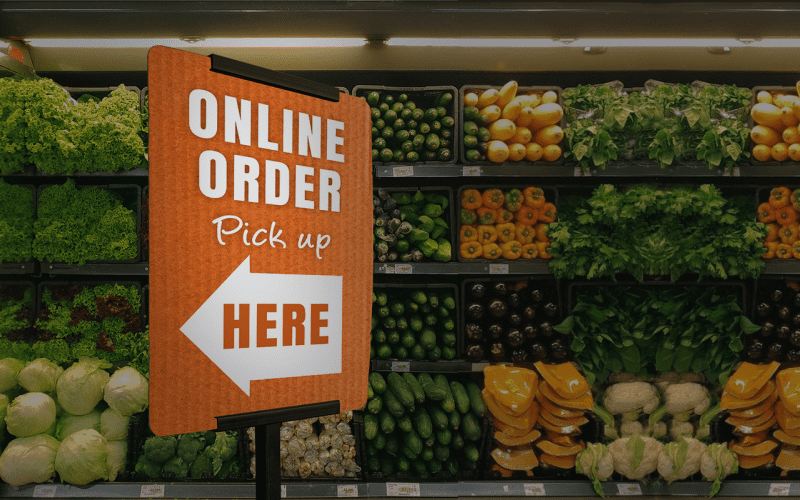 Online Pick-up In-Store Business Model
Click & Collect digital model merges the brick & mortar and eCommerce forms of shopping. This concept enables shoppers to purchase products online and later collect them from the physical store themselves, as per their convenience. It is an omnichannel type of retail strategy where the customer's time that would have been spent in the store is either minimized or eliminated. 
It is a major form of contactless delivery that has been in trend and is also popular as Buy Online Pick-up In-Store (BOPIS). As per research conducted by Post and Parcel, approximately 10% of sales will be drawn by adopting the click and collect retail strategy by 2025. Furthermore, it is predicted that in-store purchases will fall by almost 60%. Brands such as Safeway, Walmart, and Instacart have also initiated the development of plans to invest in the click and collect business model. 
Advantages of Click and Collect Business Model
Click and Collect business model enhances the omnichannel customer experience by bringing online stores and brick-and-mortar into one ecosystem. Further, the in-store traffic is positively impacted as picking up a digital order often results in additional purchases. It also helps in saving at least 28% of total transportation costs by eliminating last-mile delivery. In addition, click and collect gives retailers a chance to reduce their return rate by making sure that customers are satisfied with their grocery orders before they leave the store.
Challenges of Click and Collect Business Model
The BOPIS model relies on customers coming to the store for their order pickup. However, if the store is at an inconvenient location then customers won't be inclined towards it. So the convenience of customers is a critical factor in the success of BOPIS. Moreover, the implementation of this model requires you to have employees who are fully trained for the pick-up system including the nuances of inventory management. In order to access your stores' inventories in real-time, omnichannel order management is needed so that the physical and online operations are consolidated. 
Example
Kroger is an online grocery store that successfully operates on the click and collect business model. 
Planning To Launch Your Online Grocery Business
Conclusion
Grocery eCommerce is one of the fastest-growing niches in the eCommerce industry. The traditional means of grocery shopping are being replaced by technology-driven ways. So if you are an entrepreneur who is planning to invest in an eCommerce grocery business, then it is important to understand in-depth the aspects of every business model mentioned above and to weigh its suitability with your business requirements. For a consultation, you can get in touch with us at FATbit Technologies, we will help you every step of the way.