Diet and nutrition mobile apps are a means for users to lead a healthy life. Entrepreneurs can fulfill this need by launching a feature-rich diet and nutrition mobile app. In this in-depth guide, I will share information on pain points, industry insights, features, revenue streams, development approach, and marketing tips for diet and nutrition app development.
Diet and Nutrition Pain Points
Pain Point 1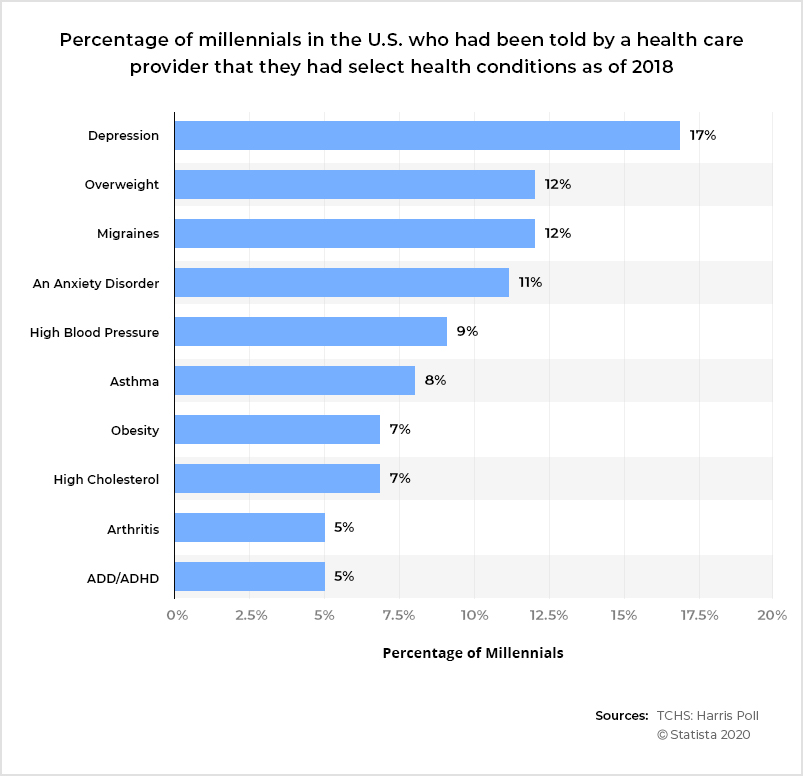 With improvements in technology, the human effort continues to decrease. Gradually, technology entered most areas of business due to which many people lead a sedentary life. Such a life leads to many health and psychological problems, with two primary problems being depression and overweight. According to research shared by Statista, 17% and 12% of millennials were found to be suffering from depression and overweight, respectively.
Pain Point 2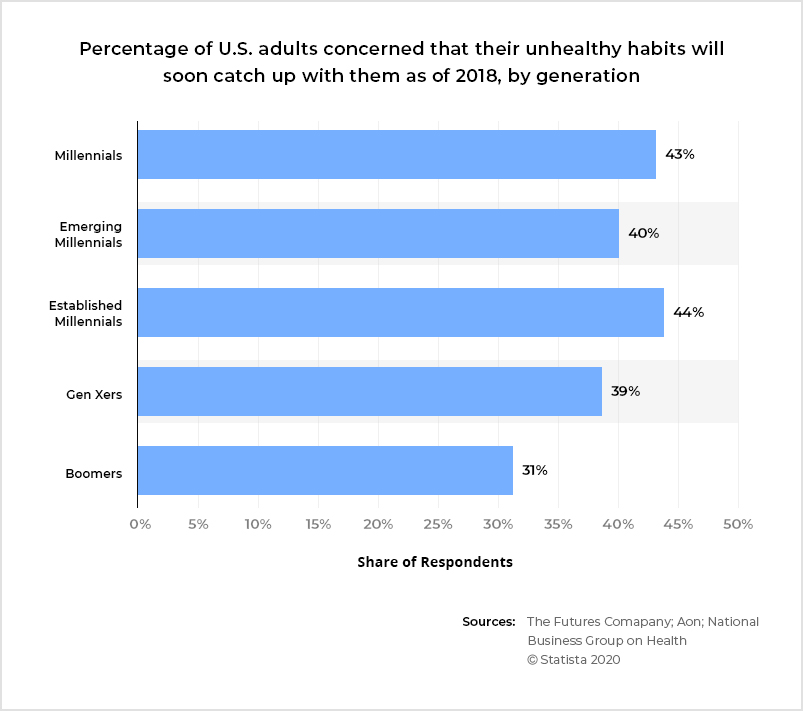 Many people in the U.S. and Canada work multiple shifts to make ends meet. Furthermore, maintaining the work-life balance is challenging if one is a parent. Hence, little or no time is left for self-care and getting the right nutrition. To pursue two work shifts, one eats fast food, skips a few days at the fitness club, and more. According to research, around 43% of millennials, 44% established millennials, and 39% of generation x thinks their unhealthy habits will soon catch up with them.
Pain Point 3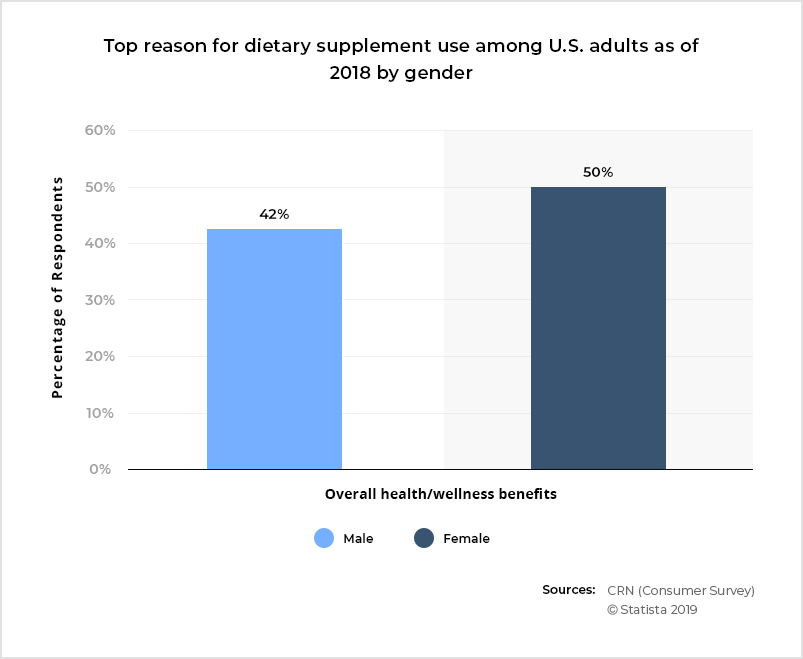 Overeating is a problem that can be caused due to depression. Humans are social beings and multiple factors can cause depression. Few such factors are not having a good physique, not maintaining old relationships, lower social status, and more. A study on Rapid Antidepressant Actions proved that stress and poor eating habits lead to depression and anxiety. Poor eating habits also lead to dependency on synthetic supplements, in which the percentage of women was found to be 50%, as shown in the graph above.
Pain Point 4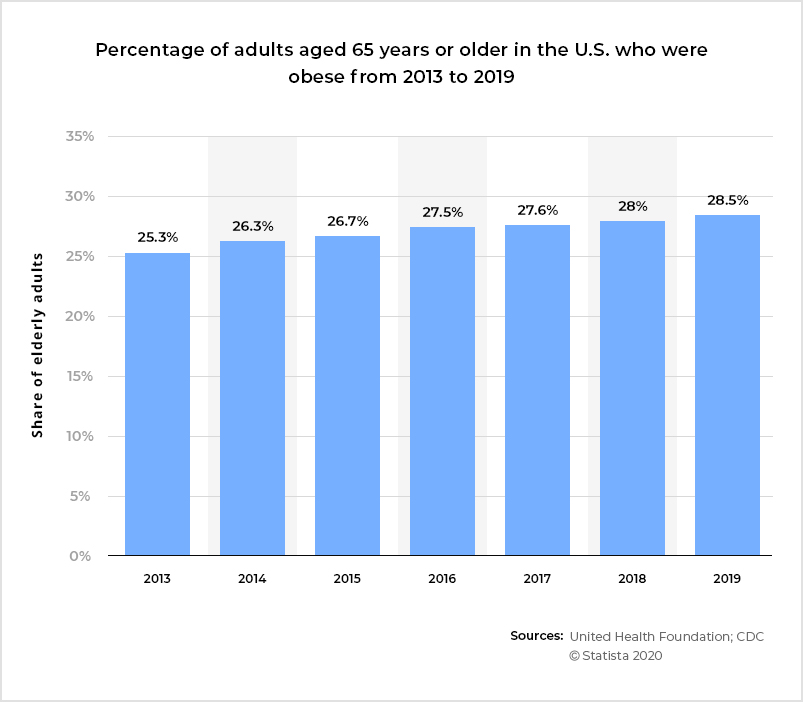 Many diet and nutrition apps are capable of assisting millennials to follow a healthy diet. However, as the age increases, the number of health problems may increase as well. Thus, making the diet and nutritional intake for the elderly, a complex concept. According to the graph shown above, there is a consistent increase in obesity among the elderly. As per market research, there are several apps for people within the age group 18 to 29 but very few for the elderly.
Key Features Of Diet and Nutrition Mobile App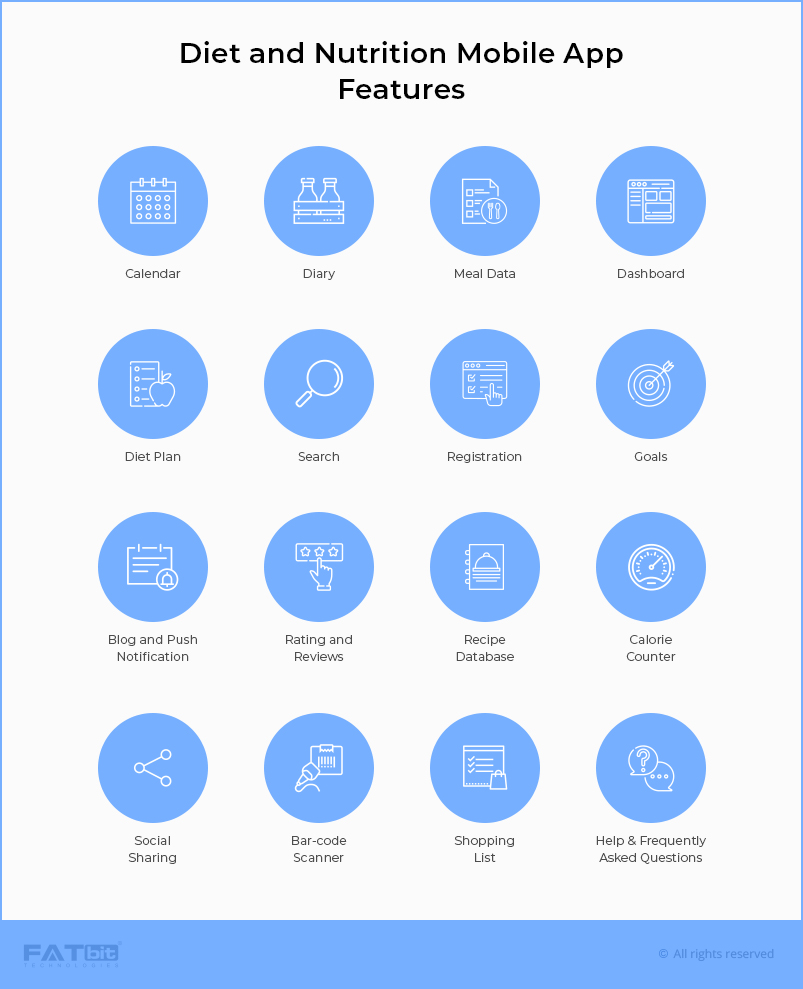 Calendar – The calendar can be a multi-purpose feature in the diet and nutrition mobile app. It offers a wide range of options that can help the user to monitor the diet plan and get timely reminders to change the meal plan, prepare for a sports competition, and more.
Blog and Push Notification – While blog and push notification are two different features, but for a diet and nutrition app, they can serve the same purpose – share essential tips. This is an important feature if one wants to engage the end-users after they have installed the app.
Meal Data – While following a specific diet every day, the user may not gain insights on the overall consumption of macro and micro-nutrients. For information on nutrient intake like carb, protein, and fat, the meal data feature can be used.
Dashboard – Dashboard acts as the central source of information for the user. It provides an overview of essential key performance indicators (KPIs), goals, and more. As dashboards are often personalized to suit specific requirements, the KPIs and information presented may vary.
Diary – For a user to keep himself motivated throughout the journey, the feature "diary" is essential. A user can keep track of the progress by clicking a picture and uploading it into the diary. Over a few months, the changes can be observed and can be viewed using the diary.
Calorie Counter – A common man can understand and measure the food consumption in the form of calories that he consumes in a day. This feature is essential for a person who is trying to control weight. Furthermore, this feature can be coupled with the recommended calorie calculator.
Bar-code Scanner – Entering the nutritional information manually every time a user consumes something may not be a pleasant experience. Most packaged food products come with a bar-code, which can be scanned to fetch nutritional information. Offering a bar-code scanner within the diet and nutrition app adds convenience for the end-user.
Goals – It isn't easy to pursue a challenge without setting a goal. The goals feature in a diet and nutrition app enables the user in two ways. First, it allows the user to set a goal, and second, after the goal is finalized, the user can monitor progress. This feature enables the user to experience micro-achievements and stay positive.
Diet Plan – It may take a few weeks, if not months, for a user to learn which diet works best for him. To get started, the app can come with a feature that lists important diet plans for the user to browse, select, and follow. Furthermore, the diet plans can be categorized according to goals.
Rating and Reviews – Once a user follows a specific diet and observes the progress, he can leave a review as well as a rating. Doing so will enable other users to go through the reviews and know more about real-world experiences of others.
Recipe Database – Ideally, there can be 10,000+ recipes, and it is not feasible for a business owner to manually add such information in the database. The business owner may add this capability by integrating an external database from a third-party service provider and enable the end-user to gain access to thousands of recipes instantly.
Search – The search feature is an essential component of the diet and nutrition app. Using this feature, the user can initiate a search which may include different recipes. The user may also choose to modify using filters to find the most relevant search results.
Social Sharing – To spread the word around, the social sharing feature comes handy. Such features can be added to different areas in the diet and nutrition app. Few such areas include diet, diary, and others.
Registration – The primary registration feature may include email-based verification, while an advanced verification method may also include the generation of a one-time password (OTP). Depending on the budget, the business owner can proceed forward with the most-relevant option.
Shopping List – As recipes are made up of many ingredients, shopping for the same can be a complicated task. Hence, the diet and nutrition app can offer a feature using which the user can transfer ingredients from recipes directly to his shopping list.
Help and Frequently Asked Questions – There are times when a user may not be able to accomplish a specific task in the diet and nutrition app on his own. In such a case, the help section can provide information that can guide users. The frequently asked questions (FAQs) are an objective representation of common queries shared by users in the past and add value by enabling the user to decide wisely.
Revenue Streams for Diet and Nutrition Mobile App
Advertising – Different health brands prefer diet and nutrition apps for advertising. Alternatively, the app owner can also approach the health brand to discuss the possibility of a partnership.
Subscription – Subscription plans are an ideal way to add value across a broader spectrum of the target audience. While a few features can be offered free of cost, other features can come under a different paid plan.
Paid App – The diet and nutrition app can be offered for a specific price on the Google Play Store and the Apple App Store. Once the user makes the payment, he can use all the features of the app.
Tips on Marketing the Diet and Nutrition Mobile App
Press Release – When the diet and nutrition app is launched, it is essential to announce the same to the public. The ideal way to accomplish that objective is by creating a press release. To improve the reach, the press release can be submitted to the PR distribution websites.
Storytelling – There are multiple ways to engage the audience, and one of the most effective ways is through storytelling. Different storytelling techniques can be used, such as sharing an inspirational story of a user who has lost weight, won a sports event, and more.
Educate – While more effort goes into acquiring a customer, an equal amount of effort also goes into engaging them. One of the best ways to engage the user is by providing educational content. By doing so, the user keeps coming back as he continues to gain knowledge.
Approach Influencer – It is challenging and time-consuming to build a community of loyal brand supporters from scratch. One of the easiest ways to do so is by partnering with influencers on social media.
Host Webinar – The decreasing attention span of users makes a business owner think about effective methods of engagement. One such way is by hosting webinars. Alternatively, by using social media platforms like Instagram, Facebook, and others, one can organize live streaming events and answer questions shared by viewers.
Moving Forward with App Development
Method 1 – Start Small
The lean app development approach works well if one has to enter the market in less time. By using the lean method, the app is created with the least number of features. The benefits of this method are:
Launch the app in the least number of weeks
Include real customer behavior in the next iteration
Apply actionable metrics and make informed decisions
Not heavy on pocket
Method 2 – Include All Features
This traditional method of app development includes the addition of most features in one go. Here are a few business benefits of this method:
Provide all features in one go
Ideal when facing competition
Do you Need Help with Diet and Nutrition Mobile App Development?
Conclusion
Diet and nutrition apps are popular among different age groups. However, there are pain points that can be solved by entrepreneurs. In this guide, information on pain points, app features, marketing tips, development methods were given. For queries, please feel free to share them in the comments below.