Social media allows businesses to be in direct contact with target customer. Social media marketing is inexpensive and gives brands instant reach to billions of active users. For these reasons, social media has proven to be one of the most effective channels to promote products online.
However, with every business aware of it, competition on social media has become intense. To overcome competition, it is important that you leverage latest trends & techniques and promote your product on social media creatively and consistently.
Below are 6 such techniques that will help you in generating more leads for your product through social media in 2019.
1. Run Contests on Social Media to Attract Attention
A contest is a subtle way to promote your product without actually advertising it. Running contests on social media platforms will drive audience's attention towards your product. To reap maximize benefits from the contest, keep it fun, simple, and offer giveaways to all participants. Ultimately, this will create loyalty towards your product in customers; thus, will help you in generating leads in long-term.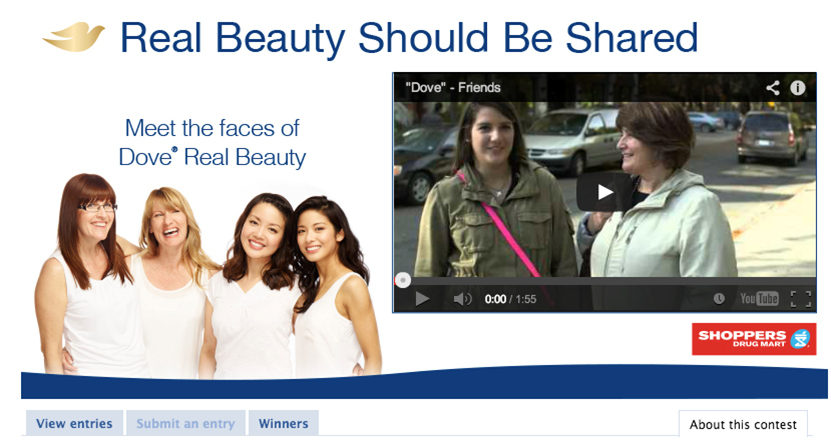 Example: Dove, recently started a "Real beauty should be shared" contest on Facebook. It was a fill-in-the-blank contest wherein users had to tell why their friends represent real beauty by filling in their friend's name and things that make them a real beauty.  As a prize for this contest, they gave entrants the chance of becoming the face of Dove (to be printed on Dove soap case).  This was a brilliant branding campaign where Dove not only got a genuine face for marketing but also brought huge attention towards its product.
Also Read: How to increase sales with social media marketing
2. Advertise your product to reach wider
People like your page on social media because they are interested in your product. However, for businesses, there is a fall in organic reach on social media, which is why they need to put extra efforts to make sure their products are being seen by target audience. Social media ads boost your reach and can help you achieve millions of views on your posts. This in turn, gives your product the promotion you want for it and ultimately brings you more lead.

Example: Here are some stats from our recent Facebook ads for our product YoKart (a multivendor ecommerce platform). Despite having  only a few hundred followers on Facebook, we were able to reach close to 300K people with Facebook ads; and that too by spending only $120 (INR 8000), as you can see in the screenshot above.
Pro Tip: In order to improve your social media paid strategy you can use a tool like Rebrandly URL Shortener . With Rebrandly is possible to retarget people that click on the links you share on social, even if the links don't point to your website. This feature allows you growth your ads audience using also news and content of different websites.
I want to promote my product and services through social media.
3. Run deals and promo codes on social media
Newly introduced but proven to be a good way to promote products on social media is giving away deals and promo codes. Provide special deals to your customers on social media regularly so that they remain engaged at all times. You can also do a little brainstorming on how you can personalize the whole concept of offering discounts & promo codes to make your customers feel special. For example, providing discounts on birthdays, putting names of discount credit cards, etc. This will help them turn loyal towards your brand in long term.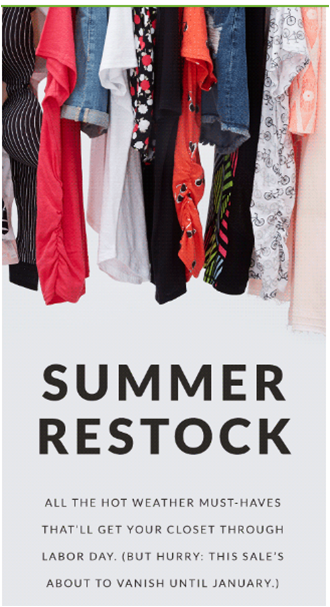 Example: Lane Bryant took advantage of the end of summer to unload stock of clothes. The brand used social media to entice the audience for a 50% off on all summer wear. The discount was strategically planned by the e-commerce store as it engaged the audience by saying the summer clothing will be gone after this sale.
4. Provide Social Proofs to build trust in your product
Customer review and testimonials act as an influencer that promotes your product to the consumer in a good light. Even large organizations with heavy budgets set up social media command centers to monitor their social proofs. The reason why you need to provide and track social proof is that it is always better that the consumer make an informed decision by knowing other customers' experiences, rather than after being influenced by social media advertisements. That is why it is mindful to make customer testimonials or user-generated content the face of your brand on social media.
Check out tools like Yotpo that can help you with this. If it's too expensive for your business, there are also plenty of Yotpo alternatives that are more affordable for small businesses.
Example: The Facebook page of GoPro is filled with testimonials and user-generated content.  Users submit their epic pictures clicked by GoPro camera, which GoPro share on social media to make a greater impact on the potential buyers of their products.
5. Share Creative Visual Content for Better Engagement
Images, videos and other visual content have proven to be most effective for engaging users on social media. So, by posting creative pictures or product demo videos on different social networks, you can bring huge attention to your product.
Example: The above video is created by FATbit Technologies' design experts for the company introduction.
6. Promote Your Product in Social Media Communities
Joining social media groups/communities relevant to your niche can also serve as a good way to spread awareness about your product. Your product promotion efforts in social media groups will implicitly bring better results since members are already interested in a similar product. But it is really important that you connect with group members well, converse in their interests, and be transparent when providing details of your product.
If you pay attention to these points, social media communities will prove to be a good source for getting quality leads for your product.
Conclusion
In past few years, social media has emerged as an effective marketing channel to promote brands. But to make the most out of this channel, you need to understand social media audience really well. They are open to new things, given it interests them, but do not pay attention to things that are too pushy & promotional.
Follow above-mentioned tips with the nature of social media audience in mind, and see how you get more engagement & sales for your product.
Social media can be a game changer to promote your product if used wisely