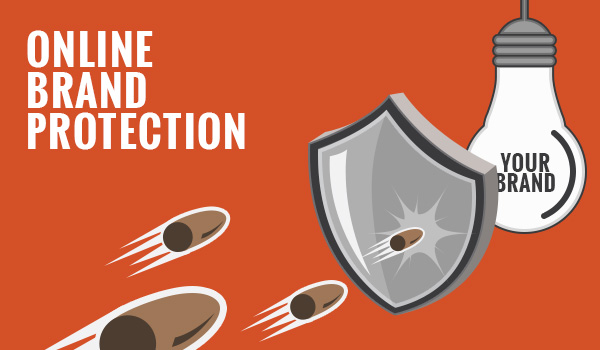 A quarterly loss or low profit margins leaves no scars but a tarnished brand image has broken the spine of many iconic brands. That's why brand reputation is very dear to corporate and businesses all over the world.
No other global change has affected established brands and organizations more than web. Corporate is slowly waking up to this reality, and understanding the need of business reputation management services from people who better understand internet.
Various challenges are making brands and businesses invest in online reputation management service. In this article we will not only highlight the issues but also suggest best approach to push down negative links or bad reviews. The inputs shared in this article are most suitable for corporate and business houses compared to the beginners guide to ORM for small businesses that we had published earlier.
Negative Coverage from Independent Online Media
You might be spending good amount of money to build your brand reputation through electronic and print media but web follows a different set of rules. If your business model or policies didn't appeal to even a small independent news website, just one post can erode all your hard work.
This happened with one of our clients too which is a new financial advisory company that has a unique business model. Because the news item amply used its brand name, company details and links, it easily jumped all positive search results to occupy the top spot. This negative link was then greeting people searching for our client's brand on Google and other search engines.
If your company is suffering from negative online media coverage, discuss it with an online marketing expertInitiate a Conversation
Most suitable proactive approach (Monitor Online Brand Reputation) – We always advice our clients that the best approach to repair such reputation damaging resources is to follow a proactive approach. Appoint a team to keep a regular check on your online search results. This way you will be aware of any such content that is damaging your reputation online.
Don't limit your check to just first page. Check first three pages carefully for negative links/feedback or reviews for your brand name. Set alerts on your brand name for early detection of negative links. Online tools such as Social Mention can help in online reputation tracking.
Business reputation management tips in case something bad happens;
Respond to the post through comment section to clarify your position
Answer questions and comments with patience.
Send a personal mail to the publisher explaining the situation, how you are working to correct the issue (if there is any)and request to take down the post
If such negative reviews or links come from authority websites, they will be harder to get rid of. In a crisis situation, invest in PPC to place sponsored positive links above it. British Petroleum carried it out very well after an oil spill situation.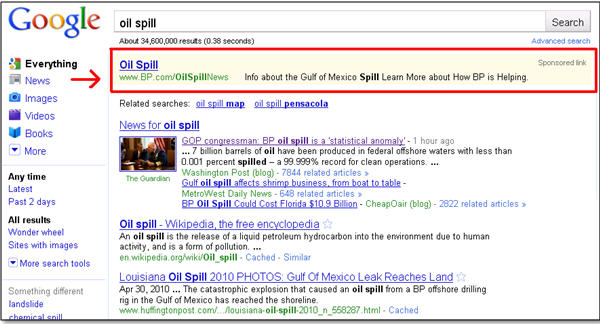 Also read: A beginners guide to bringing down negative reviews
Reputation Attack from Competitors
There are many instances where business rivals use unfair tactics to gain search engine advantage. So, don't be surprised if you someday discover low quality back-links from adult websites, anonymous defaming posts on forums or blog posts associating your brand name with words like SCAM, SUCK and FRAUD.
Here is an entire domain dedicated to the hate group for Yelp by the name of yelp-sucks.com.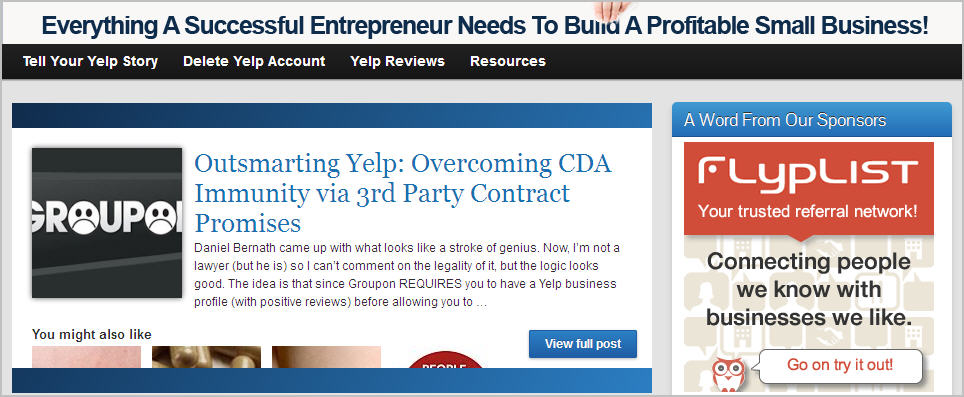 Google gives advantage to results related to discussion communities and blog posts in its search results. Such negative comments or links will flush all your good work down the drain.
Recommendations from online reputation management companies;
Buy domains associating your brand name with words such as reviews and testimonials (yourbrandname-reviews.com) to post testimonials and comments from satisfied clients.
Set alerts on your brand name with negative words. This will speed up your reaction time.
Proactively promote positive content creatively for negative branded keywords. Such content should preferably be shared on authority domains so that they always appear above such links.
Keep a regular check on your company's backlinks. If at any time you find an inappropriate website sending traffic to your website, disavow them with the help of Google's webmaster Tool. If your team does not have the required expertise, consult an SEO expert.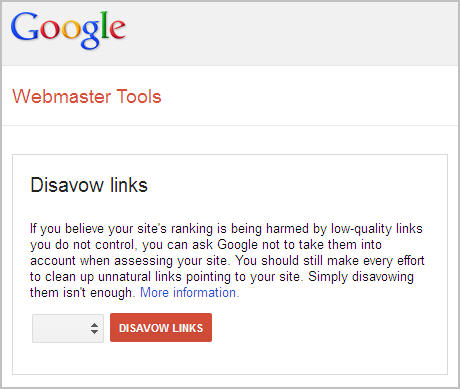 A company with both SEO & PPC expertise can help you in intelligently promoting positive content about your businessConsult FATbit to Build an ORM Strategy
Social Media Vulnerability
Social media channels have gained popularity recently in terms of brand interaction but they also make companies vulnerable to online criticism. LinkedIn and Facebook are two of the most important channels for any organization. Though the control always resides with you because you manage the profiles, social media reputation managers wouldn't suggest deleting posts and comments; instead respond promptly and formally.
If you're a B2B business and Facebook doesn't mean much to your industry, focus all your energy on LinkedIn. The professional network is used to search for service providers and can generate good leads if it presents your best image.
Recommendations from brand reputation management agencies;
Guide employees how to interact on social media when representing your company. What they speak about your company's policies and work culture through formal and informal channels can affect how company's image.
Create a protocol for handling social media communications and interactions.
Be careful while voicing opinions on LinkedIn communities.
Search Engine Threats
Online reputation is not just all about company name and social profiles. It is also associated with the names of top management and prominent officials. If your company is built around your name, then, you need to track search engines for your full name, first name, last name, and also name+industry phrases.
Your offline activities can affect create online disasters for you. The Coca-Cola pesticide issue is the perfect example. For such occasions, a combination of PPC and SEO works the best. It is best to consult SEO-reputation experts for such occasions.
While we have listed the most important web reputation management points for each category, here are some more for best results;
Don't focus all your optimization energies on website homepage. Smartly optimize inner pages like About Us and Contact Us to appear on first page results whenever company related search is made.
Don't forget to check Google image results. An expletive image or defaming graphic might be attached to your brand name. Image Raider is an online tool that can alert you when your images are being used inappropriately online.
When in doubt, consult professional online reputation companies that cater corporate and businesses.
Reputation management is not a one time job. So, your organization should have a dedicated team that will manage your online reputation and neutralize negative links.
In case that is not possible, hire online reputation management company to work round-the-clock on your online brand image. If you join hands for the long term, you can hire reputation experts at best online reputation management packages.
However, make sure your company's reputation is in knowledgeable hands. Discuss their approach to reputation projects before making a financial commitment.
What else can you do to guard your company's online reputation?
In case you have any internet reputation related questions, we are here to answer themSend us your Queries