The revenue in the ride-hailing segment amounts to US $183,677 million in 2019. It's further expected to rise at an annual growth rate(CAGR 2019-2023) of 14.8%, which will increase the market volume to US $318,765 by 2023. The user penetration, which stands at 13.5% in 2019 is expected to hit 20.0% by 2023. Based on these stats, it's easy to surmise that the future for the ride-hailing industry looks bright and promising.
Source: Statista
While for the existing players this means improving their services and solve maximum customer pain points, for the aspiring entrepreneurs, this is an opportunity to put their unique ideas to test, and probe into the lesser known aspects of ride-hailing market to affect a market shift. But before attempting anything groundbreaking, it's always advisable to perform due market research and analysis in advance.
If you're wondering how to kickstart your online taxi-booking business in the right way then this blog is for you. Before we proceed to the success of Uber and the different revenue models, it's vital to understand what a taxi booking app development process entails. So let's take a look at that first:
Key Steps Involved in Taxi-Booking Mobile App Development Process
Identify Your Niche
Other than offering a unique value proposition, it's crucial to find a niche in the cab/taxi booking app market where the competition is fairly low, such as:
Commercial Vehicle Reservation App
Commercial Vehicle Sharing App
Ambulance App
College Students Cab Sharing
Office Goers in an Area – Cab Sharing App
Technical Audit & Research
Next, you have to make a list of the requirements for your taxi booking mobile app development. Look to research and identify the improvements that you could feature over existing products.
App Documentation
This involves listing down the technical specifications of the app, the architecture and the tech stack that would be used.
Building a Taxi-booking Mobile app
Development can be pursued either from scratch or using a ready-made solution. In either case, a project involves a bundle of operations that are further divided into small individual tasks. These tasks should then be completed based on their priority. Further unit testing should be performed throughout the process to identify & resolve any logical errors.
Deploying The App
Once the app is built, it should be deployed to live environments to find out its proper-functioning and performance on various devices.
Lessons From Uber's Road to Success
As per recent stats, Uber has nearly 95 million active monthly users. This easily makes it the most successful and popular player in the cab/Taxi-Booking arena. To say that startups face an uphill task when aiming to emulate Uber's success would be an understatement. Uber's success is derived through sustained compliance with DMAIC processes and designs. The following image gives an overview of Uber's journey through the years.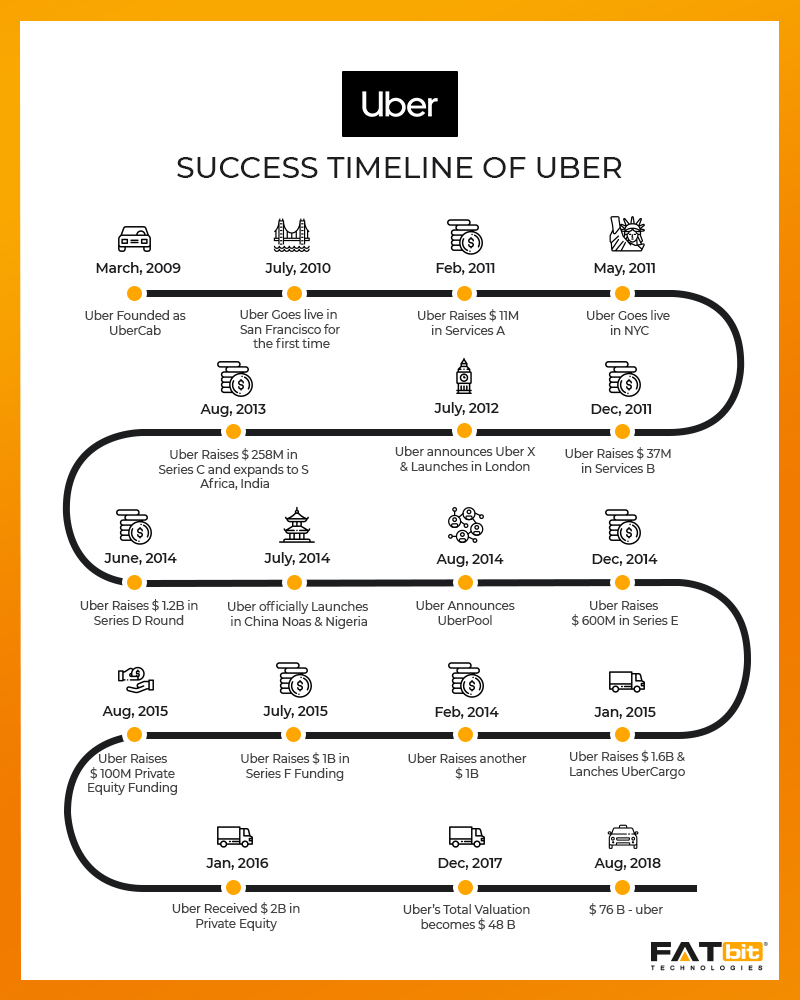 Challenging established brands with worldwide reputation calls for innovation. Some of the ways in which startups can bring innovation in their taxi-booking solution are as follows:
1. Unique Value Proposition
It's fair to say that there's a direct correlation between an app's success and its end-users' satisfaction. Based on that principle, the first thing that every cab-app service needs to tick off the box is riders and driver's satisfaction. There are numerous ways to offer unique value to both parties:
Also read: Best App Features to Launch Online Cab Booking Platform
2. Consider Global Expansion
While starting small and locally is the more preferred path, if your budget allows it, an exception can be made in the taxi-booking industry. Uber's success has proved the demand for the service is universal. Even countries where Uber faced opposition because its model was thought to be incongruent to the domestic conditions have since come to terms.
What's surprising though is that Uber still hasn't covered every country on the globe. For instance, it's not represented in Brunei, Malta, Iceland, Cyprus, and Luxembourg for different reasons. That's evidence enough, that the service has some roadblocks and the first business to find a way across them can expect huge rewards.
Revenue Model of Uber
The revenue model defines how a business generates its income from different sources. In the taxi-booking industry, Uber's revenue model remains the most effective and increasingly favored among new players. Uber earns revenue through the following two sources:
Fees & Commissions
One of the main sources of revenue for Uber is the commission earned from drivers and riders. For drivers, this is charged when they accept a ride request. The commission rate tends to vary between 20-25% of the total ride cost. In addition, Uber charges a flat booking fee from passengers.
For a more healthy revenue stream, it's possible to add additional costs in the form of security, premier service, and easy money transactions.
Cancellation fee – Users are charged a cancellation fee in case they decide to cancel their booked rides.
Promotional Partnership
Given its popularity and global reach, Uber remains a top contender for promotional collaboration for mega-brands like Hilton, Pepsi, and Spotify. This is a popular marketing practice that plays to everyone's advantage. Uber receives money for promoting other brand's content, those brands get a wider reach and a chance to interact with their target audience. The target audience is benefited in the form of coupons, discounts, and other promotional gifts through the promotion.
Advertising
Advertising for local businesses is a reasonable option for taxi-services that don't have the same appeal as Uber. Promoting business can charge cost per click or cost per mile commission for advertising.
How Much Does It Cost To Build a Mobile App Like Uber?
The process of building a taxi-booking mobile app usually starts with an MVP. This includes both the passenger, rider, and admin apps but with bare minimum features.
Uber started much the same way. In its initial release, the Uber app lacked any gamification features and cost splitting. It was built to accomplish one main objective, which was to connect drivers with passengers and provide a payment option within the app. Uber was able to achieve that with a promising response.
The point about an MVP is that it helps ascertain idea feasibility and gather useful early-adopter's response. The same can then be utilized in product improvement through useful feature addition.
When discussing the cost of developing a taxi-app, there's no categorical figure one can stick to. A lot of factors, namely, the scope of the app, the development company/freelancer and their geolocation determine the total cost. Statista provides the average rate for different locations around the world:
North America — $60-250 per hour

United Kingdom — $60-150 per hour

Western Europe — $40-120 per hour

Eastern Europe — $20-100 per hour

India — $10-80 per hour
Just to reaffirm the point, these figures must be taken with a pinch of salt. They only reflect the averages. A comprehensive discussion about the project with a development partner can reveal additional costs.
An off-the-shelf solution like VivoCabs cuts down the development cost
Final Thoughts
Although cab/taxi-booking behemoths like Uber and Lyft are firmly placed in the industry and continue to work aggressively on global expansion, there's still plenty of room for newer players to innovate. By identifying a niche and focusing on the unique value proposition, they can create a profitable monetization strategy.
New players must always guard against feature creep, which is highly probable midway through product development. This can be eliminated by freezing the requirements pre-development or by opting to build an MVP first to ascertain product feasibility and response.