Jun
30
2014
Best Online Essay Writing Platform- Beats EssayShark Clones with its Features
FATbit completes work on yet another product based on marketplace model! This time, we have created a solution to launch marketplace for freelance writers. The website takes inspiration from established essay writing websites like EssayShark, PaperDueNow, EssayOnTime, CustomWritings, and provides online essay writing service to students and academicians.
Usually searched online as EssayShark clone, custom writing service platforms are in high demand because of simple business model and revenue generation opportunities. Before starting work on this project, we studied similar business models and platforms in detail to deliver a custom solution fulfilling all the client requirements.
Decode the following details about this tailor – made online essay writing platform developed by FATbit Technologies:
- Business and revenue model
- Website features
- Design and User Experience
- Optimization for search engines
Business Model
Just like EssayShark, our marketplace for freelance writers brings powerful features for writers as well as seekers. Clients can find the writers best suited to their requirements and hire them with ease after going through reviews, ratings, and completed projects.
Writers and clients can discuss project details through powerful communication mediums leading to better quality of work. Our designers, developers and marketing experts collaborated to handle all the challenges associated with advanced Essayshark clone website.
Hire an experienced team to launch EssayShark like website
Get in Touch
Revenue Generation Model
While the newly built platform takes revenue generation cues from popular paper writing sites like EssayShark and EssayOnTime, we built the site on flexible technology to add new revenue streams in future. Here is how revenue generation works on the writer discovery system: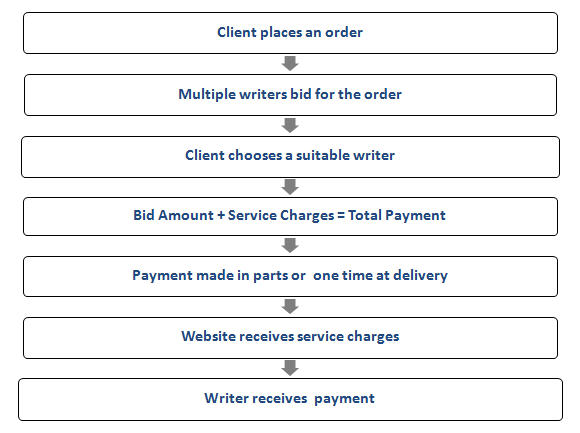 Website Features
In the presence of established paper writing competitors, we introduced basic as well as unique features to build initial audience quickly. Here is a detailed list of features offered by marketplace to find and hire writers:
UX focused order placement process that requests minimum details like essay category, number of pages, contact information (email), and order deadline.
The website allows writers to place project bids as per area of interest and expertise.
The system automatically adds a service fee, and displays total price.
The website creates a list of all the bids received for the task and allows comparison at one place.
The customer can select a writer from the list displayed by the system, whose approach to work, professional experience, writing skills and bid amount suits best.
The website facilitates client's supervision over writer working on the order.
Chat and communication system that allows customers to share feedback and promote quality work.
Secure payment system is well integrated into the system for payment processing in parts or on final delivery of the task.
Powerful evaluation system to share writer performance and feedback. This reviews system helps other clients make an informed hiring decision.
FATbit also integrated social media features to enable connection through multiple social media platforms.
View Front End Demo of Essay Portal
Click Here
Admin features
FATbit Technologies has given tremendous control to website owner through powerful admin features.
Our experienced programmers have intelligently planned and installed a high performance user management system to simplify management of writers and service seekers. The exclusive features of EssayShark like site are:
A well managed and organized admin control system.
Dedicated sections for Dashboard, Orders, Fund Withdrawal, Users, CMS, System Setting and Grammar Testing.

Click to enlarge

Concise display of completed orders, active writers, writers online, and registered users.
Separate section for assignments awaiting approval and pending withdrawal.
Authority to view user activity and details of users.
Management features related to writer bids, payments made, and cancelled orders.
Dedicated section for order management for better tracking of assignment orders.

Click to Enlarge (Opens in New Tab)

Admin account management features to setup contact, social media and website details.
Settings tab also allows language setting, paper types, citation styles and many more minute details and few more.
Reviews and ratings management features to handle spam and abuse.
Monitoring pending and completed payments.
If clumsy admin panels can make website management a headache, well organized ones save time and effort of website owners. While creating this marketplace of freelancer writers, we focused on simplifying management for website admin.
View Admin Demo (Username: Admin, Password: Admin)
Click Here
Design and UX
While planning website design, we focused on evolving a UX focused design. The design features that stand out in this EssayShark and EssayOnTime are:
Neat homepage with an easy to use "place an order" section in the first fold for customer convenience.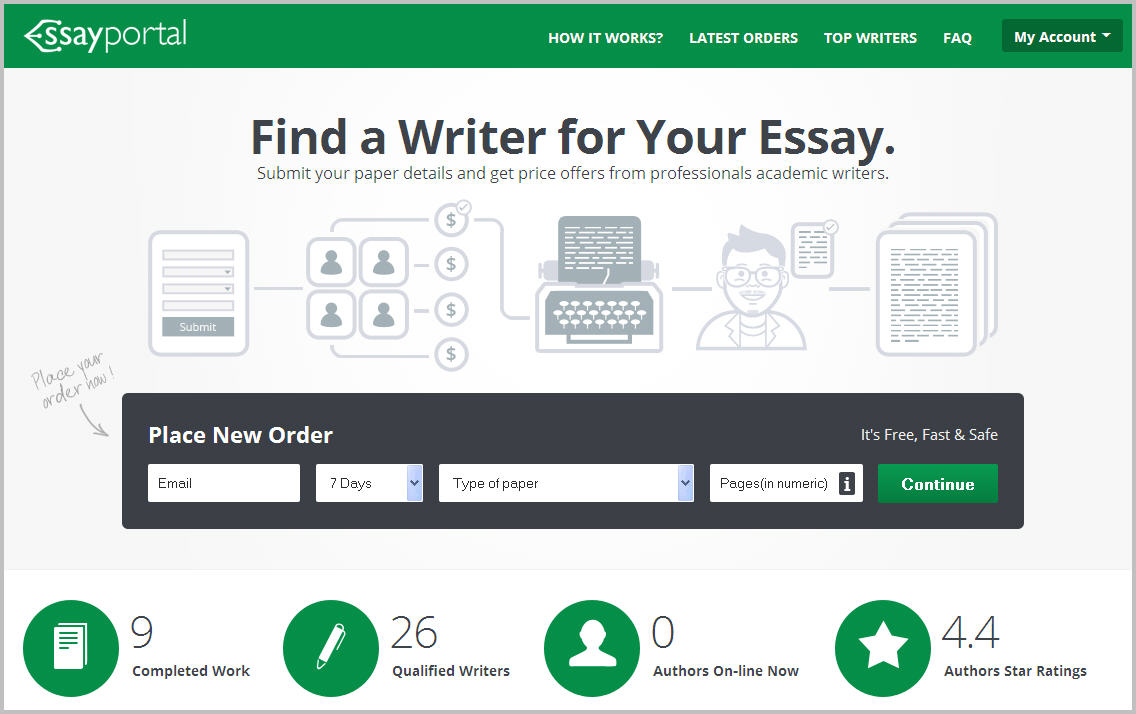 Navigation bar planned by information architects (Please read the Website Navigation Guide for more details).
The homepage hosts engaging sections like Why Us, Video Guide, Testimonials, and Real Time Activity.  All these sections have been strategically placed in the second fold of the homepage to increase website conversions.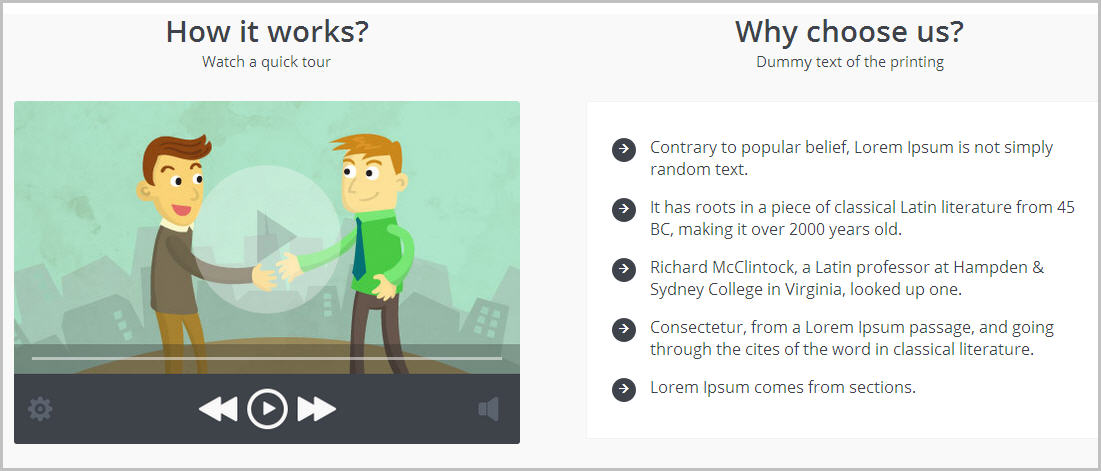 Smart placement of CTAs for better conversions.
'How It Works' section to help users understand website process and features.
A dedicated Writers section to help clients check writer profiles easily with information like rating, completed orders, earned badges, and a neatly placed CTA for hiring the writer.
Dedicated Writer page to display all the critical information such as area of expertise, reviews received, and completed projects
Extensive FAQ's section to answer website and order related queries. Live Chat feature has also been integrated in the Writers platform.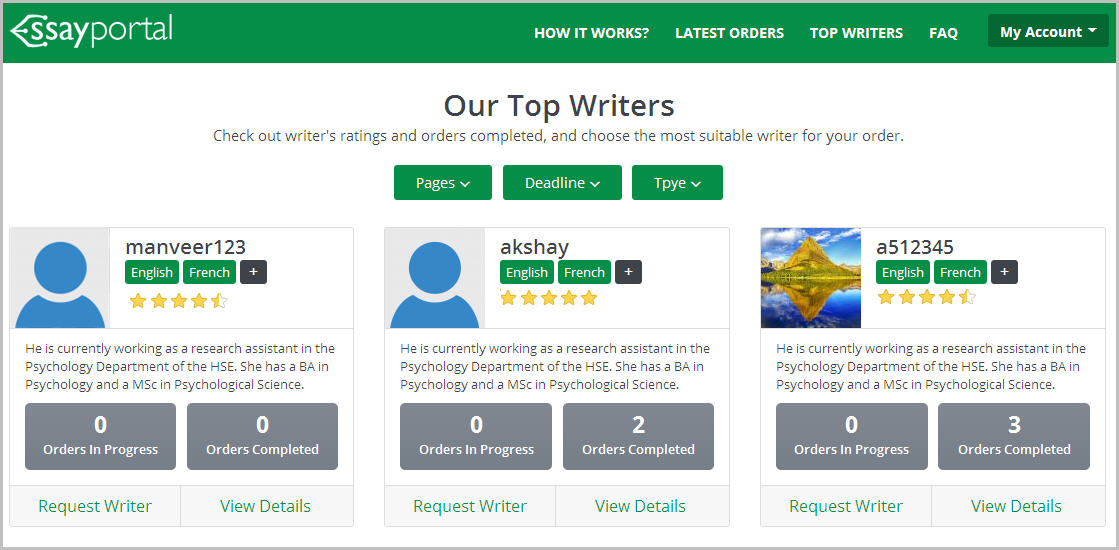 Are you looking for an expert design team to launch a website similar to EssayShark?
Get in Touch
Search Engine Optimization
For a website to show in related search results to the target audience it is very important that it is build keeping in mind all the white-hat SEO techniques in mind  Following are some of the basic points that FATbit emphasizes on while developing an SEO friendly website:
Indexable content: The text of the website is developed in HTML format so that Google is able to index the content well. There is no use of outdated technologies like Flash.
Crawlable navigation: We pay special attention to the site structure and the navigation links so that the site pages are easily navigable and well connected.
URL Creation: The URL for any website should be selected with utmost care and thus we emphasize on creating shorter, readable and keyword focused URLs.
SEO friendly CMS: The system is equipped with a strong Content Management System that allows the website owner to manage the content of the website without any technical support. With this system the admin would be able to manage, input and update home page and inner pages' content and information architecture.
Also Read: How does a CMS benefit a website? [Infographic]
If you are planning to buy an EssayShark clone script or any other for that matter, always keep in mind all the above mentioned factors. If not planned well initially, they might cause harm to you/ your website later. Therefore be very cautious when buying a system script and make sure you treat that script well with all the ethical SEO practices.
Conclusion
If you are looking to build a website on a similar business model or planning to buy an EssayShark clone, remember to checkmark all the important features from this list and invest your money & time well. It is always better to build a custom solution for your business rather than going in for cheep and useless clone scripts. Note down all the key factors that will make a difference to you and your clients. Then plan an online platform that will complement your idea and help you build better customer experience and ease of management.
Do you have an online business idea that you wish to launch soon?
Consult FATbit for FREE
Disclaimer: The Blog has been created with consideration and care. We strive to ensure that all information is as complete, correct, comprehensible, accurate and up-to-date as possible. Despite our continuing efforts, we cannot guarantee that the information made available is complete, correct, accurate or up-to-date. We advise - the readers should not take decisions completely based on the information and views shared by FATbit on its blog, readers should do their own research to further assure themselves before taking any commercial decision. The 3rd party trademarks, logos and screenshots of the websites and mobile applications are property of their respective owners, we are not directly associated with most of them.